CULINARY
CELEBRATING JAVANESE FOOD ARTISANS WITH AMANJIWO
Amanjiwo presents a second culinary expedition.
04.11.2021
BY HANUM FAUZIA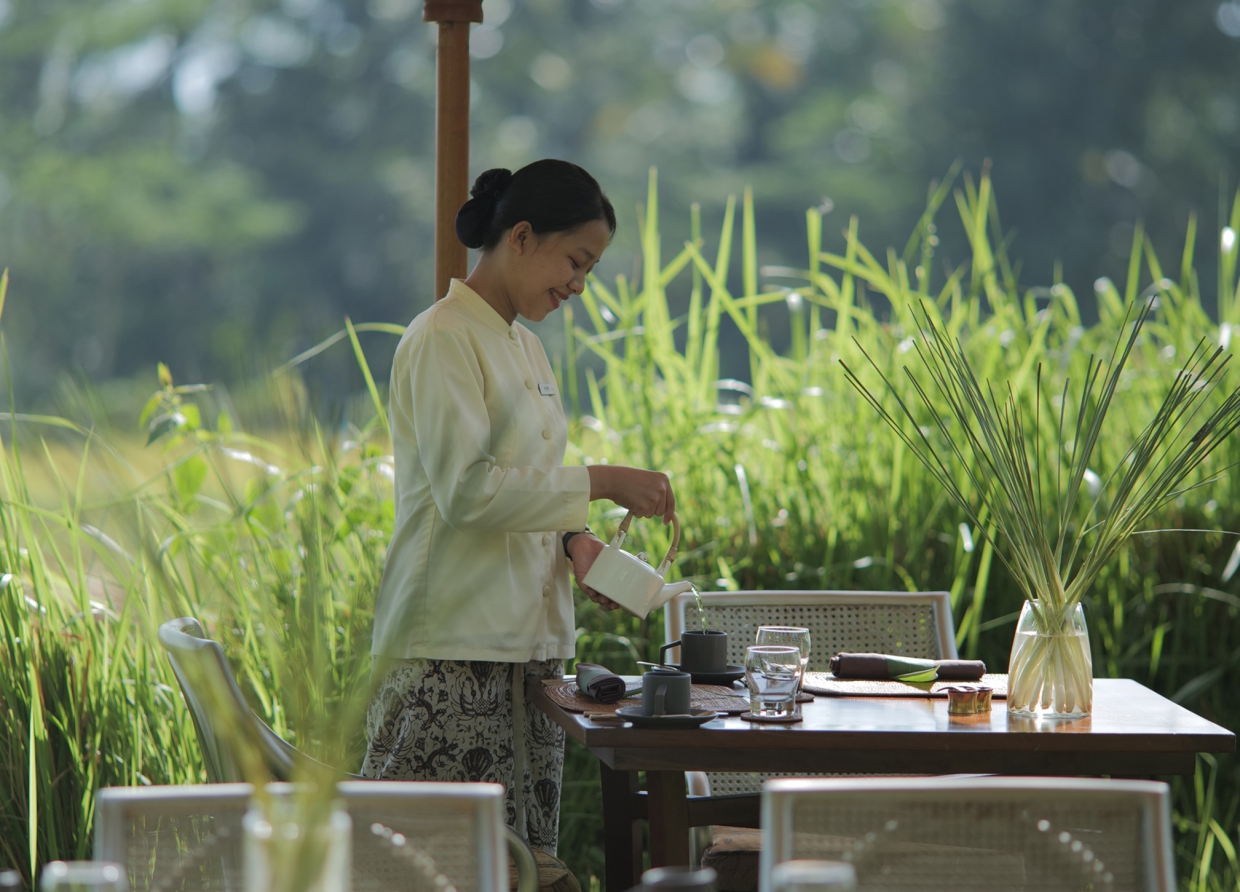 Following the success of the first Culinary Expedition to Java in March 2021, Amanjiwo is pleased to announce a second culinary expedition between December 2-5, 2021, in celebration of the delectable cuisine from the Javanese Food Artisans. Named 'Peaceful Soul' for the serenity, privacy, and beauty of its setting, Amanjiwo will invite guests to connect with producers from the surrounding villages, who are well-known for their authentic culinary creations, incorporating locally sourced ingredients from Java, such as tempeh, palm sugar, and soy sauce.
Hosted by two of Indonesia's most renowned chefs, Ray Adriansyah and Maxie Millian, guests will be invited to experience exquisite gourmet activities over three days, from exciting excursions to riverside breakfasts and an exclusive gala dinner at the majestic Borobudur Temple. With this particular program, Amanjiwo continues to support local communities close to the resort, utilizing locally made products.
An exquisite culinary journey
The Culinary Expedition at Amanjiwo commences with a five-course dinner prepared by Ray Adriansyah, chef and co-owner of Locavore and Nusantara by Locavore, and Maxie Millian, Head Chef of Apéritif, showcasing modern Central Javanese flavors as a warm welcome for guests at the resort. On the second day, Chef Ray and Chef Maxie will present a traditional Javanese breakfast by the beautiful Progo River. Bamboo mats, pillows, and low tables will be set up in conventional 'lesehan' style to allow guests to soak in the scenery and the lavish spread.
Ending breakfast on a high note, guests are invited to enjoy lupis, cenil, and various Javanese rice cakes prepared by Ibu Temu, renowned in Magelang as an expert in preparing jajanan pasar, or traditional market snacks.
As the day turns into night, a special dinner is prepared by Chef Maxie, cooked over an open fire and hot coals, at the welcoming home of Pak Bilal. Here, guests are invited to have an enchanting glimpse into Javanese rural life while pervading the authentic aromas of Java. On the event's final day, Chef Ray and Chef Maxie will come together to serve a magnificent six-course meal prepared with local Javanese artisanal ingredients sourced from within a few kilometers of Amanjiwo, creating a culinary masterpiece to match the stunning backdrop of Borobudur Park.
In addition to curated dining experiences, the journey includes excursions for guests to visit and interact with local artisans, including the Kaliandra honey producers, tofu and tempeh makers, local culinary gift shop Getuk Eco, casava cracker factory Ceriping Pohong, and the Dr. Oei Museum in Magelang. Guests can join a cookery demonstration at the museum and enjoy a lunch prepared by Chef Natalia Halim. She will share a traditional Javanese recipe and her Javanese-inspired petit fours. She will also present a kampung-style lunch on the museum premises, with local favorite Ayam Bumbu Kuning as one of the main dishes.
With three nights to experience this inspiring culinary journey, guests can fully immerse themselves in Amanjiwo's sacred roots, continuing their exploration of Java. Just two kilometers away, the temple of Borobudur - a 9th-century marvel with 504 life-size Buddha statues – reveals ancient secrets. At the same time, trekking through the lush surrounding landscapes to local villages unearths an entirely new way of life. Throughout their time at Amanjiwo, each guest will receive daily breakfast overlooking the dramatic vistas of the Menoreh Hills – an idyllic opportunity to reconnect with friends and families.
Culinary collaboration
Bringing to life an experience like no other, the Amanjiwo culinary team, with Chef Uyung at the helm, will collaborate with renowned chefs Ray Adriansyah and Maxie Millian and local guest chef Natalia Halim, and Ibu Temu, showcasing the rich culinary culture of the Javanese countryside.
Ray Adriansyah
Chef Ray Adriansyah and his partner opened the Locavore restaurant in Bali in November 2013. Their goal was to establish a restaurant driven by endemic ingredients and celebrate Indonesia's farmers, fishers, and food artisans. Over 95% of the kitchen's ingredients are sourced from Indonesia, and the restaurant is currently listed as one of Asia's 50 Best Restaurants. It was also awarded Asia's Most Sustainable Restaurant in 2019 and named Bali's Best Eats by FoodieS - Restaurant of the Year in 2018.
Maxie Millian
Born in Jakarta, Chef Maxie Millian began his career in Dubai with a background in European food. He won a gold medal at Le Salon Culinaire International De Londres in 2012. He is currently the Head Chef of Apéritif, a restaurant established in 2018, which stands out as a stunning fine-dining destination with a distinct concept of serving an eclectic culinary experience that explores the diverse flavors of the Indonesian archipelago. Apéritif was named one of Bali's Top 40 restaurants in Bali's Best Eats by FoodieS for 2019.
Natalia Halim
Born and raised in Magelang, Natalia is a graduate of the William Angliss Institute, Australia, having achieved a major in the art of patisserie.
She is a young and energetic chef who always wants to help Indonesian local businesses and farmers to grow through her work contribution.
#THE S MEDIA
#Media Milenial
#javanese culinary
#javanese food artisans
#amanjiwo