TRAVEL + LEISURE
THE BEST CITIES IN ASIA 2021 (PART 2)
Those cities have their charisma and characteristic that makes tourist attract to them.
15.09.2021
BY HANUM FAUZIA
We are still talking about the best cities in Asia, aside from Ubud, Udaipur, Kyoto, and other beautiful cities that are already mentioned in this article. Ten other cities in Asia are considered the best cities according to Travel and Leisure.
Those cities have their charisma and characteristic that makes tourist attract to them. So here is the list of the best cities in Asia 2021 (Part 2).

Taipei, Taiwan
Taipei, Taiwan's capital, has emerged as one of Asia's best-loved destinations. The rapidly developing city has restaurants and hotels that hold their own with the best in East Asia but remains more budget-friendly than Tokyo or Hong Kong.
Visitors find strong Taiwanese cultural heritage in places like Snake Alley and Longshan Temple. Just minutes away by MRT is the hyper-fashionable Ximending district and the electronics bazaar of the Guang Hua Digital Plaza.

Luang Prabang, Laos
Luang Prabang has once again shone on the global tourism stage after being voted among the15 best cities to visit in Asia by readers of a US-based travel magazine. Luang Prabang is a wonderful patchwork of traditional Lao wooden houses and hints of European architecture, reminders of when Laos was part of the French colony of Indochine.
Golden-roofed wats, decorated with mosaics and murals of the life of Buddha, sit under the gaze of wrap-around teak balconies and 19th century shuttered windows. All of this is set against a backdrop of verdant greenery and rugged mountains.

Jaipur, India
The Pink City, Jaipur, is home to many marvelous forts, gorgeous palaces, and magnificent temples. These historical architectures, along with the vibrant culture of Jaipur, attract tourists from all over the world. Be it the 300-year-old Hawa Mahal, the superb Amer Fort, the City Palace, or the Nahargarh Fort, every place within the city will leave you mesmerized.

Tokyo, Japan
Tokyo took the top spot in the Big City category for 2019, wowing readers with its combination of city sights, nature landscapes, and delicious food. Tokyo is one of the most exciting destinations to visit globally and well-deserving of its hyperactive, adrenaline-fuelled, and non-stop reputation.
It's is a place where innovation and new ideas are actively encouraged, and if you're lucky enough to get the chance to visit, you'll realize its super friendly people also have a unique outlook on life.

Seoul, South Korea
South Korea is a beautiful blend of tradition and modern architecture. Seoul boasts its tall high-rises, but this city is sure not to forget its cultural roots. Seoul is still peppered with sites of hanoks (the traditional Korean house) and has preserved the palaces in the city.

Osaka, Japan
According to a survey, Osaka is one of the most liveable cities worldwide after Viena and Melbourne. It is located in the southern portion of Honshu.
Living in Osaka is much greater than living in any other city, and it is a wonderful place to live for people seeking happiness and comfort in Japan. It is also one of the largest cities, and Osaka has a nearly 19 million population.

Thimphu, Bhutan
Thimphu is the most modern city in Bhutan, with an abundance of restaurants, internet cafes, nightclubs, and shopping centers. However, it still retains its' cultural identity and values amidst the signs of modernization. Thimphu is one of the few towns in Bhutan equipped with ATM banking facilities and is a good place to stock up on some currency.

Hoi An, Vietnam
Located in central Vietnam on the coast of the East Vietnam Sea, Hoi An is a charming city with ancient roots, distinct architecture, contagious energy, and arguably one of the best street food scenes on the planet. Most importantly, Hoi An is home to friendly people who are eager to share the best their city has to offer.

Singapore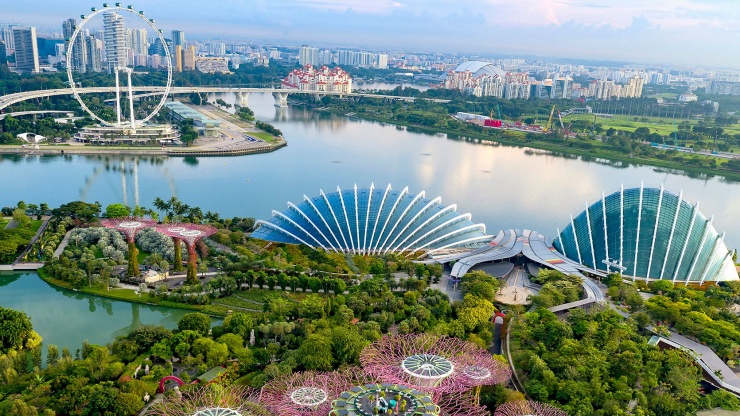 We can live in Singapore with the confidence that your personal safety is always in good hands. Singapore is widely regarded as one of the safest countries in the world, with consistently low crime rates, a transparent legal system, and a reliable police force supported by proactive citizens.

Mumbai, India
Mumbai mixes iconic old-world charm architecture, strikingly modern high rises, cultural and traditional structures, and whatnot. The city is known as the commercial capital of India, but there is more than that. Mumbai is all about art, history, culture, food, theatre, cinema, nightlife, and a lot more.
This has raised the level of the real estate sector in Mumbai. Property in Mumbai is not hard to find, given you know what you need. From luxury homes to commercial property, this city has space for everybody.
#THE S MEDIA
#Media Milenial
#the best cities in asia