CULINARY
ARCHIPELAGO INTERNATIONAL HELD YOGYAKARTA BARISTA COMPETITION
It was held in Royal Malioboro by ASTON.
09.12.2021
BY JORDI HILDIANTO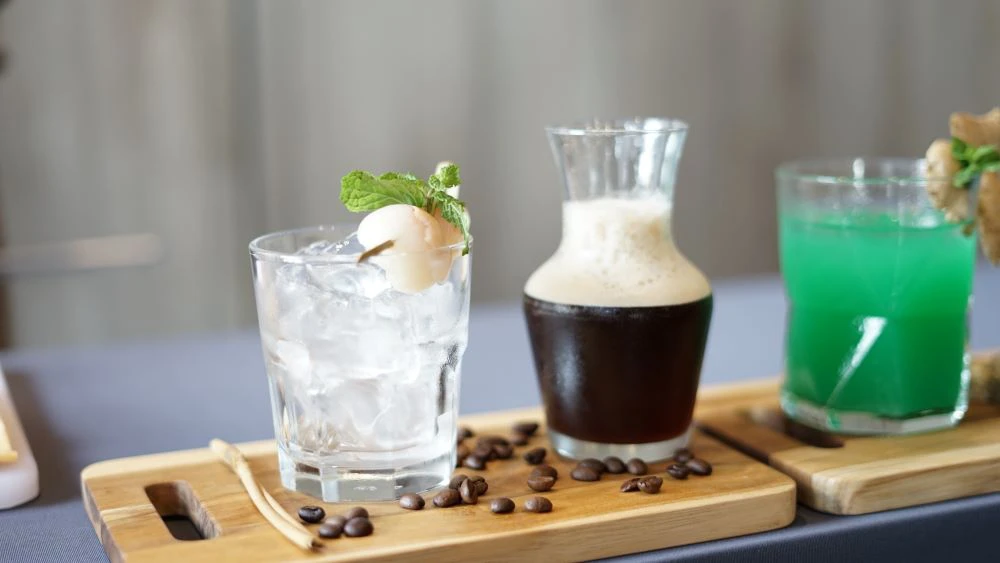 Archipelago International holds Yogyakarta Barista Competition on Archipelago International Wednesday, December 8, 2021, at Royal Malioboro by ASTON.
The baristas from the entire Archipelago International hotel chain from Central Java and DIY were invited. The health protocol was applied on that event.

Archipelago International is the largest privately owned and independent hotel operator in Southeast Asia, including Royal Malioboro by ASTON. Attended by The Head of Cultural Office of Yogyakarta Special Region, Ms. Yetti Martanti, the event was successfully held starting at 12.00-17.00.
The event is competing for coffee blending by theming spices. As Archipelago International knows, spices are the beginning of why European nations came to the archipelago and became a commodity with a high selling value.
The combination of spices and coffee makes for a distinctive taste of Indonesia, especially in Yogyakarta. Besides, gastronomy in the form of coffee and spices is cultural diplomacy.
The Blackbox Mocktail and Coffee Art Archipelago International competition was held to improve the skills of Archipelago International baristas in Central Java and DIY while increasing concoction products coffee served at Archipelago International chain hotels.
There are also CSR activities that distribute spiced coffee, juice, and a healthy kit containing masks, disinfectant wipes, and 400 hand sanitizers for local hawkers and pedicab drivers in the Malioboro area.
"This activity is the first activity that Archipelago International have held after the pandemic. From this activity, Archipelago International expects the spirit of competition and skill from all the Baristas in the hotel management chain of Archipelago International in the Central Java and DIY areas can re-emerge," said I Made Sumardika, Corporate Food & Beverages Manager, Archipelago International.
Vera Indah, General Manager of Royal Malioboro by ASTON, at the event, also conveyed that the property is honored to host the Yogyakarta Barista Competition in Jakarta this year.

About Archipelago International
Over the past two decades, Archipelago International has transformed the Indonesian hotel landscape with innovation and leadership. Their collection includes ten award-winning brands, ranging from budget to luxury, including ASTON, the most trusted and best-known hotel brand in the Archipelago.
While Archipelago International continues to lead the region, Archipelago International is also aggressively expanding globally with operations and development underway in the Middle East and the Caribbean - with many more destinations to follow.
Archipelago International is proud to be the second hotel group globally that has set up and operated the athletes' villages at major international games, the 18th Asian Games in 2018.
Archipelago International has a responsibility for our planet and future generations. For them, an investment is not an investment if it harms mother nature and pollutes planet earth.
Archipelago International always makes sure that they only work together with clients who care about sustainability and the importance of going green.
Archipelago International will remain selective in this regard and do our part to save the planet while looking for new ways to reduce the impact on the environment and implement the latest sustainability policies across all our properties.
These are a few of the green initiatives Archipelago International already have in place:
Plastic reduction
Plastic themed in straws and toiletries packaging has been replaced by recyclable and environmentally-friendly materials—some of their brands' theme soap dispensers.
Archipelago International has stopped the theme of plastic water bottles in all guest rooms and provides mugs, which can be filled with water from water dispensers conveniently located on guest floors. Plastic impact on our oceans is a major issue, and yet hundreds of millions of plastic bottles are wasted each year by hotels alone.

Water conservation
Archipelago International has effective linen retheme program in place that encourages our guests to refrain from having linen, and Archipelago International exchanged and washed daily. Sustainable cleaning products: Natural alternatives that are less irritating to the environment are preferred over products with chlorine bleach and other environmentally-damaging products.
Archipelago International continues to reduce energy by introducing energy-saving equipment in all public areas and constantly training our staff, and fostering an energy-saving work environment for all.
Recycling and waste reduction
Programs are in place across all areas that reduce the theme of the paper and other disposables, while at the same time, food waste is kept at a minimum. The World Bank predicts that by 2050 humans will produce 3,6 billion tons of waste every year, ending up in landfills and the oceans.
#THE S MEDIA
#Media Milenial
#yogyakarta barista competition