FASHION + WATCHES
VIVIZUBEDI EXPAND HER WINGS TO GLOBAL MARKET
The campaign called #StrengthenLocalModest
28.09.2021
BY HANUM FAUZIA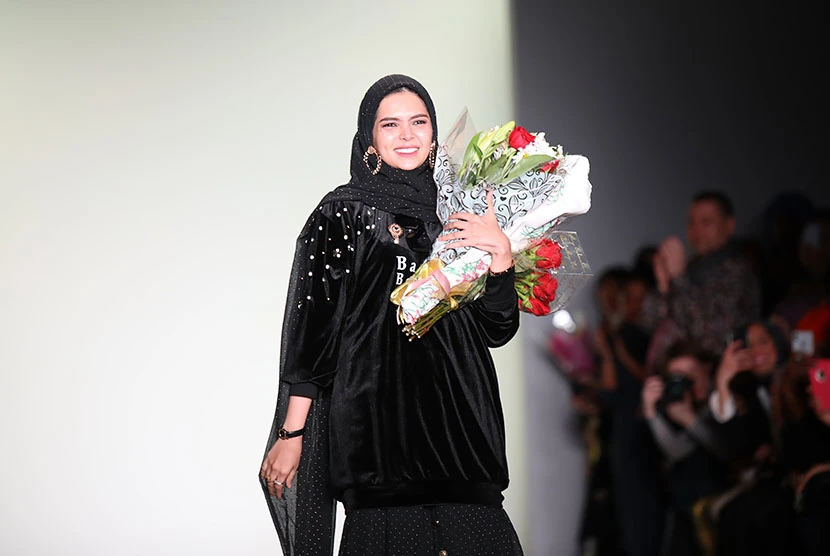 The label of VIVIZUBEDI has become familiar in Indonesian fashion lovers' ears. Since it was established, the masterpiece of Vivi Mar'i Zubedi consistently presents innovation and unpredictable things. During three years sequentially from 2017 (Makkah, Madina, Jannah), 2018 (Urang Banua collection), and 2019 (The Marrakech collection) performed in New York Fashion Week (NYFW).
Continuing this positive trend, VIVIZUBEDI has become a brand that is persistently moving forward in this pandemic situation. Now, VIVIZUBEDI is getting more robust to entering the international market through its campaign#StrengthenLocalModest.

VIVIZUBEDI expand her wings
VIVIZUBEDI opens the branch store in Riyadh, Saudi Arabia, as the first step in penetration Middle East's market. In the centre of Islamic culture, the designs of VIVIZUBEDI is very admiring. The most wanted items are abaya with the complete set of hijab, covering cap before wearing hijab, and matching patterned belt. Vivi Mar'i Zubedi, as a CEO and designer, said that her designs are pretty different comparing with the local abayas.
"Abaya in Arabic generally has one colour. We came up with the unique innovation by providing one set abaya with the same pattern. Besides, we also provide embroidery details, VZ monogram without leaving the original shape of the abaya itself and still Syria. The response is very good," Vivi said.
View this post on Instagram
Meanwhile, she is not satisfied enough. Vivi came back to make an expansion to Australia. Her store sharped online platform called www.allgoodjourney.com.au, fashion modest in Australia can get VIVIZUBEDI collection from 2020 ago. The response was good, like in Arabia. Australians are very in love with the variety of designs and attractive pattern scarf that was very beautiful. Now, Vivi is getting optimistic to brings local fashion modest globally.

The spirit of VIVIZUBEDI in introducing Indonesian fashion is modest globally because she sees that Indonesia has a great potential to become the centre of Muslimah fashion in the world.
"Indonesia has the most significant population of Muslims in the world. We suppose to be a leader in the growth of fashion modest in the world. We have some cultural, ethnic, and assimilation cultures across Asia, like China, Arabia, until Europe. All of these elements bring a strong story background, also symbolism that including philosophical. In the handmade, traditional manufacturing process, we should appreciate Indonesian works because of these elements.
View this post on Instagram
Since officially serving as a chairman of the Banjarbaru City PKK, accompanying her husband, the governer of Banjarbaru, Vivi has reduced her activities in the world fashion. The return of Vivi as a designer was marked by the appearance of the VIVIZUBEDI brand on Megatron Times Square, NY, on September 19, 2021. More than 125.000 people watch her collection every day. Before traveling the world, VIVIZUBEDI already had a solid foundation in the country alone.
View this post on Instagram
Vivi has succeeded #StrengthenLocalModest by opening nine boutique branches that are spread throughout Indonesia: Aceh, Medan, Padang, Banjarbaru, Jambi, Samarinda, Makassar, Bukittinggi and Jakarta. Success in penetrating the global market certainly requires its tips. Vivi's strategy is to ensure that its products are by market demand and answer needs. DNA the brand must also be strong and consistent with producing a unique product and not market. "If it's like this, bismillah, just walk with full of confidence."
While recovering from the pandemic, VIVIZUBEDI also plans to return made a splash in the United States. Vivi is preparing a VIVIZUBEDI surprise fascinating in New York in the next year. For the record, the number of exports of fashion products accounted for more than half of the total overall exports in the sub-sector of the Indonesian creative economy. In OPUS notes Outlook 2020, written by the Indonesian Creative Economy Agency (BEKRAF), export value in the 2017 fashion sub-sector increased 9.80% compared to 2016. In fact, in 2017, the value of fashion sub-sector exports reached 11,969.4 million US dollars.
#THE S MEDIA
#Media Milenial
#vivi zubedi goes international