SPORTS
MAKING HISTORY AT TOKYO 2020 PARALYMPIC: INDONESIA WON FIRST GOLD MEDAL
Leani Ratri Oktila and Khalimatus Sadiyah won 21-18 and 21-12 in 32 minutes and created history for Indonesia.
05.09.2021
BY A. NUGROHO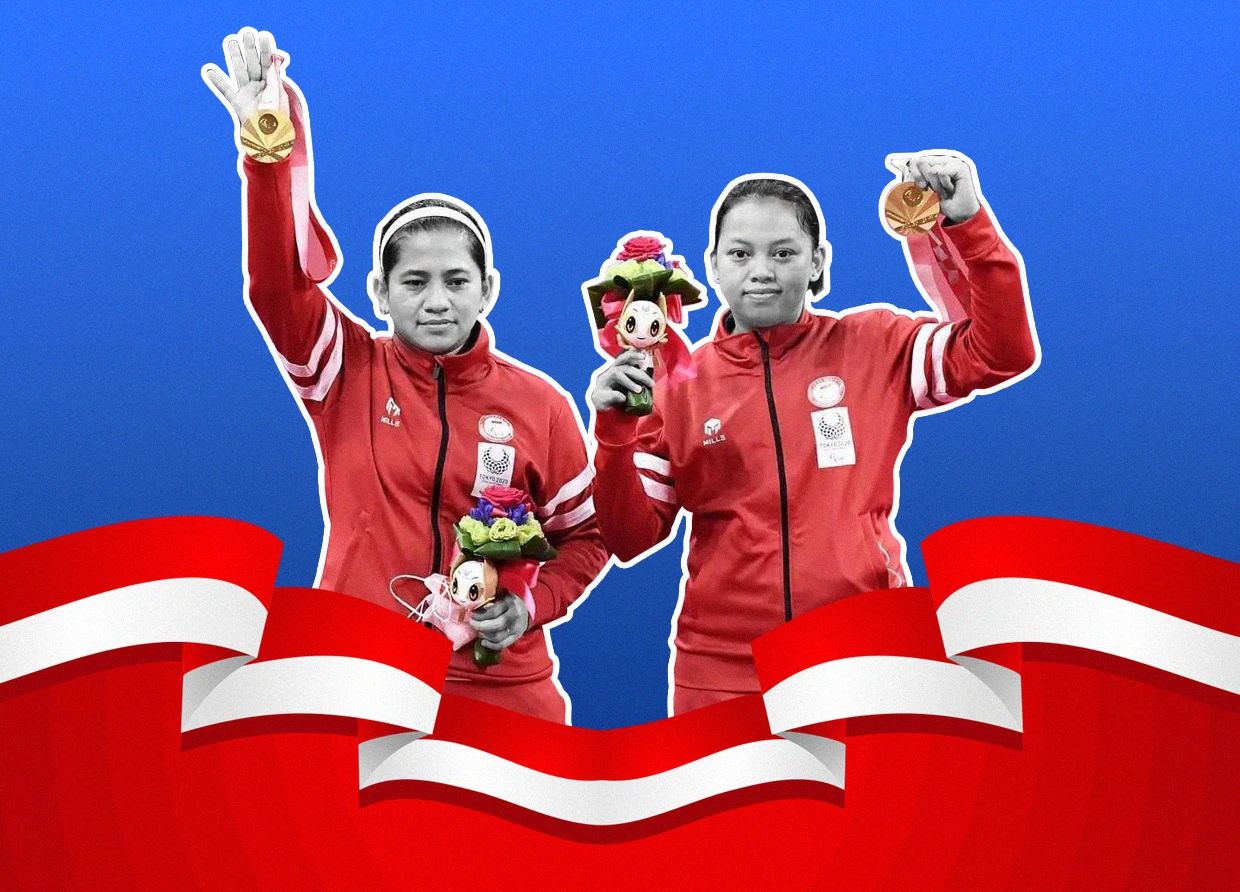 A historic achievement was given by Indonesian athletes at the Tokyo 2020 Paralympic. In women's doubles in badminton, Leani Ratri Oktila and Khalimatus Sadiyah won gold medals. This is the first time Indonesia has won gold since the Tokyo 2020 Paralympic were first held.
Oktila and Sadiyah managed to bring home the gold after defeating the representatives of China, Cheng Hefang and Ma Huihui. This gold medal was a prize in the final of the women's doubles SL3-SU5.
The SL3 classification is a classification for athletes with walking disorders or imbalance. The SU5 category for athletes with upper-body limitations such as one cannot be used normally.
The victory of the representatives of Indonesia was carried out full of struggle in two straight sets. Oktila and Sadiyah won 21-18 and 21-12 in 32 minutes and created history for Indonesia.
View this post on Instagram
Previously Oktila and Sadiyah had played several matches. Both of them ran the semifinal match on Saturday (4/9/2021) morning and then played in two games, namely women's singles and mixed doubles.
The final road is quite thrilling. Oktila and Sadiyah exchange blows with the Chinese women's doubles pair. Several long rallies were shown since the beginning of the first set. Still, the Indonesian couple appeared more pressing and could take points until they finally won the first set.
In the second set, China's women's doubles hit back. Had left behind, but Oktila and Sadiyah continued to gain points and widen the distance until they finally won the gold medal.
A little profile about Oktila and Sadiyah. Oktila has known badminton since she was seven years old and is directly mentored by her parents. His experience on the national stage has led to achievements from a young age, including representing his home province of Riau.
View this post on Instagram
But in 2011, when she was 21 years old, Oktila had an accident that broke her left leg and arm. He also had to face the fact that her hands and feet were permanently damaged.
This condition made her even more excited to prove herself to still excel in the sport he loves. Oktila continued to train until she was awarded the title of best female badminton athlete from the Badminton World Federation (BWF) for two consecutive years, 2018-2019.
Her first title in badminton was obtained during the 2012 National Paralympics Week; a year after her accident, Oktila immediately won gold. Medal achievements at various world championships and the Asian and ASEAN levels have now been collected.
Khalimatus Sadiyah's story is also very inspiring. The athlete from Mojokerto, East Java, has known badminton since elementary school in grade 5.
From childhood to adolescence, Sadiyah was often ridiculed for her limitations by others. Shee then turned a deaf ear and trained hard to achieve her dream as an athlete.
Sadiyah is known to have high discipline when practising. She rarely skips practice time, even when it's raining.
Sadiyah then received an offer from the East Java Youth and Sports Office to participate in the 2013 National Student Paralympic Week championship in Jakarta. She immediately won a gold medal in the SL4 women's singles number.
Her work in para-badminton reaps various achievements to the world level. In the official data of the World Parabadminton Federation (Para-BWF), Sadiyah is ranked seventh in the world in the SL4 women's singles sector. In women's doubles, she is paired with Oktila and is ranked number one in the world.
View this post on Instagram
Indonesian Contingent Achievements
Previously, badminton athletes Dheva Anrimusthi and Suryo Nugroho, who competed in the men's singles number SU5, won silver and bronze medals.
Dheva, who was seeded as the first seed, won silver after losing to second seed Cheah Like Hou from Malaysia in the final with 17-21, 15-21. Meanwhile, Suryo Nugroho won the bronze medal after winning Taiwan athlete Fang Jen Yu in two straight games 21-16, 21-9.
The Indonesian contingent has managed to record six medals and is ranked 53rd in the Tokyo 2020 Paralympic. The six medals were presented by Leani Ratri Oktila/Khalimatus Sadiyah (gold), Dheva Anrimusthi (silver), and Suryo Nugroho (bronze) from the Olympics. Badminton, Ni Nengah Widiasih from the women's 41kg (silver) powerlifting event, Saptoyogo Purnomo from the men's 100m – T37 athletics event (bronze), and David Jacobs in the men's singles table tennis branch in class 10 (bronze).
#THE S MEDIA
#Media Milenial
#tokyo paralympic
#leani ratri oktila
#khalimatus sadiyah