TRAVEL + LEISURE
EXPLORING THE HIDDEN GEMS OF THE UNITED STATES: A SOUTHEAST ASIAN TRAVELER'S GUIDE
Embark on an unforgettable Southeast Asian journey to the United States and explore a diverse tapestry of hidden gems that go beyond the typical tourist trail.
14.10.2023
BY PEACHY BECK
Embarking on a journey from Southeast Asia to the United States is an exciting adventure. With 50 states, 5 territories, and the District of Columbia to choose from, deciding where to begin your American odyssey can be a daunting task. However, to help Southeast Asian travelers navigate this vast and diverse country, Brand USA (Visit The USA), the official destination marketing organization for the United States, has highlighted five enchanting destinations that should undoubtedly be on your travel radar.
1. Rhode Island: A Glimpse of the Smallest U.S. State's Charms
Rhode Island, despite being the smallest state in the U.S., offers an abundance of experiences that punch well above its size. With its golden beaches, historic mansions, delectable seafood, and boutique wineries, it's no wonder this state has become a top destination. Just an hour's train ride from Boston via Amtrak, Newport stands out as a must-visit city. It is home to "summer cottages" perched on cliffside beaches, once owned by renowned families like the Astors, Rockefellers, and Vanderbilts. The scenic Cliff Walk offers visitors a glimpse into the Gilded Age's architectural heritage, featured in films like "The Great Gatsby" and HBO Max's new series, "The Gilded Age." As you explore further south, you'll be captivated by Rhode Island's stunning coastline and the quaint village of Watch Hill. Be sure to keep an eye out for Taylor Swift's coastal retreat or savor a champagne cocktail on the veranda of the historic Ocean House, a beachfront hotel. And no visit to Rhode Island is complete without indulging in the state's legendary seafood, with Matunuck Oyster Bar in South Kingstown being a standout for its "pond-to-plate" dining.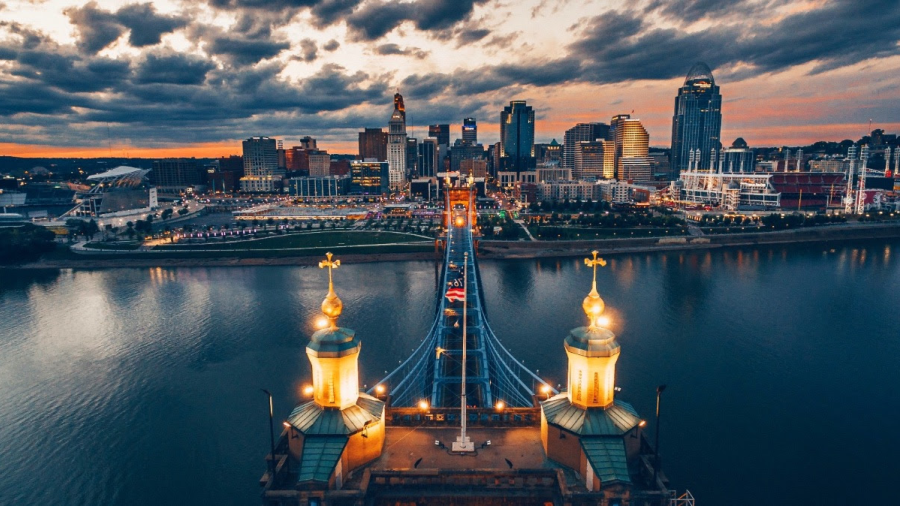 2. Cincinnati, Ohio: A Tapestry of Charming Neighborhoods
Cincinnati, nestled along the picturesque Ohio River, is a city with a rich tapestry of charming neighborhoods, each offering a unique blend of architectural, cultural, and culinary experiences. Over-the-Rhine (OTR) is a food lover's paradise, featuring local restaurants, bars, breweries, and the historic Findlay Market, which is not only Ohio's oldest farmers' market but also one of the top 10 food markets globally. For art enthusiasts, Downtown Cincinnati is a haven, boasting cultural centers, galleries, and over 50 murals, including tributes to Ohio native Neil Armstrong and the Cincinnati Toy Heritage Mural, which celebrates iconic toys like the Care Bears and C3PO. Sports aficionados will find the regenerated Riverfront area a delight, home to the Cincinnati Bengals and the Cincinnati Reds, along with the magnificent Roebling Suspension Bridge that provides a stunning backdrop for sunsets over the Ohio River.
3. Fort Worth, Texas: A Western Adventure Awaits
Fort Worth seamlessly combines cowboy charm and rich Western history with a commitment to urban renewal. It is home to the world's only twice-daily cattle drive, the world's largest honky-tonk, and a year-round rodeo, setting the stage for hit TV series like "1883" and "Yellowstone." Exploring the famed Stockyards Historic District, visiting the Cowgirl Hall of Fame, enjoying a cold brew in a saloon, and shopping for personalized cowboy boots in the charming 35-block Sundance Square are all must-dos. Just a short drive south of Fort Worth, the Beaumont guest ranch offers an authentic Western experience with activities like horseback trail rides, clay shooting, archery, zip-lining, and cattle drives. Keep an eye out for local longhorns, wild horses, and even llamas on this remarkable adventure.
4. Sonoma County, California: Embrace the Great Outdoors
While Sonoma County in Northern California is famous for its award-winning wines, it has much more to offer. With over 80 kilometers of breathtaking Pacific Ocean coastline, it beckons outdoor enthusiasts to explore and reconnect with nature. Hikers can traverse the five-kilometer Bluff Top Trail, witnessing migrating whales from November to March. Those seeking a more leisurely beach experience can enjoy beachcombing or tide pooling at Shell Beach in Sonoma Coast State Park. Inland, Lake Sonoma offers opportunities for fishing, swimming, canoeing, and paddleboarding. After enjoying the beach, travelers can indulge in relaxation at one of the county's 40 spas and wellness centers, offering an array of treatments, from cedar enzyme baths to al fresco massages.
5. Charleston, South Carolina: Unveiling the Beauty of Hidden Gardens
Charleston, South Carolina, is a city known for its breathtaking garden blooms. The historic Magnolia Plantation and Gardens, America's oldest public gardens, offer a tranquil escape from everyday life. Each March and April, the Historic Charleston Foundation opens the doors to some of Charleston's most exclusive private gardens, showcasing meticulously designed and well-maintained 'secret gardens' that are typically off-limits to visitors. These gardens feature blooming dogwoods, redbuds, and azaleas, creating a sensory delight. Throughout the year, travelers can explore the 1700s plantation and mansion, Middleton Place, which boasts a European-style garden that blooms across all seasons. Another option is Wadmalaw Island, where visitors can ride a trolley through the tea fields.
These five off-the-beaten-path destinations provide Southeast Asian travelers with the opportunity to explore unique and enriching experiences in the United States. Whether you're drawn to the history of Rhode Island, the charm of Cincinnati, the Wild West of Fort Worth, the natural beauty of Sonoma County, or the hidden garden blooms of Charleston, each destination offers a captivating experience. So, pack your bags and embark on a journey to explore these hidden gems in the heart of America, making your Southeast Asian trip to the United States a truly memorable adventure.
#THE S MEDIA
#Media Milenial
#Southeast Asian travel
#United States
#hidden gems
#unconventional destinations
#Brand USA
#Rhode Island
#Cincinnati
#Fort Worth
#Sonoma County
#Charleston
#exploration
#travel guide
#cultural experiences
#natural beauty