FASHION + WATCHES
EXPLORING NEW YORK CITY WITH KATE SPADE NEW YORK: TAKE A PEEK AT FEBBY RASTANTY'S STYLE!
Actress Febby Rastanty attended the Kate Spade New York fashion show at New York Fashion Week, which was held on September 9, 2022.
19.09.2022
BY YUKE RATNA
Actress Febby Rastanty attended the Kate Spade New York fashion show at New York Fashion Week, which was held on September 9, 2022. This prestigious fashion week has become the center of attention all over the world because it gathers important figures in the fashion world in the same week.
Some of the celebrities who attended the Kate Spade New York Spring 2023 collection along with Febby were Rebel Wilson (actress from Pitch Perfect), Maitreyi Ramakrishnan (actress from Never Have I Ever), Regina Hall (actress from Honk for Jesus. Save Your Soul), and many more.
View this post on Instagram
In exploring the city dubbed as "The Big Apple" this time, Febby was seen wearing several collections of bags, ready-to-wear and accessories from Kate Spade New York. Let's take a peek at some of Febby's outfits of the day while in New York!
Intrigued by this one of the favorite places to eat for New Yorkers, Febby finally visited the Pietro Nolita restaurant because it had all-pink shades which was her favorite color.
A few tips, when you visit this restaurant, don't forget to take pictures in contrasting colored and patterned clothes, such as the greenhouse plaid ella dress in the pine grove color she wore. The A-Line silhouette and plaid motif give the appearance a retro look.
These clubhouse espadrilles shoes in blue blazer color are indeed comfortable to use when traveling. Plus, this sam icon mini hobo bag in true white color is perfect for giving a feminine and casual impression at the same time.
While waiting for the taxi to arrive, Febby has seen in vintage style, wore a bouquet toss pleated dress. This blue dress with a floral bouquet print featured cute puff sleeves and an adjustable waistband, perfect for daytime wear. The cotton and spandex materials in this elegant dress are also comfortable for traveling or daily work.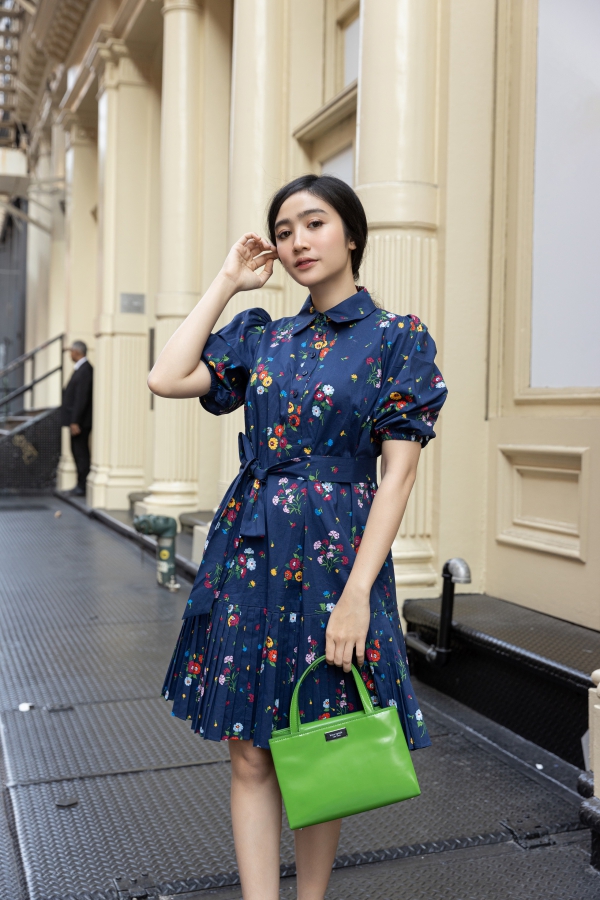 If you have a feminine style like Febby, you can also look more vibrant with the sam icon mini tote bag in the iconic kate spade green color. This bag with a classic silhouette has indeed become one of the favorite handbags among New Yorkers since the 1930s because of its versatile shape, and this time the pop color choice can make the appearance stand out more.
It's a sunny day out! While on vacation, of course, don't forget to wear sunglasses to protect your eyes from the hot sun. While visiting housing in New York City, Febby looked quirky and feminine wearing a dot party julia dress from the latest Kate Spade New York Fall 2022 collection. The eccentric polka-dot motif makes Febby's look more artsy, making it suitable for use when visiting museums while on vacation.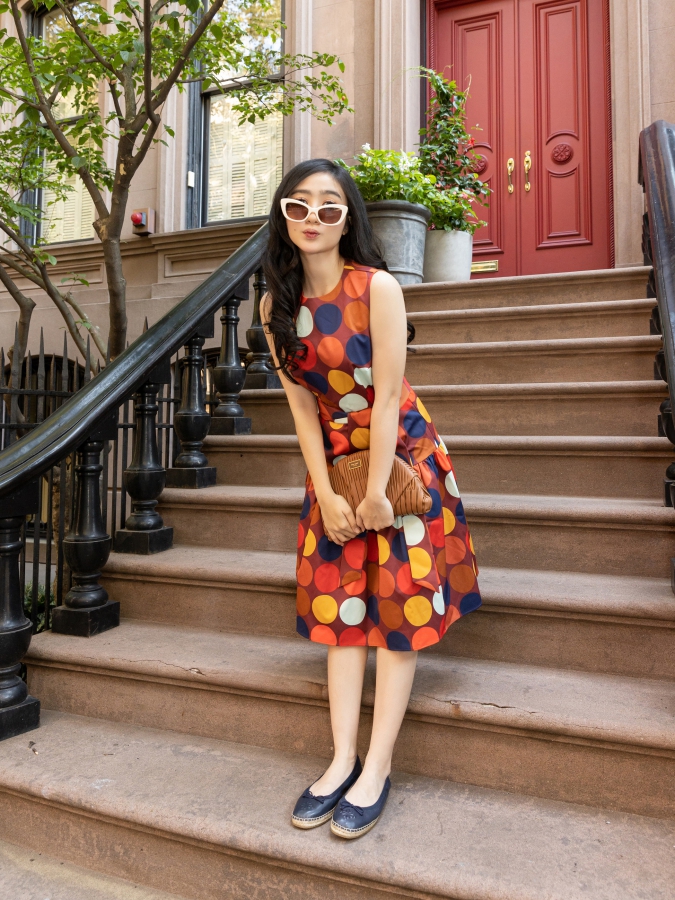 To give a playful accent that is the hallmark of Kate Spade New York, Febby wore a novelty handbag 3D croissant clutch in allspice cake color. A practical bag that resembles a croissant bread makes this tiny clutch give a statement look so that it attracts attention when traveling. In fact, this bag can also be a conversation starter with other New Yorkers because of its adorable shape.
The entire collection of Kate Spade New York bags, ready-to-wear and shoes are available at offline boutiques in Indonesia and online at www.katespade.co.id.
#THE S MEDIA
#Media Milenial
#Kate Spade New York
#Febby Rastanty