TECHNOLOGY
YUSAKU MAEZAWA: THE ECCENTRIC JAPANESE BILLIONAIRE WHO GOES TO SPACE
Maezawa is out of this world ― both literally and figuratively.
15.12.2021
BY JACKSON KEEFE
When you have all the money that you can spend in a hundred lifetimes, you can do all the things you want on ― even out of ― Earth. Meet Yusaku Maezawa, a Japanese entrepreneur who just joined the exclusive club of billionaires heading for space.
Born in Chiba Prefecture, Japan, in 1975, Maezawa's business journey started a long time ago. He moved to the United States after graduating from the renowned Waseda Jitugyo High School ― where he and his friends formed an indie rock band called Switch Style ― to be with his then-girlfriend.
While living there, he gathered records and CDs from artists he admired. He returned to Japan in 1995 and launched an import CD and record mail-order business.
The business was a major success. Maezawa went on to establish Start Today Inc. in 1998, eventually switching to an online retail business platform around the year 2000. A year after, his band was signed to BMG Japan and released their first hit album.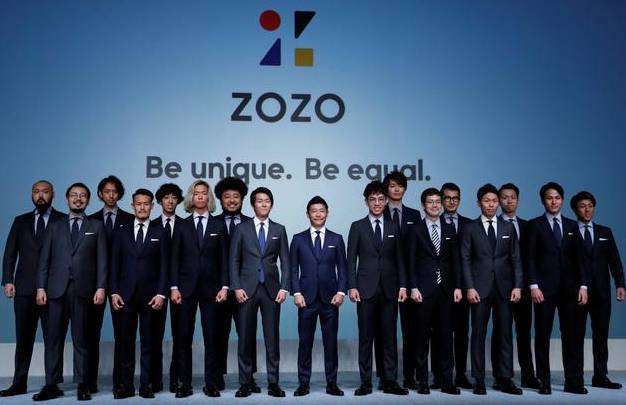 Start Today became a joint-stock business in 2000, and they began retailing apparel as well. Later in 2005, Maezawa severed the music division of the company as "some of the music they handled were not suitable for the company image in going public". The apparel division went public in 2007 and was listed on the Tokyo Mothers Market.
His net worth is reportedly $1.5 billion as of 2014, thanks to Start Today's shopping platform ZOZOTOWN and fashion app WEAR, which have roughly 10 million members combined.
He ranks 25th on Japan's most rich list and 1140th on the Forbes list.

Eccentric lifestyle
In contrast to the conventional billionaires who don't reveal much of their personal lives, Maezawa seems to enjoy attracting the spotlight toward him.
As an art collector, he left the world open-mouthed in 2017 when he splurged $110.5 million for Jean-Michel Basquiat's 1982 painting "Untitled" - a skull-like head in oil-stick, acrylic, and spray paint on a large canvas. In an interview, he said he "felt shivers" when he first saw the painting.
"Regardless of its condition or sales value, I was driven by the responsibility to acknowledge great art and the need to pass on not only the artwork itself, but also the knowledge of the artist's culture and his way of life to future generations," he said.
His other art purchases — each costs a king's ransom — include a $13.9 million untitled Christopher Wool painting of the word "Chameleon", a $9.7 million painting called Runaway Nurse by Richard Prince — a record for the artist, a $6.9 million sculpture called Lobster by Jeff Koons, a $2.6 million on Self-Portrait as Vincent van Gogh by U.S. artist Adrian Ghenie, a $5.8 million Sumac 17, a mobile by sculptor Alexander Calder, and a $1.69 million on a light sculpture spelling out "Eat War" by Bruce Nauman.
The 46-year-old mogul insists he is merely an "ordinary collector" who buys pieces "simply because they are beautiful". He plans to open a private museum in his hometown of Chiba prefecture.
Besides rocking the global art market, Maezawa is also known for his strong presence on social media. He has over 39,000 followers on Twitter, where the public can see his witty sense of humor.
He frequently gives money away on Twitter in order to gain more attention. "It's a real social experiment," Maezawa said on YouTube, adding that he expects academics and economists to be interested.
The businessman's latest internet outlet is YouTube, where he has posted films such as a tour of his private jet, a trip to the barbershop to color his hair, and even an update on his bank account following November's windfall.

Aiming high
On Wednesday (December 8, 2021), he took off from Kazakhstan's Baikonur Cosmodrome on a Soyuz spacecraft for a 12-day voyage to the International Space Station. He is the first space tourist to the ISS in over a decade.
The trip marked the start of a planned SpaceX expedition to the moon, which Maezawa and Space Exploration Technologies Corp. founder Elon Musk announced in 2018.
"I feel like a kid waiting for a school trip," Maezawa said during a press conference.
Prior to his departure, he had been gathering ideas for things he should do in space and asking queries such as: "Do you move forward when you fart in space? What happens when you play Pokémon GO in space?"
Despite his conspicuous lifestyle, he has contributed to charities and implemented a progressive management style. In April 2003, Start Today and 40 firms from his online retail site joined hands to design a charity T-shirt condemning the Iraq war. They later donated the entire proceeds from the T-shirt sales — 5.96 million yen — to charity.
He also personally donated a million dollars to the Chiba Marine Stadium reconstruction.
"Work hard, make people happy, earn money, buy big dreams, visit amazing places, meet people, experience great things, grow as a person, and work again," Maezawa once tweeted, explaining his philosophy.
#THE S MEDIA
#Media Milenial
#Yusaku Maezawa
#Japanese entrepreneur
#billionaires
#space
#ZOZOTOWN
#SpaceX
LATEST NEWS
We have a vast selection of rolex replica such as the Daytona, Milgauss, Submariner, Explorer, Gmt Master II in http://www.localdlish.com
We have a vast selection of rolex replica such as the Daytona, Milgauss, Submariner, Explorer, Gmt Master II in http://www.localdlish.com
We have a vast selection of rolex replica such as the Daytona, Milgauss, Submariner, Explorer, Gmt Master II in http://www.localdlish.com
We have a vast selection of rolex replica such as the Daytona, Milgauss, Submariner, Explorer, Gmt Master II in http://www.localdlish.com
We have a vast selection of rolex replica such as the Daytona, Milgauss, Submariner, Explorer, Gmt Master II in http://www.localdlish.com
We have a vast selection of rolex replica such as the Daytona, Milgauss, Submariner, Explorer, Gmt Master II in http://www.localdlish.com
We have a vast selection of rolex replica such as the Daytona, Milgauss, Submariner, Explorer, Gmt Master II in http://www.localdlish.com
We have a vast selection of rolex replica such as the Daytona, Milgauss, Submariner, Explorer, Gmt Master II in http://www.localdlish.com
We have a vast selection of rolex replica such as the Daytona, Milgauss, Submariner, Explorer, Gmt Master II in http://www.localdlish.com
We have a vast selection of rolex replica such as the Daytona, Milgauss, Submariner, Explorer, Gmt Master II in http://www.localdlish.com
We have a vast selection of rolex replica such as the Daytona, Milgauss, Submariner, Explorer, Gmt Master II in http://www.localdlish.com
We have a vast selection of rolex replica such as the Daytona, Milgauss, Submariner, Explorer, Gmt Master II in http://www.localdlish.com
We have a vast selection of rolex replica such as the Daytona, Milgauss, Submariner, Explorer, Gmt Master II in http://www.localdlish.com
We have a vast selection of rolex replica such as the Daytona, Milgauss, Submariner, Explorer, Gmt Master II in http://www.localdlish.com
We have a vast selection of rolex replica such as the Daytona, Milgauss, Submariner, Explorer, Gmt Master II in http://www.localdlish.com
We have a vast selection of rolex replica such as the Daytona, Milgauss, Submariner, Explorer, Gmt Master II in http://www.localdlish.com
We have a vast selection of rolex replica such as the Daytona, Milgauss, Submariner, Explorer, Gmt Master II in http://www.localdlish.com
We have a vast selection of rolex replica such as the Daytona, Milgauss, Submariner, Explorer, Gmt Master II in http://www.localdlish.com
We have a vast selection of rolex replica such as the Daytona, Milgauss, Submariner, Explorer, Gmt Master II in http://www.localdlish.com
We have a vast selection of rolex replica such as the Daytona, Milgauss, Submariner, Explorer, Gmt Master II in http://www.localdlish.com