TRAVEL + LEISURE
DON'T MISS FAVEFRIDAY 9.9! PLAN A STAYCATION IN FAVEHOTELS
Get discounts up to 35% when you book your stay at one of the participating favehotels with a stay period between 9 September - 9 October 2022.
09.09.2022
BY ARYA GIBRAN
Bring your friends or loved ones to a fun staycation at favehotels and take some time off from your busy lifestyle. Archipelago, Southeast Asia's largest private and independent hotel management group, brings back favefriday promotion.
On 9 September 2022 only, get discounts up to 35% when you book your stay at one of the participating favehotels with a stay period between 9 September - 9 October 2022. Book your stay only through the website www.favehotels.com using the promo code favefriday99.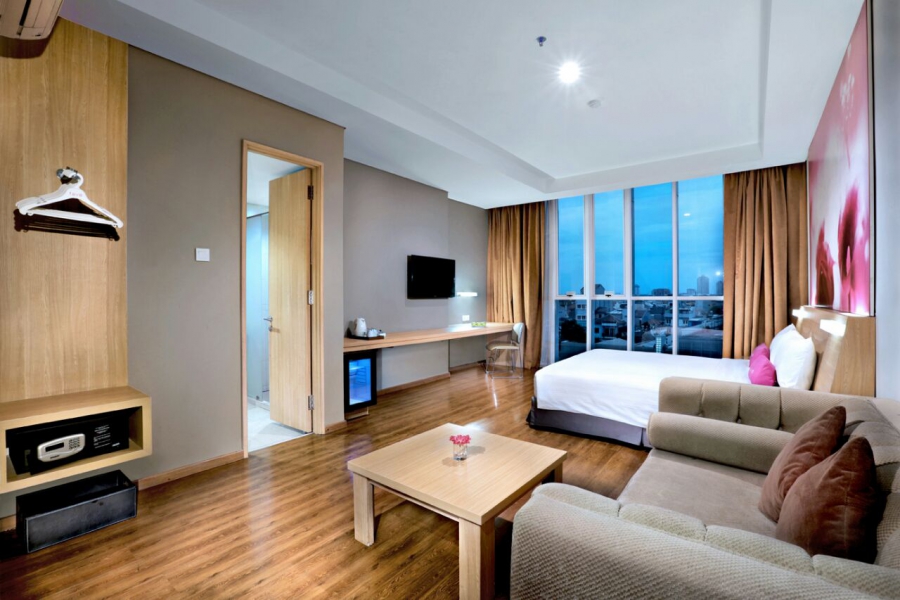 Below is the list of the 28 participating hotels for the favefriday 9.9 promo:
Sumatera: favehotel S. Parman Medan, favehotel Prabumulih, favehotel Palembang
Jakarta: favehotel Pluit Junction, favehotel Pasar Baru, favehotel Melawai, favehotel LTC Glodok,
favehotel Tanah Abang Cideng
West Java: favehotel Hyper Square Bandung, favehotel Pamanukan, favehotel Karawang, favehotel Tasikmalaya, favehotel Braga, favehotel Jababeka Cikarang
Central Java & Yogyakarta: favehotel Manahan, favehotel Solo Baru, favehotel Rembang, favehotel Cilacap, favehotel Malioboro Yogyakarta
East Java: favehotel Sidoarjo, favehotel Madiun, favehotel Graha Agung Surabaya, favehotel MEX Tunjungan Surabaya, favehotel Rungkut Surabaya
Bali & Lombok: favehotel Sunset Seminyak, favehotel Kuta Kartika Plaza, favehotel Langko Mataram Kalimantan & Sulawesi: favehotel Ahmad Yani - Banjarmasin, favehotel Bitung.
"Due to popular demand, we are delighted to bring back favefriday promotion offering huge discounts. As we are celebrating our 25th anniversary this year, we want groups of friends and families to spend an awesome time and gain memorable experiences in their favorite favehotels," says John Flood, President and CEO of Archipelago.
Favehotels is Archipelago's largest brand portfolio providing comfortable stays at great prices. Favehotels is everybody's favorite budget hotel as it offers inexpensive yet fresh and contemporary accommodations.
Focusing on the essentials such as ultra-fast internet connection, comfortable beds, and security, favehotels provide what a budget traveler is looking for at the perfect price point. Moreover, Present in over 60 prime locations, it is hard to miss.
"Our favefriday promotion has been one of our most successful offers for years and we are ecstatic to bring it back. As our favehotels are ubiquitous all over Indonesia, want to treat and welcome more guests through a flash sale this month," says Chris Legaspi, Vice President of Sales, Marketing and Revenue Management.
To find out more information about our 'favefriday 9.9' promotion, please visit https://www.archipelagointernational.com/en/favefriday99 or follow @favehotels on Instagram.
#THE S MEDIA
#Media Milenial
#favehotel