CULINARY
SUNDAY BRUNCH IN BALI: VISIT THESE TOP 6 PLACES
Let's out again to embrace breakfast/lunch hybrid hangouts with open arms
03.09.2021
BY HANUM FAUZIA
Who'd have thought you could miss brunch? It was mealtime for people who didn't really like food that much. So now we're out again to embrace breakfast or lunch hybrid hangouts with open arms.
We've put together our guide to the best of the best brunches in Bali in every neighborhood for you to eat and sip your lazy weekends away. From decadent food spreads in Nusa Dua to bottomless drinks in Seminyak, have your people call their people, and do this fine Sunday session. It's a thing.

The St. Regis Brunch at Home
Enliven your weekends by indulging in the island's most exquisite brunch in the comfort of your home, showcasing 10 dishes of Kayuputi's Pan-Asian-inspired haute cuisine handcrafted by Executive Chef Agung Gede. You can indulge in distinguished gourmet food, such as Avgura Pearl, Miso Baked Oyster, Martabak Foie Gras, and Black Angus Beef Wellington, and ending the perfect meal with dessert by Pastry Chef Vincent Stopin.
In addition to the curated meal, culinary enthusiasts can enjoy signature mocktails such as Mango Tango and Passion in Bali at an additional charge. If you have special dietary requirements, food allergies, or food intolerances, the menu can be adjusted accordingly.

The Brunch of All Brunches: Starfish Bloo at W Bali – Seminyak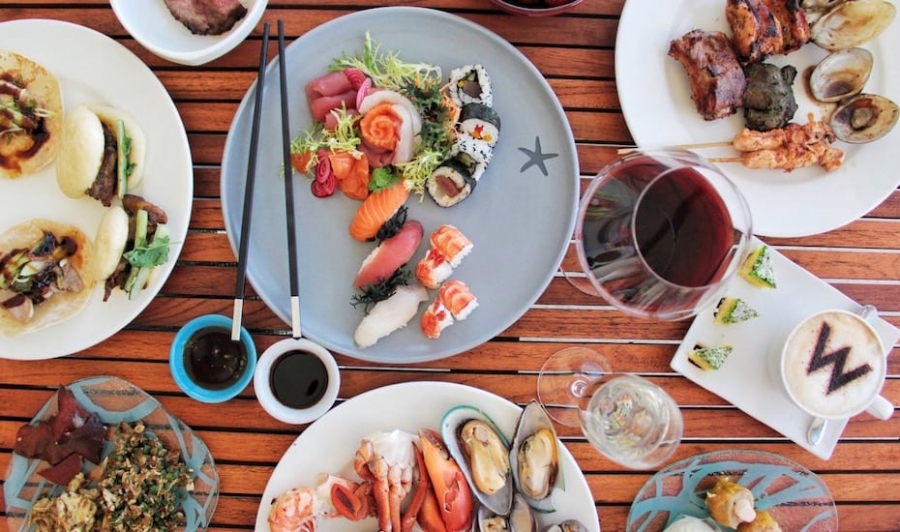 This open-air beachfront spot at W Bali – Seminyak is, without doubt, one of Bali's very best for a leisurely Sunday foodie sesh. As you sit overlooking the ocean and the designer pool areas of one of Seminyak's swankiest resort addresses, you're beyond spoilt for choice at this fancy and oh-so-fabulous hotel.
From the gourmet beachside buffet to the perfectly curated à la carte plates and designer cocktail menus, the options here seem to go on forever. Dive into Pan Asian flavors and international live cooking stations, like scrummy seafood and crispy babi guling, roast meats, zesty salads, and smoking BBQs.
And then there's the dessert. Oh, those desserts. And did we mention, pool access is included too? Now that's a Sunday done right!

Sunny Sunday Brunch: Soleil at The Mulia, Mulia Resort & Villas
Positively, absolutely, utterly extraordinary – no expense is spared at Soleil's Sunday brunch, situated beachfront at The Mulia, Mulia Resort & Villas. French for 'sun', the golden glow of Soleil offers Mediterranean and Pan-Asian cuisine with influences from Indonesia, Vietnam, and Thailand.
The array of food is as vast as the resort's never-ending pool, with a fantastic selection of premium meat, grilled seafood, endless delicacies, and an all-inclusive a la carte menu, as well as daily chef's selections. Oh, and don't forget the mouth-watering dessert bar, with its horizon of sweet creations and even a liquid nitrogen ice-cream station.

Seafood Brunch: Seasalt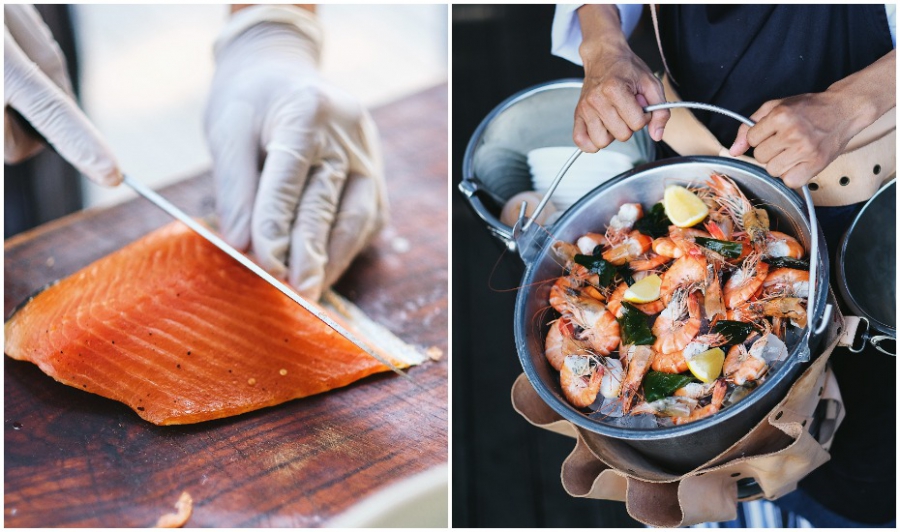 At Seasalt, every Sunday, the Seafood Brunch is where all-you-can-eat ocean delicacies are dished up by the boatload overlooking Seminyak's white sands – sparkling wine included! That's right, fellow feasters, you'll want to steer your Sunday munching ritual to Alila Seminyak's uber-cool beachfront eatery for a seaside feast inspired by the ocean.
Kick off with fresh ceviche or a few sides of fresh salmon before tucking into the seafood-heavy menu, full of delectable fruits de mer (the juicy chilled prawns or freshly shucked oysters are our faves!). When you're done, sidle off to the stunning pool to soak up the rest of the afternoon, ideally with a glass of something fizzy.
Stones Kitchen Legian at The Stones Hotel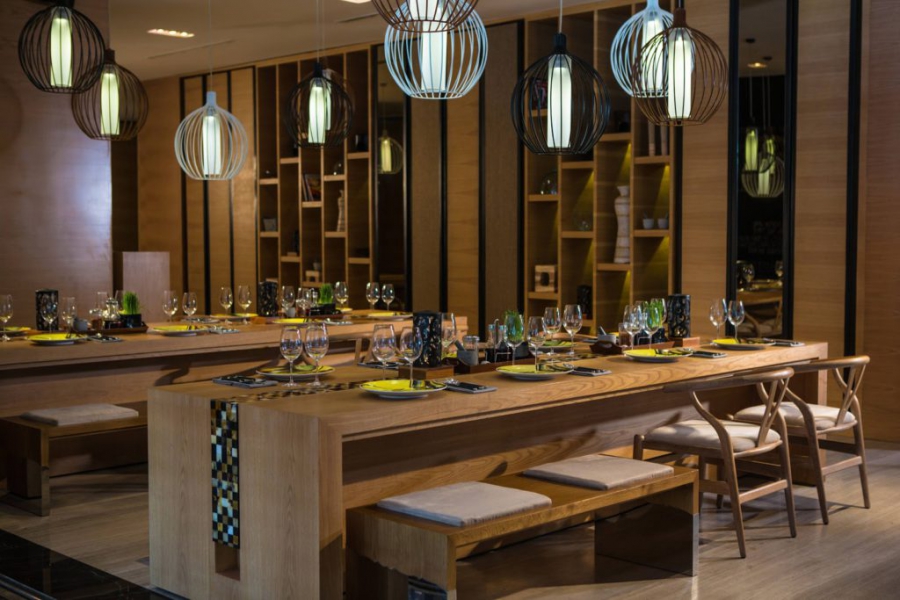 If you want to treat yourself to a fancy brunch, try calling and reserving a seat at Stones Kitchen. This restaurant is located inside the Stones Hotel. They offer Western, Indian, Asian, and even some Latin American delicacies for the ultimate brunch experience.
Firstly, they have live cooking stations, which means you can watch them handle their ingredients and your food beautifully. For the menu, they are compassionate towards their customers as Vegetarian and gluten-free options are available.
From the menu, how about you enjoy a nice brunch with the reliable delicacy of hummus and aubergine dip with warm pita bread? Or you can eat lavish and eat black Angus beef rendang, which is something you don't get every day.
Lastly, you can drink a long list of signature cocktails. Rum and Vodka at 10 am? Why not? It's your brunch holiday, anyways!

Kilo Bali
In Kilo Bali, you can eat good food without adding a kilogram of weight (not guaranteed). They are the perfect go-to for brunch as their menus are very simple and yet offer enough variety from both breakfast and lunch options. You can choose a wide range of delis to put into your kilo bowl, including pork belly, acai, smoked ahi tuna donburi, bulgogi chicken, and more.
You can also do the same with their sandwiches, with fillings and wraps like duck tacos, BBQ pork sandwiches, and their signature Kilo's Smash Burger! For drinks, they offer both healthy and fun options to complement your brunch.
Try out their fresh and zesty Morning Vibes drink, which is a blend of orange, apple, celery, and carrot, or their Kombuchas and Tepaches for a more soothing taste.
#THE S MEDIA
#Media Milenial
#brunch at bali
LATEST NEWS
We have a vast selection of rolex replica such as the Daytona, Milgauss, Submariner, Explorer, Gmt Master II in http://www.localdlish.com
We have a vast selection of rolex replica such as the Daytona, Milgauss, Submariner, Explorer, Gmt Master II in http://www.localdlish.com
We have a vast selection of rolex replica such as the Daytona, Milgauss, Submariner, Explorer, Gmt Master II in http://www.localdlish.com
We have a vast selection of rolex replica such as the Daytona, Milgauss, Submariner, Explorer, Gmt Master II in http://www.localdlish.com
We have a vast selection of rolex replica such as the Daytona, Milgauss, Submariner, Explorer, Gmt Master II in http://www.localdlish.com
We have a vast selection of rolex replica such as the Daytona, Milgauss, Submariner, Explorer, Gmt Master II in http://www.localdlish.com
We have a vast selection of rolex replica such as the Daytona, Milgauss, Submariner, Explorer, Gmt Master II in http://www.localdlish.com
We have a vast selection of rolex replica such as the Daytona, Milgauss, Submariner, Explorer, Gmt Master II in http://www.localdlish.com
We have a vast selection of rolex replica such as the Daytona, Milgauss, Submariner, Explorer, Gmt Master II in http://www.localdlish.com
We have a vast selection of rolex replica such as the Daytona, Milgauss, Submariner, Explorer, Gmt Master II in http://www.localdlish.com
We have a vast selection of rolex replica such as the Daytona, Milgauss, Submariner, Explorer, Gmt Master II in http://www.localdlish.com
We have a vast selection of rolex replica such as the Daytona, Milgauss, Submariner, Explorer, Gmt Master II in http://www.localdlish.com
We have a vast selection of rolex replica such as the Daytona, Milgauss, Submariner, Explorer, Gmt Master II in http://www.localdlish.com
We have a vast selection of rolex replica such as the Daytona, Milgauss, Submariner, Explorer, Gmt Master II in http://www.localdlish.com
We have a vast selection of rolex replica such as the Daytona, Milgauss, Submariner, Explorer, Gmt Master II in http://www.localdlish.com
We have a vast selection of rolex replica such as the Daytona, Milgauss, Submariner, Explorer, Gmt Master II in http://www.localdlish.com
We have a vast selection of rolex replica such as the Daytona, Milgauss, Submariner, Explorer, Gmt Master II in http://www.localdlish.com
We have a vast selection of rolex replica such as the Daytona, Milgauss, Submariner, Explorer, Gmt Master II in http://www.localdlish.com
We have a vast selection of rolex replica such as the Daytona, Milgauss, Submariner, Explorer, Gmt Master II in http://www.localdlish.com
We have a vast selection of rolex replica such as the Daytona, Milgauss, Submariner, Explorer, Gmt Master II in http://www.localdlish.com