SPORTS
DAVID JACOBS EXTENDS INDONESIAN MEDAL LIST AT TOKYO 2020 PARALYMPIC GAMES
David Jacobs is a para table tennis athlete, currently ranked second in the world.
29.08.2021
BY A. NUGROHO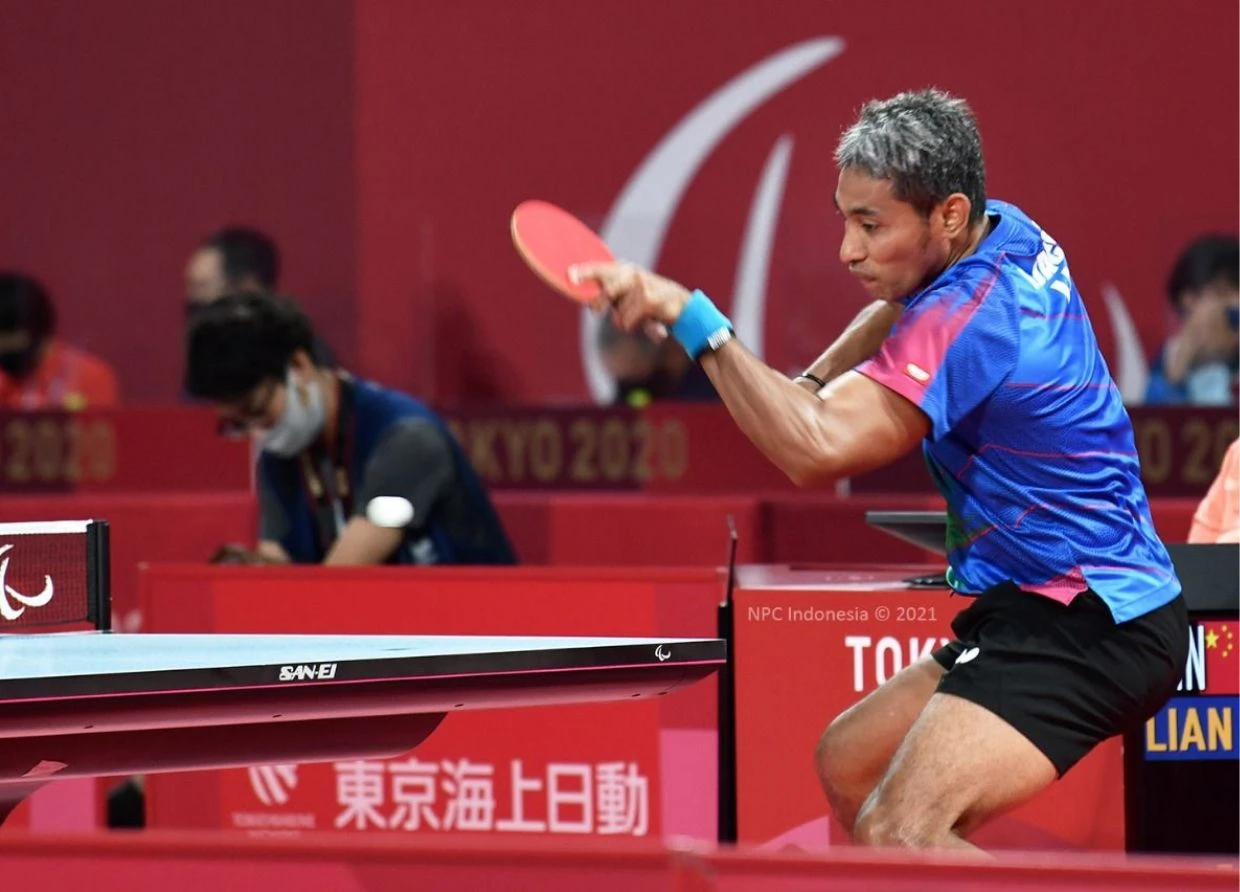 The achievements of Indonesian paralympic athletes at the 2020 Tokyo Paralympic continue. After Ni Nengah Widiasih and Saptoyogo Purnomo, Indonesia's medal tally increased due to the success of David Jacobs.
Jacobs presented the bronze medal in the men's singles table tennis C10. The certainty of Jacobs' award was obtained after he failed to reach the final on Saturday (28/8/2021).
Jacobs was defeated by the French representative Mateo Boheas with a score of 3-2. David's steps stopped, and he got a bronze medal without the need to compete with other players.
The first game was tight. Jacobs and Boheas both didn't want to waste an opportunity to earn points. Boheas managed to take advantage of the advantage by making six perfect serves to get points in the first set with 11-9.
Jacobs then took the initiative to attack immediately in the second set and led by two points. Boheas then returned to attack and was able to take advantage of the situation to win the second set.
View this post on Instagram
Under pressure, Jacobs showed a relentless struggle. He ended up getting the point in the third game.
Being in a favorable situation, Jacobs again dominated in the fourth set. The score was quite solid and pocketed points in the fourth game.
In the decisive fifth game, Jacobs appeared all out. But Boheas was able to take advantage of the situation to win finally and qualify for the final.
Dian David Michael Jacobs is a para-table tennis athlete, currently ranked second in the world. The man born in Ujung Pandang, June 21, 1977, has been fond of table tennis since 10 years old.
His parents fully support Jacobs's passion. When he moved to Semarang, his parents enrolled Jacobs into the PTP Club for more serious training.
His abilities improved significantly, and David made it into the national training center. Jacobs even had time to attend the Shi Cha Hau Sports School, Beijing, in 1997 to deepen his table tennis skills for six months.
View this post on Instagram
Jacobs's talent was glimpsed by the Indonesian Table Tennis Association in 2000 as a preparation for international matches. In 2001, Jacobs won his first gold medal at the Southeast Asia Table Tennis Association (SEATTA) Games in Singapore.
His achievements continue in both national and international sports competitions. At the 2004 National Sports Week (PON), he gained achievements. Eventually, he became a permanent employee at the DKI Jakarta Youth and Sports Office. He also got the task of coaching the Indonesian men's table tennis team in the same year.
Jacobs began his career in para table tennis in 2010 by joining the National Paralympic Committee (NPC). David found his life purpose of playing table tennis with his condition.
"When I first joined (at the NPC), I realized that my disability was nothing compared to other friends who used wheelchairs but kept practicing and competing. A big motivation for me to continue to excel and not make my shortcomings a barrier," said Jacobs.
#THE S MEDIA
#Media Milenial
#tokyo paralympic
#david jacobs
#indonesia
#national paralympic committee