EVENTS + PARTIES
ARCHIPELAGO'S YOUNG CHEFS CHALLENGE: HERE ARE THE 5 FINALISTS
Abdu Rohim of Harper Purwakarta named as winner of the challenge.
01.11.2022
BY YUKE RATNA
In conjunction with the 25th anniversary of Archipelago International, young chefs battled it out and showcase their skills and talents in the Archipelago's Young Chefs Challenge. The competition is the group's way to look for fresh talent from the group's various brands.
On October 14, the top five finalists brought out their culinary skills and expertise in Bali. With 'Indonesian Rijsttafel' as the theme, each chef came up with 1 appetizer, 1 soup, 6 main courses (including rice), and 1 dessert judged by Founder and Chairman of Archipelago International, Charles Brookfield and the President and CEO of Archipelago International, John Flood.
Chef Abdu Rohim from Harper Purwakarta blew the judges away with his take on the menu scoring 949. The young chef served a rhapsody of flavors and colors including his memorable Blue Pea Flower Chicken Soup, Green Curry Squid, and the red and yellow hues ubiquitous in Indonesian cuisine.
Chef Rohim bested all the young chefs from 82 hotels that participated in this culinary event and took home IDR7,500,000 plus Trophy from Charles Brookfield. Also, his recipes will be used in all Archipelago hotels during the first quarter of next year allowing guests to taste the amazing creation. The Corporate Chefs will prepare and include the menu on the program for the annual promotion 2023.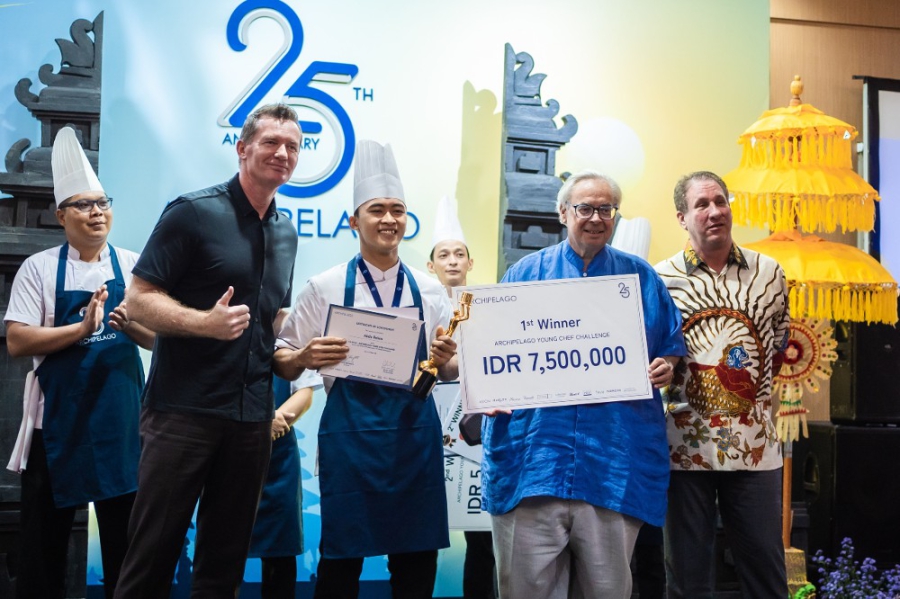 Other notable finalists and their respective prizes are:
2nd place (IDR 5,000,000 + Trophy from John Flood: Muhammad Firman - The Alana Solo (score 941)
3rd Place (IDR 2,500,000): Niko Layuda Pratama from Harper Malioboro (score 938)
4th place (IDR 1,000,000): Bayu Kurniawan - ASTON Canggu
5th place (IDR 1,000,000): Salman Bayhaqi - The Alana Yogyakarta
"We created the Archipelago Young Chef Challenge to discover and cultivate the talented chefs within our hotels who can capture the soul of the dishes and not just follow the recipes. As someone who worked in the kitchen for many years, I believe that it is the heart of a hotel and our guests benefit from it through great food experiences and wonderful memories. Thus, I want to provide many opportunities for our talented chefs to showcase their creativity and skills.
I would like to congratulate all the winners and finalists and thank all the young chefs who participated in the challenge. I am already looking forward to the creative dishes you will come up with in the next challenge," says John Flood.
#THE S MEDIA
#Media Milenial
#Archipelago International
#Young Chef Challenge
#25th anniversary