FASHION + WATCHES
A WATCH TO WATCH FOR: RICHARD MILLE'S COLORED CERAMICS
Quirky, but just the right dose.
06.12.2021
BY WILHEMINA BOWEN
Christmas is approaching, and some might need a gift idea or two, either for a special person or just for themselves. Here's an idea: fancy watches that would fit your outfit during your next vacation in some extravagant beach resort.
Swiss luxury watch company Richard Mille recently launched three new RM 07-01 Colored Ceramic editions that feature its signature open-worked movements atop a combination of colors.
The Pastel Blue edition combines light blue with turquoise accents for the ocean colors lovers. The flamingo troops would go for the Pastel Pink that mixes purple and blue elements, but they might also set their eyes on the Pastel Lavender that comes with red and orange highlights.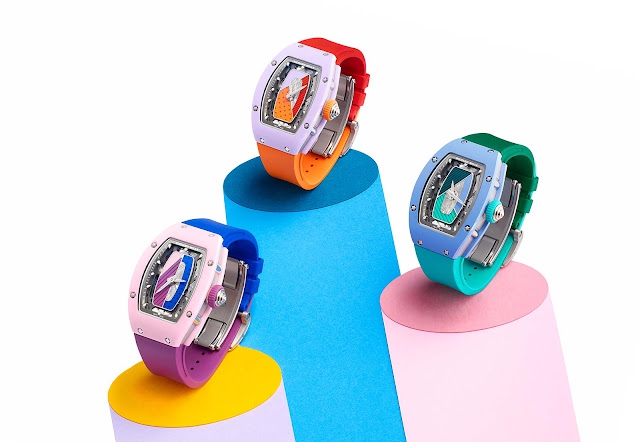 Richard Mille has set its eyes on new colored ceramics for these beauties using Tetragonal Zirconia Polycrystal, or TZP, a biocompatible ceramic constituted of over 95 percent zirconia (ZrO2). Its features include remarkable corrosion resistance and a hardness providing scratch resistance up to 1,400 Vickers.
The material is also claimed to be tougher than sapphire, associated with its low density of around 6 g/cm3. The timepiece would be so light that the wearer might forget they actually have them on their wrist.
The super tiny grain size allows excellent surface finish, allowing you to see a stunning matt effect on these watches. The TZP ceramics colors match perfectly with the bi-colored rubber straps that come in cerulean-lilac, coral-tangerine, and olive-aqua.
With the automatic caliber CRMA2, the watch also comes with an AK3 balance spring and transparent INCABLOC 908.22.211.100 shock protection. Two Nitrile O-ring seals ensure that the three-part case, assembled with 12 grade-5 titanium spline screws and 316L stainless steel abrasion-resistant washers, is water-resistant up to 50 meters.
The case bands, made of micro-blasted white gold, come with hand-polished pillars. The complex forms of bezels are created using diamond tools for a meticulous grinding process.
The skeletonized baseplate and the bridges had to pass a series of tests to ensure optimal strength requirements. The diamond-looking part on the base plate was made using a centuries-old technique of decorative craft called guilloche. Practitioners of this art, known as guillocheurs, would train for decades to achieve mastery of the craft.

It was Richard Mille's Director of Creation and Development Cécile Guenat who coined the usage of the 16th-century art for this series. Guillocheurs would repeat lines using a hand-turned lathe to form geometric motifs that the company claimed to be "part botanical, part sunburst and part Art Deco," adding a unique fresh pop of energy to the modern design.
The Switzerland-based company, founded in 2001 by Dominique Guenat and Richard Mille, placed a rhodium-plated red-gold dial element at the center of each watch. The piece is part of a larger pattern that subtly aligns with the floating hour markers on the micro-blasted titanium flange.
The size makes these cuties one of those watches that are not too big nor too puny to wrap around your wrist at 45.66 x 31.40 x 11.85 mm. Their skeletonized automatic movement with hours, minutes and adjustable rotor geometry also comes with a 50 percent power reserve.
This variable-geometry rotor has been incorporated to ensure the ease of rewinding the mainspring to adapt to the user's activity level. The settings can be modified by adjusting two weights using spline screws that enable the wearer to increase or decrease the inertia of the rotor movement.
The ultra-high-end luxury watches — showing not only time but also style — are each limited at 50 pieces per edition, priced at $163,000. Yes, "ultra-high-end luxury" means outrageously expensive, but it does come with a plethora of precision machinery installations and handcrafted features that would dazzle any horologist.
#THE S MEDIA
#Media Milenial