CULINARY
SUMMER DRINKS WITH A TWIST OF CHIARA FERRAGNI
Nespresso has a collaboration with Chiara Ferragni.
02.08.2021
BY HANUM FAUZIA
Nespresso is ready to welcome this summer season with a stylish collection, collaboration with Italian digital entrepreneur Chiara Ferragni. She brings that what we call 'the warmth of family values' where it's her original personality. Chiara Ferragni dropped her signature thinking of collaborating with Nespresso this summer. As we know, Chiara is very attentive to the details, energetic ideas and actively supports women empower women, where it has become the central element of the Nespresso brand.
The Nespresso x Chiara Ferragni collection consists of various activities and exhibitions, from limited series launches to exclusive events and coffee recipes inspired by this summer. Coffee connoisseurs can also take Chiara's summer trip with Nespresso.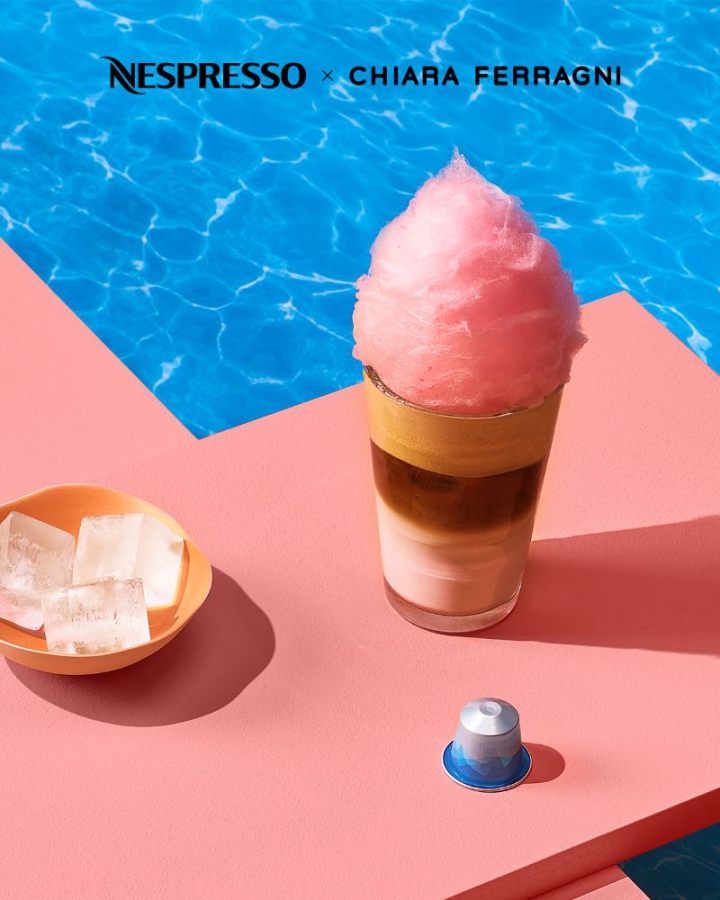 Chiara Ferragni says, "As a Italian, I really love coffee and I am big fans of Nespresso for a long time. Nespresso truly represents the contemporary of lifestyle with its convenience and technology offered by Nespresso to get a cup of high quality coffee. When I first met the Nespresso team, they introduced me to various initiatives related to sustainability and recycling, which made me even more interested in contributing to this collaboration."
Anna Lundstrom, Chief Brand Officer of Nespresso, confess her pleased feeling about this collaboration. Like she says, "Chiara Ferragni is a pioneer in the world of digital entrepreneurship who started her career in the fashion, lifestyle and digital media's industry. Being one of the most special collaborations we have ever done, this project will showcase a fresh new side of Nespresso to support our creative vision. We can't wait to share this collaboration where coffee connoisseurs and Nespresso fans can see a side of Chiara Ferragni for Nespresso."

Celebrate summer with the newest machines and accessories
Compact and chic, these words clearly describe The Nespresso x Chiara Ferragni Essenza Mini coffee machine, which can make a high-quality coffee with all its convenience and practicality. The Essenza Mini coffee machine comes in a pastel pink color decorated with Chiara's iconic motif on the side of the machine. There is also a special edition capsule collection consisting of Chiara's favorite coffee variant from the Ispirazione Roma range.

Add a touch of pink to your home. The limited edition of Nespresso x Chiara Ferragni Aeroccino 3 offers an easy way to get milk foam for cold and hot coffee. Similar design to the Essenza Mini coffee machine, this accessory can switch espresso coffee into a delicious milk coffee dish, perfect for your relaxing time in the summer.
As additional accessories, this collaboration also presents a Nespresso x Chiara Ferragni Coffee Mug that you can enjoy their favorite Nespresso coffee at home. This mug is adorned with a Nespresso monogram that has been designed in Chiara's favorite colors to match this summer's theme.
The Nespresso x Chiara Ferragni Nomad Travel Mug is specially designed with a silhouette ornament in the shape of Chiara Ferragni's signature eye. This limited edition Nomad Travel Mug is the most anticipated on-the-go coffee accessory with a pastel pink color.
Special for Nespresso, Chiara Ferragni creates her own signature iced coffee recipe, combining her favorite iced espresso with a rich coconut flavor for a touch of tropical summer. To recreate this recipe at home, coffee lovers and Chiara Ferragni fans can even add a touch of cotton candy or marshmallows to make the recipe bold and sweet, just like Chiara. For the full recipe, you can visit here.
#THE S MEDIA
#Media Milenial
#nespresso
#chiara ferragni
#nestle espresso