TRAVEL + LEISURE
SNEAK PEEK OF DISNEY WORLD'S 50TH CELEBRATION
What we know about the 50thanniversary celebration?
09.07.2021
BY HANUM FAUZIA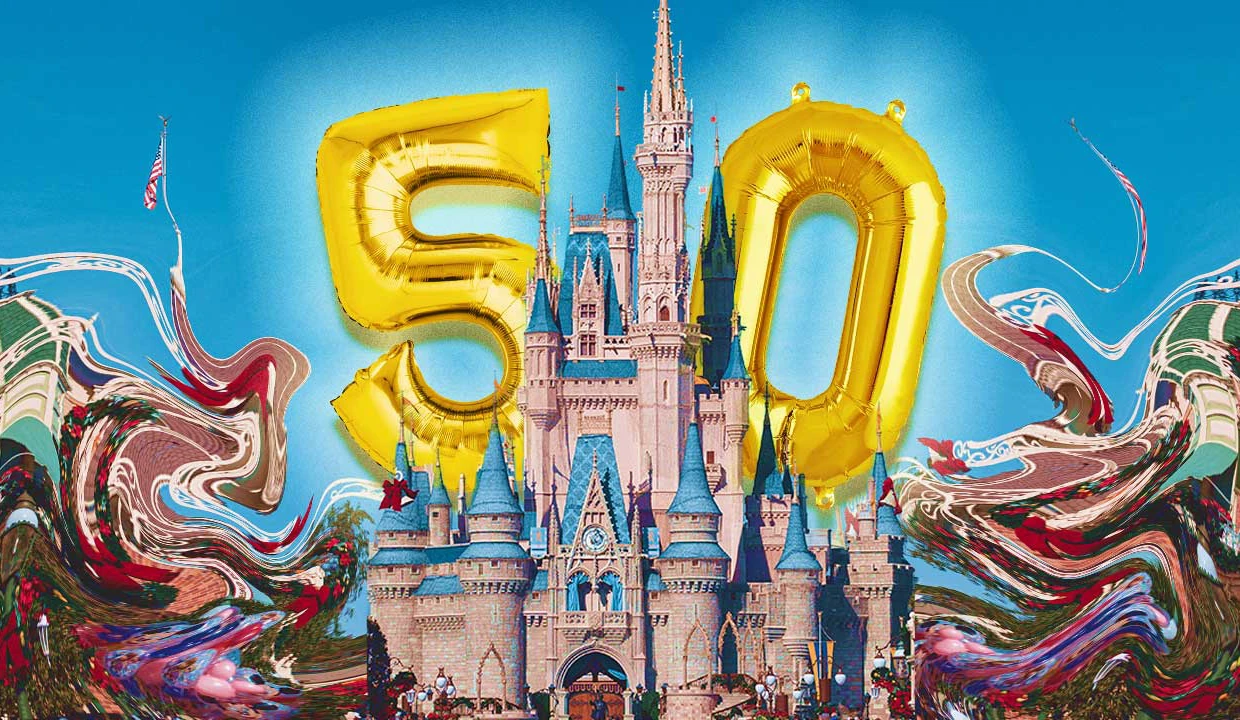 Are you a Disney lover? To celebrate its 50th-anniversary, Disney Park will present many surprises and exciting events with the theme "The World's Most Magical Celebration." It will be held on October 1 and run for 18 months. So, what do they plan?
A glamorous new look of Cinderella Castle
Like Disney announced, the iconic Cinderella Castle will get a glamorous new look with gold ribbon details, and it's a signature blue banner. The 50th Disney anniversary will sign with sparkling light at night on October 1st, representing fairy dust.
The release of The Hollywood Tower and Spaceship Earth
Disney World announces new attractions; The Hollywood Tower and Spaceship Earth that decorate in bright lights, represent the Beacon of Magic.
Disney characters on new costumes
Various iconic Disney characters will be in new costumes. Mickey Mouse will wear a purple-blue gradient with shiny gold shoes, and Minnie Mouse will look pretty wearing a dress of the same colour. They will also have new white gloves, gold bows, and glitter heels. Other classic characters such as Chip, Dale, Donald, Daisy, Pluto, and Goofy will look cute with the same colours and fabrics. The all-stars will show on the D-Day as well as the appearance of "Mickey's Celebration Cavalcade.
Epcot will be the host of this event
Disney Parks describes "Harmonious" as one of the spectacular evening shows. World Showcase Lagoon that is located at Epcot, will show Disney classic musical songs. 240 musicians from various languages are confirmed to fill this event, fireworks show, dancing fountains, lively lighting, and many more surprises.
The debut of Remy's Ratatouille & France Pavilion Expansion
The grand opening of Remy's Ratatouille Adventure will be October 1, inviting guests into the flavorful world of Disney and Pixar's Academy Award®-winning "Ratatouille." In this family-friendly attraction, guests will feel as if they shrink to the size of Chef Remy and scurry through Gusteau's famous restaurant. They will discover Remy's Ratatouille Adventure in a newly expanded area of the park's France pavilion. The real is made fantastic in a reimagining of Paris inspired by the film.
Also debuting October 1 in the pavilion section will be a delicious new restaurant, La Crêperie de Paris, offering both tables and quick-service options. The menu will feature sweet crepes, savoury buckwheat galettes (naturally gluten-friendly), and authentic French hard cider. The attraction, restaurant, and pavilion expansion are all part of the historical transformation of EPCOT currently underway, bringing a breadth of new experiences to the park as a celebration of curiosity, discovery, and the magic of possibility.
'Disney KiteTails' to take fat Disney's Animal Kingdom
New daytime entertainment is stirring at Disney's Animal Kingdom Theme Park, as "Disney KiteTails'' will come alive several times daily beginning October 1 inside the Discovery River Amphitheater. Performers will fly windcatchers and kites of all shapes and sizes. Out on the water, elaborate three-dimensional kites–some stretching to 30 feet long–will depict Disney animal friends, including Simba, Zazu, Baloo, and King Louie. These colorful creations will dance through the sky to the beat of favorite Disney songs in an uplifting, vibrant experience for the whole family.
#THE S MEDIA
#Media Milenial