ENTREPRENEURS
SESASESA TURN YOUR TRASH INTO 'TRASHION'
Read our talks with the founder, Ratih Miranti.
25.07.2021
BY HANUM FAUZIA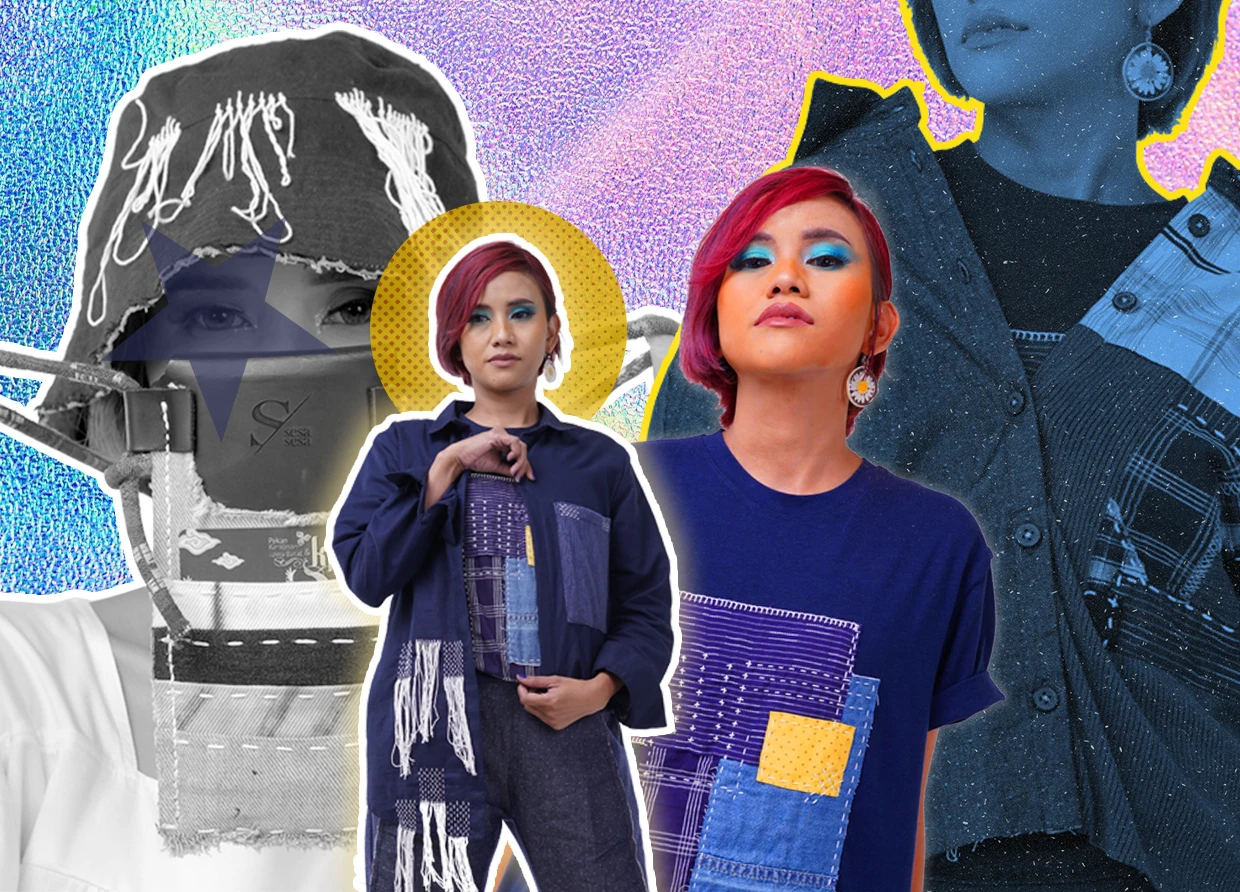 The fashion industry is known as one of the most polluting industries in the world. Making a conscious decision to shop with sustainable and ethical brands will make a difference to the planet and its people. Sesasesa is one of the sustainable fashion players that take their role to save our world in their way. Read our talks with the founder, Ratih Miranti, about how she does at Sesasea.

Your tagline 'runtah jadi kanyah' steals our attention. What does it mean?
We take 'Runtah jadi Kanyah' from the Sundanese language, which means garbage becomes our loved pieces. The tagline of 'Runtah jadi Kanyah' also connects with our brand's name, Sesasesa, which means the remains.
View this post on Instagram

Our primary mission is to process garbage becomes economic raw materials that we hope will be more valuable. We want to change negative connotations that attach to waste or runtah. If we recycle well, it turns out to become our favorite items.
How can sesasesa improve resource use and efficiency?
We handle all of the productions processed by ourselves. We empower people around us, like tailors and some partners who want to create handmade or hand-stitched. We know that the pandemic is complex for everyone. Thus we support people who want to work together with us so that we can grow together.
How and where does Sesasesa source your materials from?
We take the waste from convection stores that exist here. Firstly, we wanted to buy their trash, but some partners instead gave it for free. Besides, we also collaborate with some brands and designers by utilizing their production's waste to you so that we can reproduce again.

What is your impact on the local and global community?
View this post on Instagram
We prioritize doing partnerships with local people with the hope; we can help their economy. For broader impact, we hope people become more aware of sustainable fashion products. Through simple education that we deliver, expectantly, it becomes small movements for reuse or upcycles processes that we can implement in real life.
How do you become a green company?
I think I am not confident enough to be called a "Green Company". But, we have a solid commitment to building sustainable products as we are very concerned about the future environment. I believe that spreading these movements has a more significant impact than we think.
How educated and engaged are your employees related to the environmental issue?
I think my partners and I have the same mission: to establish a community that is aware of sustainable products, especially in the fashion industry. We try to elevate the waste fashion to the next level. I think this has enormous potential in the future. Until now, we keep choosing textile wastes for each of our productions.
What are your crucial sustainability measures?
We have two core values to promote 'sustainability fashion'. First is upcycle, where we utilize patchwork and fabric waste from the production process in our environment. Secondly, ethically made. As we are doing partnership methods to create our products, we appreciate locals who provide a high-quality product. We also maintain good relationships with them and local fashion designers.
How do you set goals for improvement and make yourselves more efficient?
We try to focus on developing our branding in two ways—first, digital marketing. Currently, we are trying to research and follow digital trends based on our segment to reach the proper awareness. Second, building a community. This is also one of our strategies by collaborating with local fashion designers and artisans.
How do you innovate and offer green products and services?
View this post on Instagram

Aside from selling our upcycle product, we try to do soft-selling, like sharing tips on DIY upcycling at home. We are not afraid that people will prefer to make their outfits instead of buying our products. We also plan to open an upcycling service for consumers who feel bored with their old clothes. We redesign it so that they can use it as a new cloth. In the future, we want to not only upcycling but also recycling. We are developing a process where we smash textile waste and re-spin it to become a new yarn made from textile waste.
How do your competitors fare?
If we see in the global market, sustainable fashion products have a high price as the production itself is pretty high. But for us, we set affordable prices so that we can reach a sizable Indonesian market.
What do people on the outside of the company think of your green performance?
View this post on Instagram

We accept positive feedback from any kind of our customers or people who know our brand. Several brands ask to collaborate, and some environmental activists want us to create an upcycling program together.
#THE S MEDIA
#Media Milenial
#sustainable fashion
#local brand
#indonesian local brands