ENTREPRENEURS
SALTED FISH, THE MODERN WAY
How salted fish from Belawan Bahari reaches far and wide with the help of technology.
24.01.2022
BY HANUM FAUZIA
Aside from fresh catch, salted or dried fish is a staple product for coastal towns, especially since salt-preserved fish is particularly popular as a side dish among Indonesians.

Belawan Bahari, Medan Belawan, is a neighborhood in Medan known for its salted fish warehouses. The area, primarily a fishing village, is a commercial center for salted fish, mainly anchovies, with daily sales in the hundreds of millions of rupiah.

Pendi Pohan, Deputy Chairman of the Regional Leadership Council of the All-Indonesian Fishermen's Association (HNSI) of North Sumatra, said that salted fish generates Rp 200 million each day for the region on average.

Tanoto Frans, the owner of Ikan Asin Medan, was the first among many who delved into the thriving business of salted fish. "When I originally started my business, I realized the potential of the waterways in this area... Furthermore, I see the opportunities ... by promoting this salted fish product," Frans said.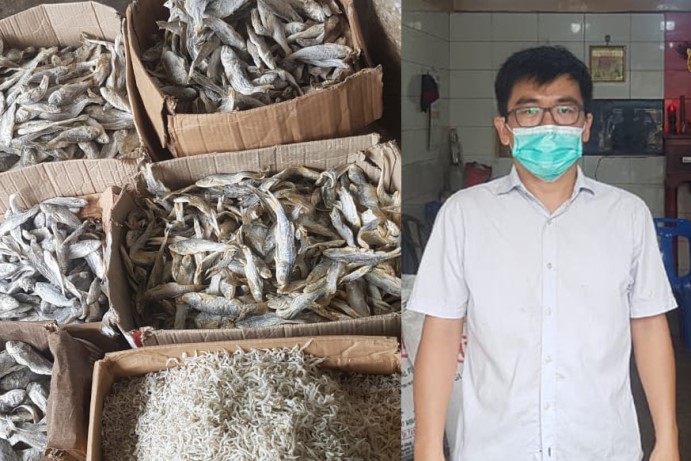 The Medan native started his enterprise by distributing salted fish to customers in various traditional marketplaces. Then, a friend encouraged him to expand his business by entering the online market, specifically through Tokopedia.

Frans managed to strike gold. His monthly turnover has now reached hundreds of millions of rupiah, with e-commerce accounting for 85 percent of his sales. "It's fantastic technology ... This business opportunity is no longer confined to the Medan area, and now our products are available nationwide," he said.

Processes and constraints

While he is not a fisherman, Frans understands how salted fish are handled. According to him, aside from enough laborers, the product requires good weather.

"If the weather is unfavorable ... don't be shocked if the price of dried fish rises compared to a normal day. Business actors can only remain silent while waiting for the weather to improve and the fishermen to return with the fish they caught."

Frans also noted that maintaining product quality is particularly a challenge for him. "The issue in running this business is ensuring that my items survive so that they can be received in good condition by consumers, given the size of Indonesia," said Frans.

However, the great demand for salted fish items keeps Frans motivated. "There are a lot of prospects in this sector ... We are also contributing to the local economy," he said.

Frans always highlighted that the products he advertised are made from natural components and do not contain any chemical mixtures such as bleach.

"All of the substances we use in the manufacturing process are natural, without bleach or other chemicals, so they are safe to drink by everyone," he says. In addition, he would always explain the merits and drawbacks of his products so they can arrive in good condition in the hands of consumers.

You can try Frans' Medan Salted Fish for yourself by ordering them through Tokopedia. Prices range from Rp 5,000 to Rp 280,000.
#THE S MEDIA
#Media Milenial
#salted fish
#indonesian salted fish