FASHION + WATCHES
ROUGE HERMÈS NOW AVAILABLE IN INDONESIA
Finally, a kiss of luxury.
12.12.2021
BY WILHEMINA BOWEN
Hermès launched a beauty boutique at Hermès Grand Hyatt in November 2021, Jakarta, after almost a year from its global launch in March 2020. The Hermès Beauty Métier was launched following five years of research and development under Agnès de Villers, CEO of Hermès Perfume & Beauty.
Capturing the complex essence of 200 years of a brand rich and intricate history, de Villers designed, researched, and developed to produce beauty products, lipsticks in particular, by collaborating with several partners, including Pierre-Alexis Dumas, Art Director of Hermès.
She joined hands with Pierre Hardy, creative director of Hermès jewelry and Hermès shoes, to design the objects as Director of Hermès Olfactory Creation Christine Nagel gave this collection its luxurious scent.
Summarizing the Hermès DNA into shades of hues were Bali Barret, artistic director of the women's universe and creative director of women's silk, and Jèrôme Touron, creative director of Hermès Beauty.
"We approach this new métier in our own way, and with a great deal of pleasure," said Hermès Chief Executive Officer Axel Dumas. "Beauty is part of who we are: a house where everything comes from creation, driven by artisans who seek to accompany the men and women of today with elegance, and with the integrity and authenticity that we represent."

A Hermes kiss
Hermès Grand Hyatt beauty boutique collection features all the 24 lipsticks presented by Rouge Hermès, 14 of which are satin-finish inspired by its sprawling silk archives, and 10 are matte-finish lipsticks that mimic the texture of Hermès famed Birkin leather.
"Materials carry color. They give it its strength and its subtlety. They give it a particular finish. At Hermès, colors travel. They are reinvented from one material to another," explained Touron.
Leather and silk are two of Hermès's strongest product categories, with over 900 leather shades and over 75,000 silk shades in its archive. The lipsticks that were somewhat a derivative of those categories offer a pigment-rich formula that deposits color with a single stroke. The collection was immediately available in 35 countries by the time of its launch.
The sixteenth métier of the house crafted the lipsticks with care, producing high quality, long-lasting and aesthetic objet d'art tipped with the carefully sculpted geometrical bullet. Every bullet is refillable, and it resides within a hand-assembled lipstick tube.
The lipstick tubes were made from lacquered, brushed, and polished metals in black, white, and gold with no plastic involved in its making. To add an element of exclusivity, Rouge Hermès is packaged in miniature versions of the brand's signature orange box.
"Our approach to beauty is fundamental. It is to reveal and highlight what is naturally there, with elegance, comfort, and pleasure. I like the idea of Hermès as an intimate companion, revealing one's deepest self. I associate Hermès' beauty objects with self-fulfillment, with the color of an individual's personality," said Dumas.
These lippy luxuries come with offers of its sidekicks to complement the range, including a leather case filled with a lip shine, lip brush, and a moon-shaped mirror accessory you can drape around your neck for perfect lips at all times.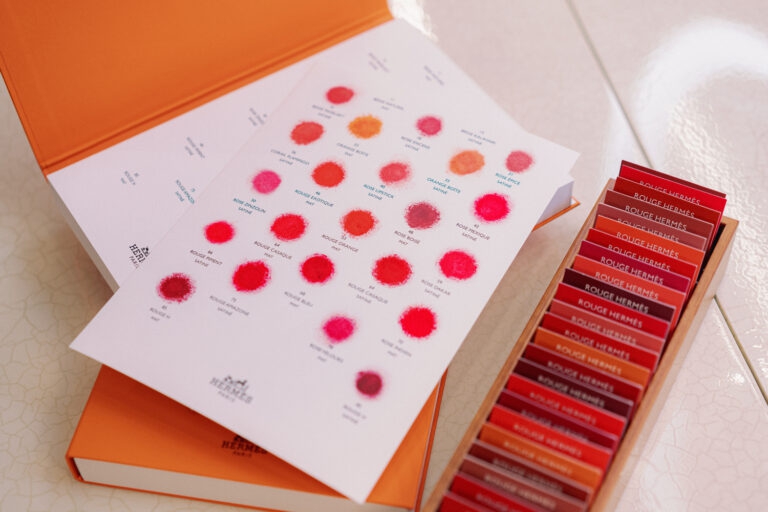 Rouge Hermès promises a bi-annual launch of three limited-edition lipstick shades, its Autumn-Winter 2021 collection is now available.
"The limited-edition Rouge Hermès Autumn-Winter 2021 collection consists of three beauty objects designed by Pierre Hardy, inspired by the captivating ambiance of a night of dreams. Three shades of lipstick in an intense and velvety matte finish," the brand claimed on its website.
Hermès has also launched a lip care balm, a poppy lip shine, a universal lip pencil, and a lip brush in lacquered wood. The French luxury brand also revealed its goal to have a full make-up range by 2023, with plans to launch skincare not too long after.
#THE S MEDIA
#Media Milenial
#Hermès
#Rouge Hermès
#Hermès Grand Hyatt
#lipsticks
#satin-finish
#matte-finish