CULINARY
REVEALING THE BIG SECRET OF FOOD PARADISE IN HONG KONG
Hong Kong is a home for more than 15,000 restaurants and fulfilled with so many delicious foods that you have never imagined before. 
24.10.2021
BY HANUM FAUZIA
Did you know that every chef has their own big secret to make their cook is delicious and has a signature of their own? Some chefs like the ingredients that give a unique taste, while others like cooking utensils that make it easier for them to do activities in the kitchen. At this time, we will reveal some secrets and get closer to the chef that we are admiring, and give a chance to create back magic culinary in the house.
Hong Kong is one of the most famous cities in the world, and you might think that this city life is easy to be guessed. But, Hong Kong is differrent. It's a home for more than 15,000 restaurants, and Hong Kong is fulfilled with so many delicious foods that you have never imagined before.

Secret #1: Fresh ingredients from Aberdeen Seafood Market
"When we explore an area in Hong Kong by taking a stroll , we can feel the crowd of the city and see what is going on in the tourism destinations," said Danny Yip, owner of Cantonese restaurant with one star of Michelin, The Chairman. "Mostly, we find hidden gems that oftenlt make us impressed."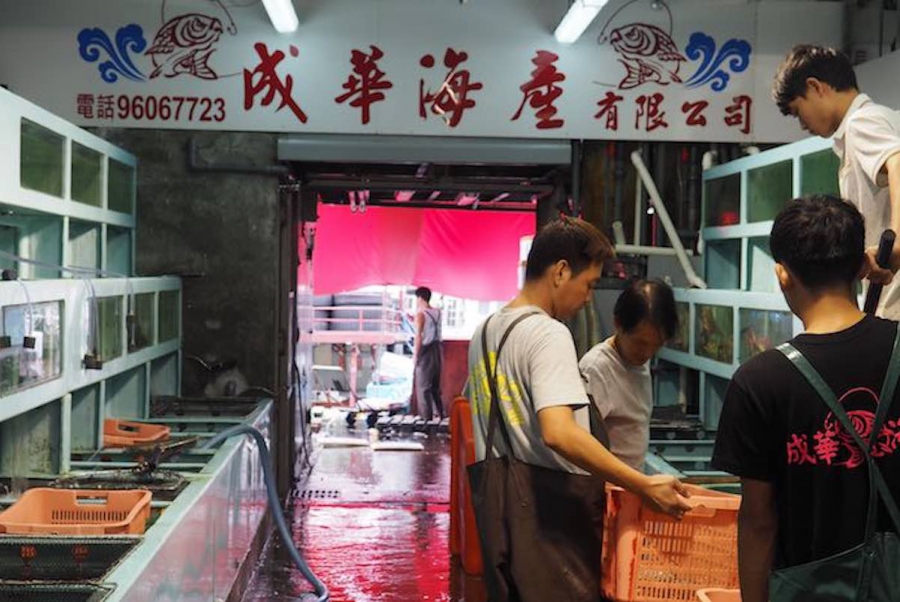 Yip and The Chairman prioritize the freshness of local ingredients. This become one of the signatures of Cantonese culinary. That's why Yip recommends Abardeen Seafood Market as a first stop.
This market become one of the local fish grocery markets in Hong Kong that has been opened before dawn. They sell fresh grouper fish, bamboo clams, lobster, and sea fish at affordable prices. The Chairman sends ex-fisher there to choose directly the fresh ingredients every day at 05.30 am.
This step helps to create a signature dish of The Chairman like a steamed crab with old Shaoxing wine, and chicken oil. Steaming is a classic cooking technique ala Cantonese to maintain the fresh taste of crab. To elevate the quality of dishes, The Chairman prepares clam broth by the special steaming process to give a deeper umami taste.

Secret #2: The sauce in Kwun Tong
In the industrial district at Kwun Tong that is placed in the Kowloon area, Yip often visits Tai Ma Sauce Co., a sauce maker that has been established around 50 years, and now has been running by the third generation. Tai Ma sells any kind of vegetables, seasoning, and sauces, but Yip gives his choice and very an honour to Tai Ma lemonade that is preserved for ten years because of his side, lemonade has a taste that can't be reached by the human, but only the time.
The fermentation of Tai Ma lemonade is the main ingredient of other's signature dish of The Chairman, like steamed bamboo clams with the fermentation of lemonade with the mixing of spices. The taste of lemonade will add an umami taste to its bamboo clams.
"Bamboo clams have a high density texture—you will feel this when bitting him," Yip explained. "Only the taste of fermented lemon can compensate, that can stinging and even overpowering."

Secret #3: made by hand: local treasures of West Kowloon
West Kowloon was the stomping grounds for a lot of master craftsmen back in the day, some of which survive even now. One can turn a corner and still see elderly artisans working copperware with their hands and keeping forgotten crafts alive alongside convenience stores and luxury brand shops.
Witness the masters at work as they ply their traditional crafts with well-practised hands and check in on skilled tailors, mahjong makers, and jade sellers to behold their labours of love, born of decades of experience. Discover Hong Kong's intangible heritage through the alleys and hidden doorways of West Kowloon, and try your hand at these time-honoured crafts through the workshops hosted by the masters themselves.
Man Kee Chopping Board
Meander down Shanghai Street and you'll be greeted by a veritable tower of chopping boards, stacked neatly against the shopfront of Man Kee Chopping Board (萬記砧板). Man Kee has been a fixture on Shanghai Street for over 65 years, peddling heavy-duty chopping boards favoured by restaurants, meat mongers, and roasted meat shops.
The store is now helmed by the second-and third-generation owners Mr. and Mrs. Au and their son Mike, who has always taken a keen interest in the family business and feels the weight of his family legacy the most. Man Kee also sells various kitchenware in addition to chopping boards to keep up with the times.

Chan Chi Kee Cutlery Company
Chan Chi Kee (陳枝記) is another fixture of Shanghai Street, selling high-quality kitchen knives and other kitchen utensils. Knowledgeable and professional, long-time staff members who have worked for the Chan family for decades witnessed the store's transformation into the household name it is today. Chan Chi Kee's clients include Shangri-La and Disneyland, as well as Chinese restaurants all over the world.

Their knives are handmade through the combined effort of four craftsmen, though parts of the process have now been replaced by machinery. Chan Chi Kee's steel woks are also widely used in local restaurants for stir-frying, touted for their high conductivity and even heat distribution.

Secret #4: delicious surprise from Yau Ma Tei
Yau Ma Tei is a neighbourhood that's somehow managed to fly under the radar despite being sandwiched between the bustling districts of Tsim Sha Tsui and Mong Kok. Teeming with both energy and character, it's home to vibrant eateries, historic and modern culture, and eclectic shopping destinations.
If you ever find yourself dazed amongst all that Yau Ma Tei has to offer, have no fear: just have a gander through our neighbourhood guide to find your new favourite spots.

Secret #5: Tai O is losing its taste for century-old shrimp paste flavour
Shrimp paste is a classic ingredient in Cantonese cuisine and Tai O's family shrimp paste factory makes some of the best. The briny aroma of the Cheng Cheung Hing shrimp paste factory has lingered on the shores of Tai O for nearly a century. Shrimp paste is one of Hong Kong's iconic sauces, an integral part of Cantonese cuisine and a popular export. And here in Tai O, it's Cheng Kai-Keung who makes some of the most coveted sauce.

The factory was founded in 1920 by Cheng's great-grandfather. He has been making shrimp paste for as long as he can remember. When he was just six years old, he helped add salt in buckets after school. For the most part, the Chengs handled all the business themselves, with just a few casual workers to chip in during peak seasons.
Between the six of them, they could produce about 36,000 kilograms of shrimp paste every year. They worked when the weather was hottest: only when the summer sun is blazing and the thermometer soars above 30 degrees is it possible to dry out the shrimps needed for the paste.
#THE S MEDIA
#Media Milenial
#cantonese culinary
#hong kong culinary
#local food in hong kong