SPEED + BEYOND
VESPA ANNOUNCES COLLABORATION WITH JUSTIN BIEBER
Justin Bieber X Vespa is set to arrive in February 2022.
28.12.2021
BY JACKSON KEEFE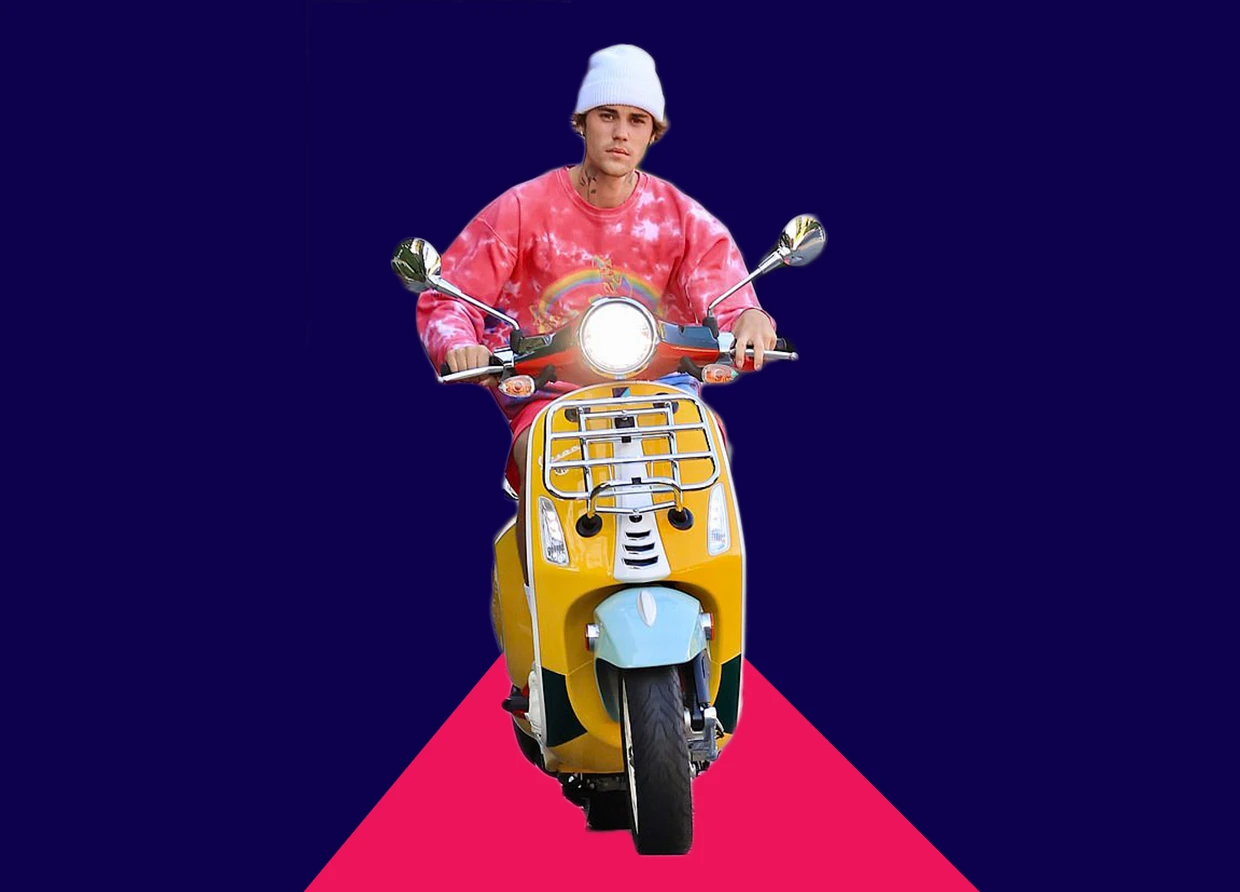 Vespa has announced an upcoming collaboration with Canadian singer Justin Bieber, who at the age of only 27 years old expanded his name far beyond the music industry to fashion and food and beverage.
After big brands Balenciaga and Tim Hortons previously contracted the Bieber fever, the classic Italian brand announced that they, too, want a touch of Bieber in their product. The collaboration is set to launch in February 2022.
"Driven by the desire to explore creativity, celebrate style and design, and have some fun doing it, Justin Bieber and Vespa today announce one of the most unexpected and exciting collaborations of 2022," Vespa said in a statement released on its website.
"My fans know how much I love sports: skateboarding, hockey, basketball, BMX. I've always been drawn to that mix of style, grace and speed," Bieber said. "I'm excited to put my spin on the iconic Italian design of Vespa."
View this post on Instagram

Bieber X brands
Bieber's long list of collaborations with brands can be traced back to 2010, only two years since his debut in 2008. In 2010, he was signed to an endorsement contract by American skin-care brand proactive, joining then teen favorites in their campaign of fighting acne, including Katy Perry, Avril Lavigne, Sean "Diddy" Combs, Jessica Simpson, Alicia Keys, and Mandy Moore.
In 2010, nail polish manufacturer Nicole by OPI also collaborated with Bieber. Together they launched "The One Less Lonely Girl Collection" polish line, sold exclusively in Walmart. One million bottles of the polish line were reportedly sold in less than two months after its launch.
In 2012, the then King of Teen-Pop, along with the then Chicago Bulls player Derrick Rose and tennis player Venus Williams, was signed to an endorsement contract with Adidas. Three years later, in early 2015, fashion brand Calvin Klein announced that they would use Bieber as their new "face" and "body".
In June of the same year, Bieber collaborated with Kevin Harrington's shopping app, StarShop, along with Beyoncé, Katy Perry, and Eli Manning. Bieber then went on to endorse headphone, and speaker brand Beats By Dre, cosmetic, skin-care and fragrance manufacturer Elizabeth Arden, and electronics retailer Best Buy.
At that time, Bieber's adventure with brands did not seem to be slowing down. He even released his very own fragrance, Someday, in 2011. The sales recorded a revenue of over three million U.S. dollars at Macy's in just under three weeks after its launch. The fragrance focused on girls with virtually no option for boys, but Bieber had reasons behind it.
"I'm more interested in how females smell than males, which is why I decided to do it for all the girls, and 100 percent of the proceeds go to charity," he said at the time.
Soon after, in June 2012, Bieber launched another fragrance called Girlfriend at Macy's Herald Square in New York. The launch of Girlfriend coincided with the release of his new album, "Believe", which contained the hit single "Boyfriend".
"Well, you know, I told [the perfume creators] they got to smell like all my fans all around the world," Bieber told MTV. "Just a beautiful smell, something not too fruity, but nice and flowery… got a nice little maybe cherry scent in there."
Bieber then launched his third fragrance, "The Key", in July 2013. His latest fragrance, "Justin Bieber Collector's Edition", was then released in 2014.
View this post on Instagram
Fast forward to 2019, Bieber launched "Drew", his very own clothing line. The name of the brand was trademarked by the singer earlier in February 2018. The brand sells various unisex T-shirts, sweatshirts, and pants.
In September 2019, Bieber partnered with Schmidt's Naturals CEO Michael Cammarata to release his deodorant line, "Here+Now". In 2020, Bieber released the limited edition of the Crocs x Justin Bieber clogs in collaboration with the Crocs brand.
In 2021, as mentioned above, Bieber collaborated with Balenciaga and Tim Hortons, and at this rate, it seems that Vespa will not be the last brand to beliebe.
#THE S MEDIA
#Media Milenial
#Justin Bieber
#Vespa