TECHNOLOGY
POCO M5 SMARTPHONE: CAPTURE AND CREATE STUNNING CONTENT ON A BUDGET
POCO M5 offers a versatile and affordable option for content creators.
02.06.2023
BY JORDI HILDIANTO
In today's digital age, maximizing free time is crucial, especially during long weekends. To ensure productivity and fun go hand in hand, POCO M5, a budget-friendly smartphone, provides an opportunity to capture and create engaging content through its advanced camera features. Whether it's a short trip or hanging out with friends, the POCO M5 allows users to express their creativity effortlessly without breaking the bank.
Andi Renreng, Head of Marketing for POCO Indonesia, emphasized the versatility of POCO smartphones, particularly the POCO M5, stating, "With extreme performance, this cellphone makes it easy for you to create photos and edit them as well. I guarantee it!" Renreng highlights the device's ability to optimize images and enable users to produce captivating content.
The POCO M5 boasts a 50MP AI Triple Camera system, equipped with advanced algorithms to enhance image quality and provide a visually stunning experience. The camera setup includes three lenses: a 50MP ultra HD main camera for detailed shots and zoom capabilities, a 2MP depth camera with portrait mode for capturing captivating portraits, and a 2MP macro camera for close-up shots, unveiling the beauty of intricate details. Additionally, a 5MP front camera ensures crisp and cool selfies from any angle.
Multitasking on the POCO M5 is seamless and secure. Powered by the MediaTek Helio G99, a high-performance processor in the mid-range class, the device offers an efficient power consumption experience. The octa-core processor, built on the 6nm TSMC manufacturing process, features a high-performance Cortex-A76 CPU with speeds up to 2.2 GHz and an Arm Mali-G57 MC2 GPU. This processing power enables users to multitask effortlessly while taking photos, editing videos, or enjoying music.
Storage capacity is also a key consideration for content creators. The POCO M5 comes with up to 128GB of UFS2.2 ROM, allowing users to store a vast amount of media. Additionally, the device supports micro SD cards up to 1TB, providing ample space for downloading editing applications, and managing content efficiently. The combination of high-speed storage and up to 6GB of LPDDR4X RAM ensures smooth application loading and operation.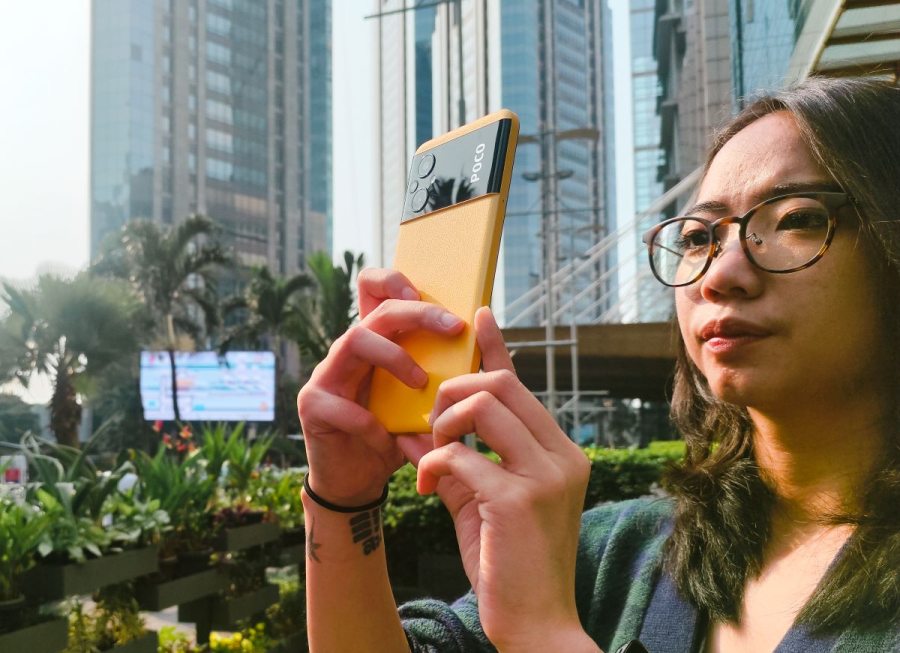 Andi further encourages users, saying, "Now the results of the photos are maximized, you can show off on social media. Using POCO M5 doesn't need to be difficult; all you have to do is use the right application, and you can quickly display your work to followers. Don't hesitate to show how cool you are, #POCOnya in action!"
With its affordable price tag of two million rupiahs, the POCO M5 smartphone offers an excellent option for individuals looking to create visually appealing content without compromising on quality.
Whether capturing stunning landscapes, documenting memorable moments, or expressing creativity through editing applications, the POCO M5 provides a versatile and accessible platform for content creators of all kinds.
#THE S MEDIA
#Media Milenial
#POCO M5
#Andi Renreng
#50MP AI Triple Camera system
#MediaTek Helio G99
#Cortex-A76 CPU
#Smartphone
#Xiaomi