FASHION + WATCHES
KITTYCHICHA POSES ON VOGUE THAILAND FOR MIU MIU MOUNTAIN CLUB
The Girl From Nowhere actress sports a new look.
17.01.2022
BY WILHEMINA BOWEN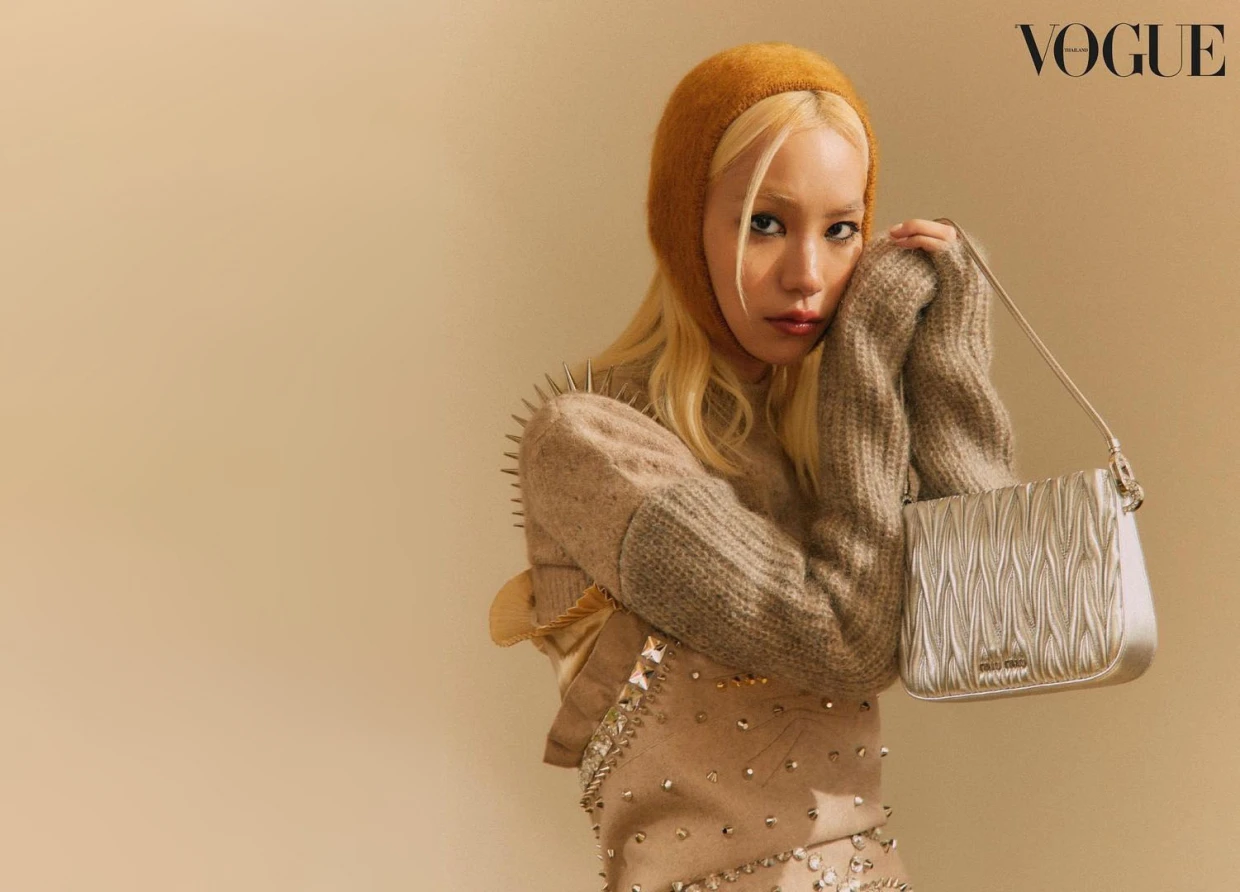 Kitty "Chicha" Amatayakul, the famous actress behind Nanno from "The Girl From Nowhere", recently shared a post flaunting her collaboration with Vogue Thailand for Miu Miu Mountain Club.
The actress is seen with bleached hair and brows, rendering her almost unrecognizable from her dark look throughout The Girl From Nowhere. However, fans can still see her signature smirks and cutesy gestures.
Miu Miu's Fall/Winter 2021 collection, dubbed as Miu Miu Mountain Club, flaunted a juxtaposition of colorful knits, quilted jackets in shades of electric blues and pastel pink.
Kitty is seen to be accepting a series of challenges by Miu Miu, mostly related to outdoorsy activities that are mostly associated with COVID-19 prevention, wearing the Miu Miu products.
View this post on Instagram
The pawsy Kitty Chicha
Born Kanyawee Phumsiridol on 5 August 1993, the Thai actress, singer, and model was formerly a member of the girl group Kiss Me Five from Kamikaze Records before she was Nanno.
She joined the group alongside Bow Maylada, Bam Pakakanya, Gail Natcha and Mild Krittiya in 2010. In addition to The Girl From Nowhere, Kitty also starred in the horror film "Net I Die" and the 2021 Netflix crime series "The Serpent".
Often said of picking her own English name, the Instagram sensation with more than 1.9 million followers revealed that it was her father's choice.
"When my mother gave birth to me, my father was actually in Japan. He had a business there, and when he's about to come home, he was looking for gifts and realized at the time, Hello Kitty was very popular. So he decided the name might be a good fit for a girl," she said in an interview.
View this post on Instagram
Will there be more seasons for Nanno?
The Girl from Nowhere series is a popular Netflix original that revolves around a strange girl named Nanno, played by Kitty, who brings her own definition of justice to the world through strange occurrences at schools or other forms of educational institutions.
Nanno is rumored to be satan's child, displaying unnatural abilities, such as regeneration and endless revivals.
"This role was put on casting, and it went around Bangkok and around Thailand. I got a phone call, they sent me the scripts. But when I first read it, I felt like this is the first time in my life that I really wanted a role, and I tried my best. I was lucky enough that the team chose me," said Kitty, who refers to several iconic mangas for inspiration on how to play Nanno.
"I had many references from Japanese manga characters. For example, I do have Junji Ito's 'Tomie,' I have L from 'Death Note'... And I had Joker, I had Harley Quinn, I had so many characters. There's also Johnny Depp, I actually enjoy his acting and how he would go from one character to another character."
However, season 3 of Girl From Nowhere has yet to be confirmed, although netizens believe it's only a matter of time, with some predicting that it might be some time in 2022.
#THE S MEDIA
#Media Milenial
#Kitty Chicha
#Vogue Thailand
#Miu Miu
#Miu Miu Mountain Club