FASHION + WATCHES
KAMI. RELEASES NEW COLLECTION INSPIRED BY VICTORIAN-ERA PRESSED FLOWER ART
True to Kami.'s previous creations, its new collection KATIRA is both practical and functional.
27.12.2021
BY WILHEMINA BOWEN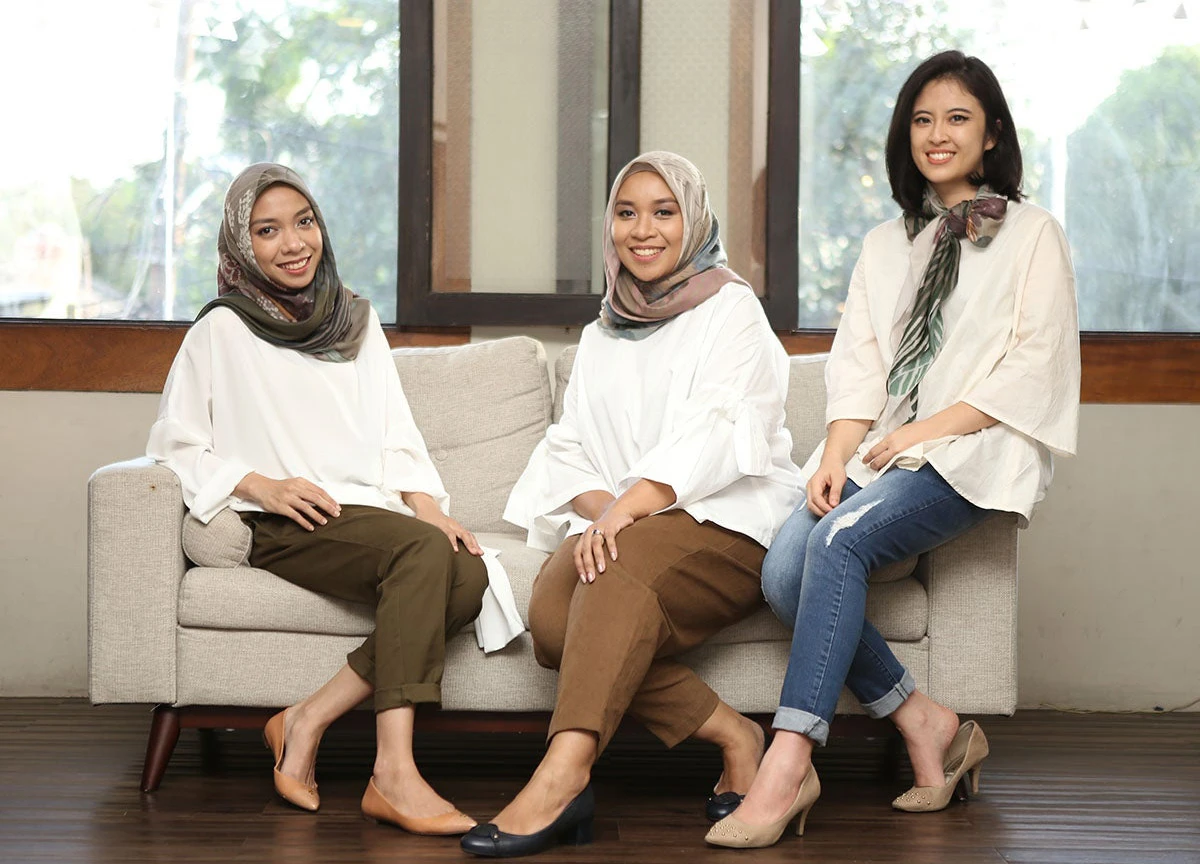 Istafiana Candarini, Nadya Karina and Afina Candarini founded Kami. in 2009. Growing up in Indonesia, they felt challenged to develop the neglected parts of the country's heritage, so they invented Kami. as a vessel where they can ponder their answer to the challenge together.
The modest fashion brand recently launched its KATIRA collection, introducing fashion choices that are more practical and functional for decorous fashion enthusiasts.
"The collection, named KATIRA, was inspired by pressed flower art in the 1800s, where at that period, pressed flower art was quite attractive to Victorian women who were looking for new ways to express themselves artistically and interact with nature," explained Nadya Karina, or Karin, currently the Creative Director Kami.
According to the designers, pressed flowers were more than just an art form in the Victorian period, but also a way to document and store new or unseen plants, as well as a method of preserving special memories. The name of the collection itself was inspired by the Persian word "Khatereh" which means "memory".
The brand tries to convey a message that, in these challenging times, keeping memories is a great way to appreciate life, no matter how difficult. It also introduced a new approach to adapt to the current global fashion trends that prioritize comfort and practicality.
"The KATIRA collection is made with a combination of plaid and floral motifs and is decorated with flowers made with embroidered fabrics and patches. In this collection, we also mix several variations of designs and use several types of fabrics, including premium crepe, satin, and chiffon," she continued.
The collection consists of ready-to-wear items dominated by layered, asymmetrical silhouettes atop flowy A-line accents that add to the unique, playful and contemporary impression of the dresses.
The KATIRA collection was immediately available exclusively at the Fashionlink x #BLCKVNUE Senayan City in a limited amount. However, the designers promised that it would soon be available on other KAMI.'s commerce platforms.
The history of Kami.
Originally named "Kami Idea", the brand name was meant as a wordplay — the word "kami" means "us" for Indonesian and "God" in Japanese.
As part of their prayers so that their ideas, imaginations and creativities never run dry, the trio put "Idea" as the second word for the brand. Under the name, they created bold and unique pieces of accessories as their first product line before eventually stepping up into a full-fledged fashion brand in 2010.
Aiming to establish a fashion brand that is more than just selling clothes, Kami. makes sure that its products are able to show the personality of someone through the utilization of clothing and accessories by infusing manners, solutions, and expressions — undeniably the key elements of lifestyle — into their designs.
The brand specializes in using high-quality materials decorated with in-house designed unique prints. After being successful in the online market, the brand expanded into the offline market in the heart of South Jakarta, the Kemang area, in 2015. Other cities such as Yogyakarta, Jambi, Aceh, Medan, Padang, Palembang, Balikpapan, Lombok, Pekanbaru, Lampung, Bandung, Samarinda, and Palopo followed shortly after.
In 2016, the power trio started working with several department stores such as Gallerie Lafayette, Central Department Store, Fashionlink X BLCKVNUE in Senayan City, Sogo Department Store, and Metro Department Store. This step further strengthens their to compete in a larger market.
In 2017, the brand took the bold choice of making a slight change to its label name and simplified it to "KAMI.", accentuated with a period. It now owns 19 boutiques throughout Indonesia and expanded its market to Malaysia.
The brand also recently collaborated with Disney to create a series of scarfs inspired by the Frozen franchise and exclusively sold in Tokopedia.
View this post on Instagram
#THE S MEDIA
#Media Milenial
#Kami
#modest fashion
#disney
#local brands