SPORTS
DANIIL MEDVEDEV WON US OPEN 2021: IT ALL STARTED WITH A TENNIS CLUB ADVERTISEMENT
Medvedev beat Djokovic in three sets 6-4, 6-4, 6-4.
15.09.2021
BY A. NUGROHO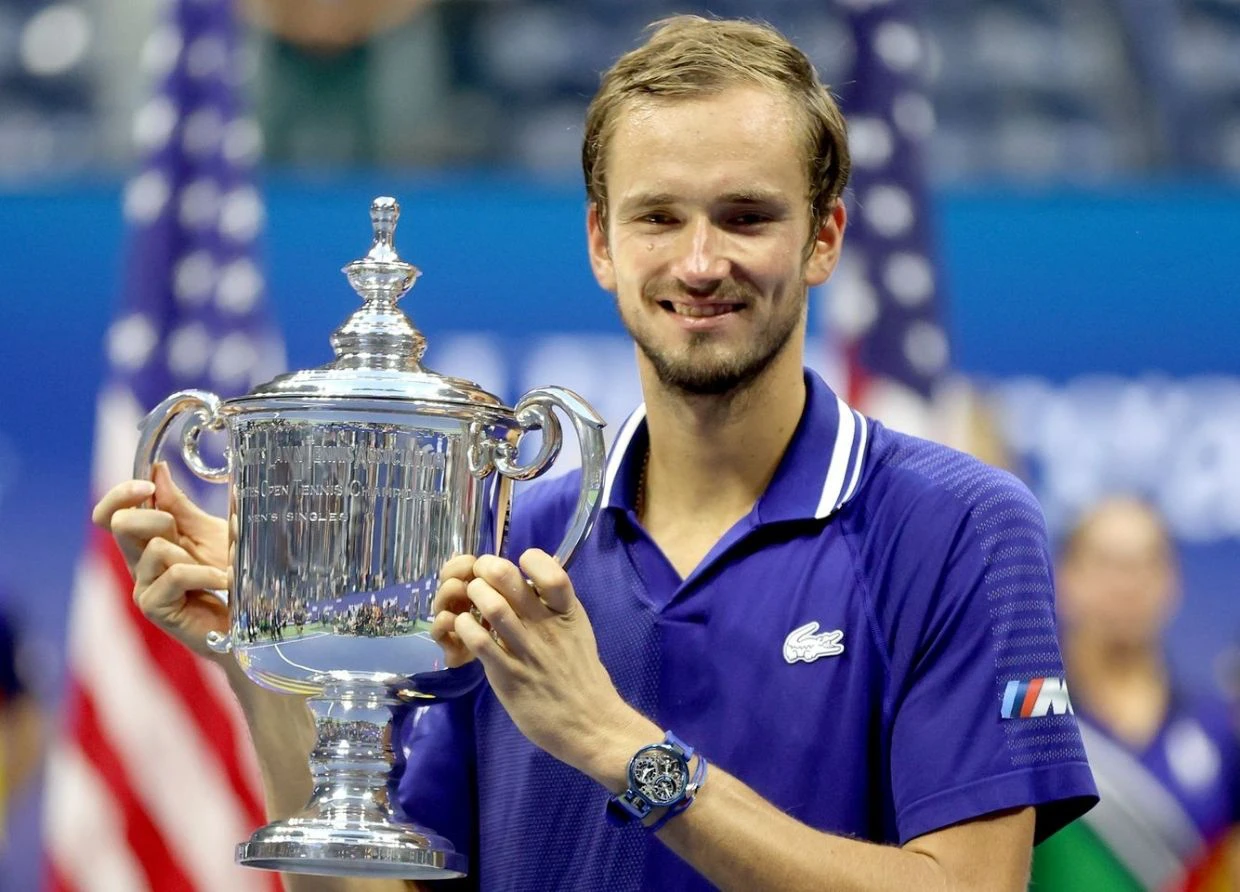 In addition to stories from the US Open women's singles final, the men's singles final also created inspiring stories. Russian tennis player Daniil Medvedev won his first grand slam title after defeating the first seed, Novak Djokovic, on Monday (13/9/2021).
The final, which occurred at Arthur Ashe Stadium, New York, was fast because Medvedev beat Djokovic in three sets 6-4, 6-4, 6-4.
Medvedev was born on February 11, 1996, in Moscow, Russia. His parents, Sergei and Olga, introduced the world of tennis when he was nine years old. Even though he was born into a non-athlete family, his parents intended to enroll on Medvedev for swimming training. On arriving at the pool, Medvedev sees an advertisement for a tennis club. In the end, he gave up his intention to swim, and the rest is history.
Medvedev studied physics and mathematics. He studied at home and in the accelerated program, which allows him to continue his sporting activities outside of work time. Medvedev majored in Applied Economics and Business but admitted it was challenging to combine studies and tennis.
View this post on Instagram
Finally, Medvedev dropped the choice to continue to practice tennis and leave the world of education. Besides tennis, Medvedev spends time in front of the television screen playing FIFA games. His talents include being taken into account by defeating the Russian champions some time ago.
Medvedev's professional career started around 2015-2016. At that time, he made his debut in the main round of the ATP (Association Tennis Professional) Kremlin Cup 2015. At that time, he was still playing in the doubles format with Aslan Karatsev.
His single appearance started in 2016 when he played at the ATP Nice Open. In this competition, Medvedev lost to Guido Pella in three sets. Three weeks later, he won his first ATP World Tour win at the 2016 Ricoh Open. At that time, Medvedev beat Argentine Horacio Zeballos in straight sets.
Medvedev won his first ATP Tour title in 2018 in Sydney, Australia. He then won two other titles that year, namely Winston-Salem and Tokyo. Medvedev went on to earn his first Masters title in 2019 in Cincinnati. At that time, he got rid of Djokovic in the semifinals. The second master's degree was obtained in Shanghai and pocketed four degrees.
His first Grand Slam final at the US Open came in 2019. At that time, he lost to Rafael Nadal in five sets. In the tournament, he won his third Masters title in Paris in 2020 and closed the year with the ATP Finals title, beating the world's top three players Djokovic, Nadal and Dominic Thiem.
His second Grand Slam final came at the 2021 Australian Open. But at that time, he was forced to surrender to Djokovic in straight sets. He won his fourth Masters title in Canada in 2021 and claimed his first title on the grass courts of Mallorca. In his third final at the US Open, he finally took home the trophy.
Medvedev's victory is like ruining the historical record for Djokovic. The Serbian tennis player has won three master's titles in 2021, namely Australia, French and Wimbledon. If Djokovic beats Medvedev in the final, he will become only the third player to achieve a Grand Slam clean sweep in a year, following Don Budge's footsteps in 1938 and Rod Laver in 1962 and 1969. In addition, Djokovic will also surpass Roger Federer and Roger Federer's Grand Slam titles.
"This win is sweeter. He was aiming to make history and knowing that I was able to stop him made this win even sweeter. And I have more confidence in what is to come," said Medvedev after the final.
Medvedev, who met Djokovic several times in several tournaments, revealed that he had felt cramps before closing the third set. But he tried to hide the pain.
"At 5-4 my left foot could barely walk. When I walked with a towel, my feet seemed to be left behind. But I try not to show it. If Djokovic sees it it's not good," said Medvedev.
Djokovic, who failed to achieve achievements and make history since 1969, felt relieved after the match ended. He felt a lot of pressure before the game to get the best result.
"Relieved. I'm happy it's over because the preparation for this tournament and everything that mentally, emotionally I had to deal with throughout the tournament in the last few weeks was overwhelming," said Djokovic.
View this post on Instagram
In the final match against Medvedev, Djokovic seemed unable to match the level of the Russian player. Djokovic admits the time spent on the court this year has finally taken a toll, and he feels a lack of energy.
"My leg wasn't there. I try. I did my best. Yes I made a lot of mistakes myself. I don't have really good service. If you play against someone like Medvedev who hits really well, aces and gets a lot of free points on his first serve, you constantly feel the pressure on your serve game," said Djokovic.
Djokovic remains grateful that he felt great support from the audience present in the arena in this final. He had cried because the vast audience also touched the results obtained.
Thanks to the victory at the US Open, Medvedev moved up the rankings to second place. Djokovic, despite losing, remains in the first position of the world tennis ranking list.
#THE S MEDIA
#Media Milenial
#Daniil medvedev
#novak djokovic
#us open
#grand slam