CULINARY
CRAVE A MIDNIGHT FOOD? GO TO THESE PLACES!
The best place to eat (while gossiping?) at midnight in Jakarta.
22.10.2022
BY MIA ROSMAYANTI
Are you a night owl and oftenly confused about what to eat at late night? Considering a fact that a lot of restaurants are already closed, but your stomach wants to be filled, here we go, we give some recommendations about the best place to eat (while gossiping?) at midnight in Jakarta. Check this out!

Lucky Cat Coffee & Kitchen
View this post on Instagram
Find this special place nestled at the south of Plaza Festival Kuningan – Lucky Cat Coffee & Kitchen, a 24-hour hipster cafe decked in an eye-catching white brick building with a casually modern vibe.
Get ready to fall in love with this cafe the moment you step into its homey interior. The marble tables, the eco-friendly wood furniture paired with lush green plants, and the overall energetic ambiance will make you linger all night for a round of heart-to-heart chat with your best friends.
And did you know that this cafe is actually the work of the owners of the renowned Sajiva Coffee and the crazy-popular 24-hour Dimsum Inc.? Needless to say, the coffee served here is heavenly 24/7, as is their Western menu. The Pan Seared Salmon with a side of sauteed spinach, cherry tomatoes, and baby tomatoes is among the favorites, along with its seafood pasta.
View this post on Instagram

Want something light? Dig into the Fried Calamari or the sinful Blueberry Cheesecake.

Eatsomnia, Fatmawati
Located on Jl. RS. Fatmawati, not too far from ITC Fatmawati. This restaurant is a 2-storey shophouse with ample parking area. The interior is quite nice and contemporary with simple furniture, decorative led lights and a minimalist wooden ceiling that makes this restaurant feel comfortable and modern.
This restaurant consists of 2 areas, namely smoking and non-smoking. The smoking area is located on the 2nd floor with a capacity of 100 customers. While the non-smoking area is located on the 1st floor with a capacity of 50 customers.
View this post on Instagram

Talking about the menu, this restaurant has a quite diverse menu, with beef wagyu which is their specialty. Beef wagyu provided here is served with various dishes such as steak, rendang, stews, rica2, sandwiches, fried noodles, etc. Besides beef wagyu, they also have a menu of chicken porridge, hot dogs, toast, grilled bananas and seblak. In addition, they also provide dessert menus such as ice cream brownies, and choco cheese. For drinks, they have a variety of milkshakes, ice blends, various coffees, yogurt, and various teas. The price range of food and drinks here ranges from Rp 9,000 to Rp 117,000.

Torry Coffee, Kalimalang
View this post on Instagram
Fancy a nostalgic place to slow down your night? Head over to East Jakarta where you'll find this charming cafe. The small front yard of Torry Coffee opens up to a spacious area where everything is decked in a classic vintage style, including an old school bike parked in front of a cute coffee machine display. This place is also perfect for caffeine lovers – you can find manually brewed coffee, instead of machine-prepared drinks. You can also mix it up with a variety of flavours, such as caramel and hazelnut.
As you find yourself lost in time, the waiter will serve up light bites such as French fries, hot dogs, sandwiches and their most recommended burger selections, including the cute Mini Burger. If you're looking for heavier meals, there's pasta and noodles too. Torry Coffee usually opens till past A.M., especially if there's still crowds who are enjoying their supper and late-night chats!

Kanawa Coffee & Munch, Senopati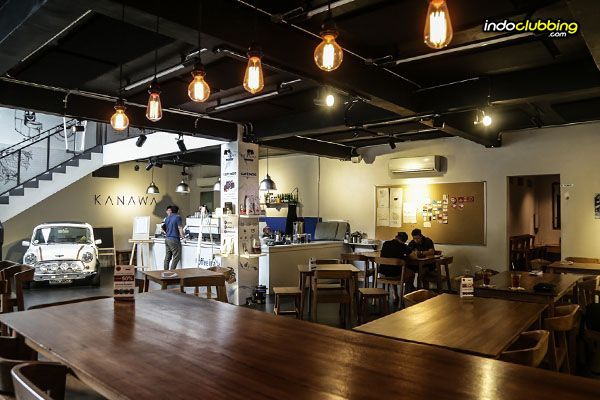 Another coffee shop with unique concept. Minimalistic yet sophisticated look, Kanawa Coffee & Munch is going to have you hooked. From the murals on the wall, you can tell that this place is all about great coffee, and the menu is actually quite extensive with a taste that would surpass your expectations for a simple cafe.
Appetizers such as croissants to steaks like Seared Beef and Chicken Wrapped Bacon are a delight to munch on, while heavenly desserts such as Thai Tea Cake have also made this cafe an instant favourite. The second floor of this cafe houses a smoking room and a happening outdoor area for you to chill and catch up with your buddies till late at night.
#THE S MEDIA
#Media Milenial
#night culinary at jakarta