FASHION + WATCHES
COACH INVITES JENNIFER LOPEZ, MICHAEL B. JORDAN, KIKO MIZUHARA FOR HOLIDAY CAMPAIGN
Have a very Coach Christmas.
06.12.2021
BY WILHEMINA BOWEN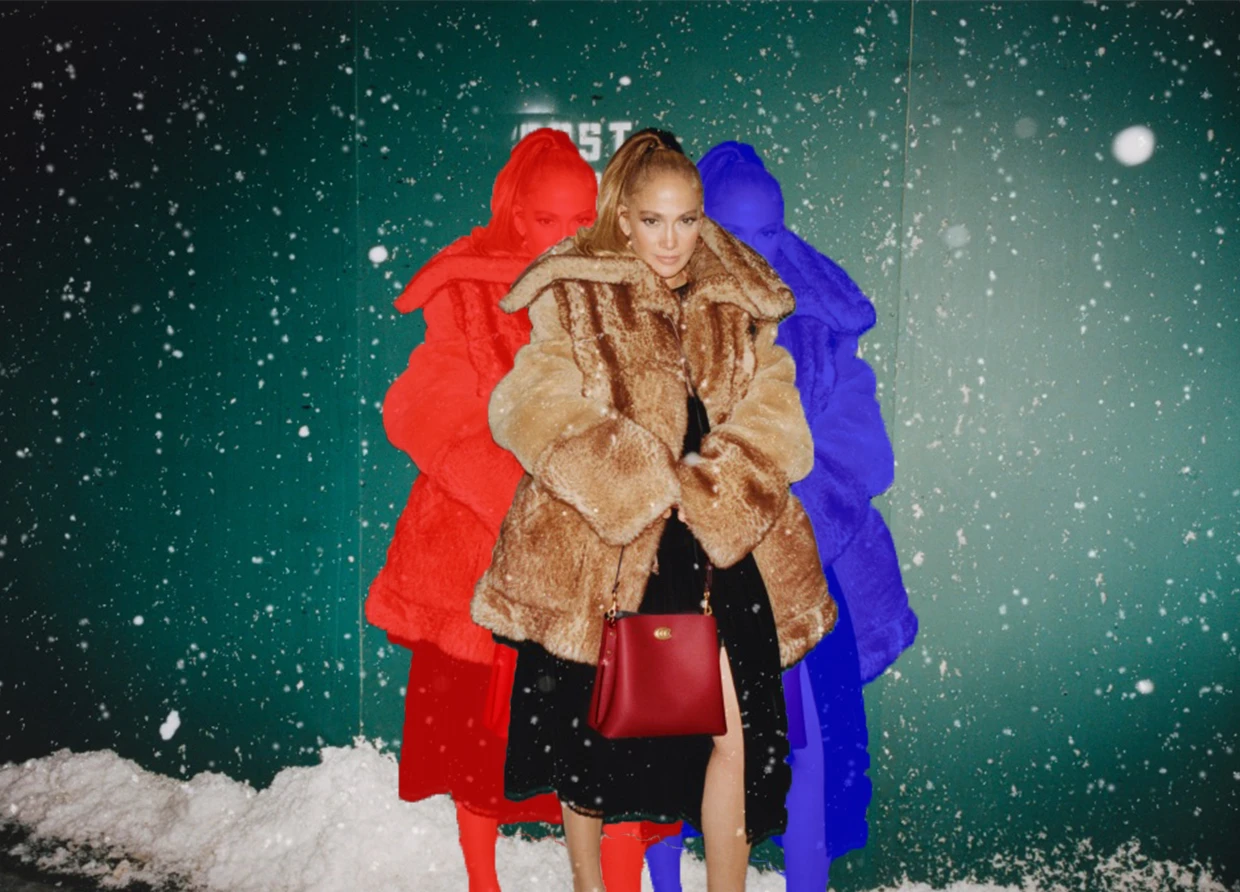 It has been almost two decades since Jennifer Lopez strutted down a snow-covered street in New York City, carrying a stack of Coach Signature monogram bags for her "All I Have" music video.
The 2002 iconic scene is relived in a new episode of Coach TV directed by Jason Bergh. The American diva is featured in the same setting with an update on the song rearranged to carry more upbeat grooves for 2021 by Coach.
The episode is part of Coach's campaign for the holiday season titled "Give A Little Love", which highlights the effervescent feeling of love and affection, especially between friends and family members.

Immortalized by photographer Pierre-Ange Carlotti was Kiko Mizuhara with her sister, Paloma Elsesser with her grandmother, Rickey Thompson with her cousin and best friend, comedian Quen Blackwell; Quincy with his sisters Chance, D'Lila and Jessie Combs; Richie Shazam and partner Ben Draghi; and Barbie Ferreira with her cat, Morty.
Dominican-American photographer Renell Medrano captured the spirit of the holiday in several settings featuring Jennifer Lopez and Michael B. Jordan.
The campaign also includes other Coach TV holiday specials, a series of Christmas movie-inspired sketches and pop culture references that might make some millennials feel nostalgic as they recapture treasured holiday films, television, and music.
The Creative Director of Coach Stuart Vevers' legacy vision ensures that these reimagined heritages would also be interesting for the new generations. The company, established in 1941, aims to make a point that something iconic would last for years.
Additional episodes include "Coach, Actually", directed by Carlotti, featuring a voiceover by Catherine O'Hara, a pun for the 2013 "Love, Actually", directed by Richard Curtis with Liam Neeson, Keira Knightley, and Colin Firth as cast members.
Also on the list are "Coach Alone", supposedly inspired by the legendary "Home Alone" franchise most notably starred by Macaulay Culkin, and "Coach Matters", depicting the fun, excitement and joy of the holiday season with loved ones, where we can celebrate together.
To create this season's Coach TV episode, Coach also collaborated with writer and director Amber Schaefer, with an additional infomercial starring Bob the Drag Queen and directed by Danielle Aphrodite Nemet.
All these components in the "Give A Little Love" campaign highlight the New York-based global fashion house's Coach Signature and Coach Quilties bags in metallic leather.
Coach Signature and Coach Quilties are distributed in Indonesia by the Kanmo Group. The latter was recently launched in 2021 and dubbed the next Coach Tabby for the summer.
However, it doesn't come with the same puffy feeling and is less pillowy in nature. The series is outfitted with a vertical quilted pattern which is part of the brand's vintage heritage as they are archive-inspired bags. In terms of silhouette, these babies are a bit more structured overall compared to Coach Tabby.
Quilted from Nappa premium leather, you can also secure one of these babies to strike a pose akin to Kiko Mizuhara this holiday by visiting one of Kanmo Group-operated Coach outlets or give Coach on Delivery a call by messaging their personal adviser through WhatsApp messenger.
This Christmas, these Quilties — as well as one of Coach Signature collections, are available for about Rp 4,990,000 to Rp 15,190,000.
If you happened to be reluctant to leave the comfort of your home amid the Omicron scare, well, fret not. The Kanmo Group, with the vision to inspire its aspiring Indonesian consumers and enrich their life journeys, recently launched an official website at id.coach.com to ease your shopping woes throughout the pandemic. With a click, you will "got this thing on lock" just in time before Christmas.
#THE S MEDIA
#Media Milenial