FASHION + WATCHES
CELEBRATING IRIS APFEL'S 100TH BIRTHDAY WITH A SPECIAL H&M COLLABORATION
The 100-year-old fashion icon Iris Apfel to release a special flamboyant collection with H&M.
18.03.2022
BY WILHEMINA BOWEN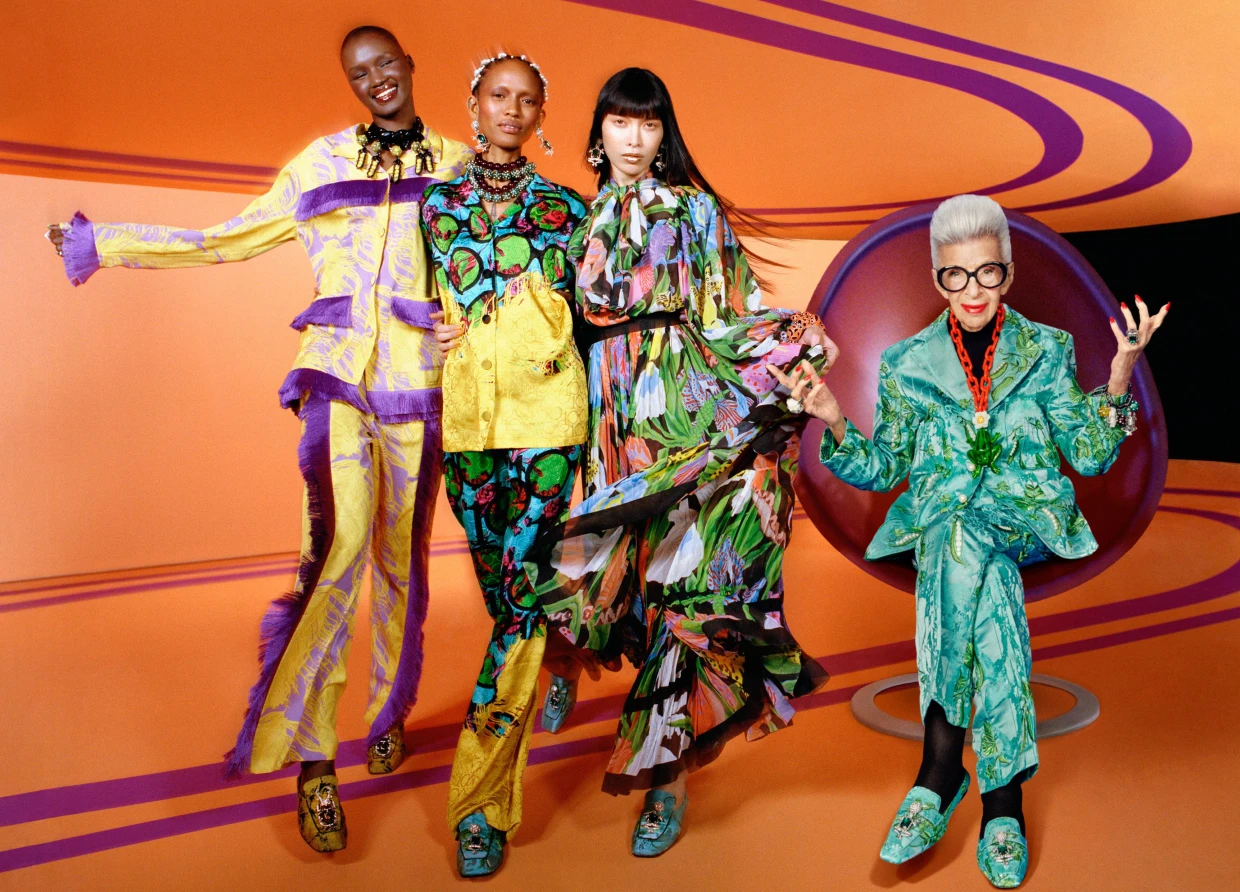 H&M collaborated with fashion icon Iris Apfel for their new line of collection, Iris Apfel x H&M. H&M is founded in Sweden in 1947 with the idea to offer fashion and quality at the best price in a sustainable way.
The H&M group has 54 online markets and approximately 4,850 stores in 75 markets including franchise markets. It quickly rides the wave when they saw that a celebration is coming. This collection not only celebrates the style icon's 100th birthday but also her eccentric fashion.
Ann-Sofie Johansson, the creative advisor for H&M Womenswear, said that the brand is drawn to work with Iris Apfel as she is the epitome of personal style– a style that is beautifully flamboyant and eclectic as well as totally ageless.
This is not her first time for this kind of collab. Iris shows what fashion is all about: a means of expressing yourself, who you are or want to be, and a way to have fun.
Iris Apfel x H&M collection
View this post on Instagram


The collection features a unique and colorful style that very much reflects Iris Apfel's style. Key garments include a jacquard suit with pea-pod embroidery and pear peas, a voluminous frilled tulle jacket and a flouncy tiered skirt and blouse set in a beautiful iris flower print, and shoes adorned with brightly colored patterns and dazzling accessories.
There is also a selection of bright and bold accessories that takes inspiration from Iris Apfel's love of layering and penchant for chunky statement pieces. Accessories like chunky bracelets, necklaces and flashy earrings with plenty of themes including plants, animals, and accessories that seemed to come from a distant future.
Iris Apfel x H&M collection will be affordable and accessible for all ages and sizes. As Iris told Vanity Fair that she has a fan base that starts at six years old and it doesn't seem to know generation or ages.
She approved of H&M's affordable prices as she says that the high street brand is fabulous and is an absolute pioneer in its field–which she loves as she loves doing high style at affordable prices–which H&M has mastered.
The price for this collection ranges from around US$22 (Rp 315,000+) for accessories and up to around US$250 (Rp 3,580,000+) for a tulle purple frilled jacket.
The collection will launch on hm.com and in select stores on April 14, a perfect time to fill up your spring wardrobe with vibrant colors.
#THE S MEDIA
#Media Milenial
#H&M
#Iris Apfel
LATEST NEWS
We have a vast selection of rolex replica such as the Daytona, Milgauss, Submariner, Explorer, Gmt Master II in http://www.localdlish.com
We have a vast selection of rolex replica such as the Daytona, Milgauss, Submariner, Explorer, Gmt Master II in http://www.localdlish.com
We have a vast selection of rolex replica such as the Daytona, Milgauss, Submariner, Explorer, Gmt Master II in http://www.localdlish.com
We have a vast selection of rolex replica such as the Daytona, Milgauss, Submariner, Explorer, Gmt Master II in http://www.localdlish.com
We have a vast selection of rolex replica such as the Daytona, Milgauss, Submariner, Explorer, Gmt Master II in http://www.localdlish.com
We have a vast selection of rolex replica such as the Daytona, Milgauss, Submariner, Explorer, Gmt Master II in http://www.localdlish.com
We have a vast selection of rolex replica such as the Daytona, Milgauss, Submariner, Explorer, Gmt Master II in http://www.localdlish.com
We have a vast selection of rolex replica such as the Daytona, Milgauss, Submariner, Explorer, Gmt Master II in http://www.localdlish.com
We have a vast selection of rolex replica such as the Daytona, Milgauss, Submariner, Explorer, Gmt Master II in http://www.localdlish.com
We have a vast selection of rolex replica such as the Daytona, Milgauss, Submariner, Explorer, Gmt Master II in http://www.localdlish.com
We have a vast selection of rolex replica such as the Daytona, Milgauss, Submariner, Explorer, Gmt Master II in http://www.localdlish.com
We have a vast selection of rolex replica such as the Daytona, Milgauss, Submariner, Explorer, Gmt Master II in http://www.localdlish.com
We have a vast selection of rolex replica such as the Daytona, Milgauss, Submariner, Explorer, Gmt Master II in http://www.localdlish.com
We have a vast selection of rolex replica such as the Daytona, Milgauss, Submariner, Explorer, Gmt Master II in http://www.localdlish.com
We have a vast selection of rolex replica such as the Daytona, Milgauss, Submariner, Explorer, Gmt Master II in http://www.localdlish.com
We have a vast selection of rolex replica such as the Daytona, Milgauss, Submariner, Explorer, Gmt Master II in http://www.localdlish.com
We have a vast selection of rolex replica such as the Daytona, Milgauss, Submariner, Explorer, Gmt Master II in http://www.localdlish.com
We have a vast selection of rolex replica such as the Daytona, Milgauss, Submariner, Explorer, Gmt Master II in http://www.localdlish.com
We have a vast selection of rolex replica such as the Daytona, Milgauss, Submariner, Explorer, Gmt Master II in http://www.localdlish.com
We have a vast selection of rolex replica such as the Daytona, Milgauss, Submariner, Explorer, Gmt Master II in http://www.localdlish.com