SOCIETY
CAKAP PARTNERS WITH ASPARNAS AND LOCCAL COLLECTION HOTEL FOR LABUAN BAJO'S TOURISM HUMAN RESOURCES
Cakap collaborates with Asparnas and Loccal Collection Hotel to create an English course scholarship for 5000 tourism professionals to develop Labuan Bajo's tourism human resources.
16.03.2022
BY MAXWELL SOETOMO
Cakap, one of Indonesia's major EdTech firms, teamed together with Asparnas (National Tourism Association) and Loccal Collection Hotel to provide an empowerment program for tourism human resources in Labuan Bajo.
Labuan Bajo's tourism stakeholders should improve their readiness to welcome international visitors as a high-priority location. Following the passage of new legislation allowing free quarantine in Bali as of March 7, 2022, Labuan Bajo is expected to become a major tourist destination for international visitors.
Cakap will conduct training through its platform with certified teachers. Five thousand tourism professionals will benefit from a scholarship scheme.
"We appreciate Cakap, Asparnas, and Local Collection Hotel for the effort in facilitating the program. NTT (East Nusa Teggara) has Labuan Bajo as a world tourism charm. The development of the tourism sector in this area is certainly needed. Thus Labuan Bajo continues to become a target destination for tourists from various countries. This includes human resource development in the tourism sector through English skill training as an international language," said Julie Sutrisno Laiskodat, Member of House of Representatives of Indonesia and Head of Family Welfare Movement (PKK) as well as Head of Regional National Craft Council (Dekrasnada) for East Nusa Tenggara.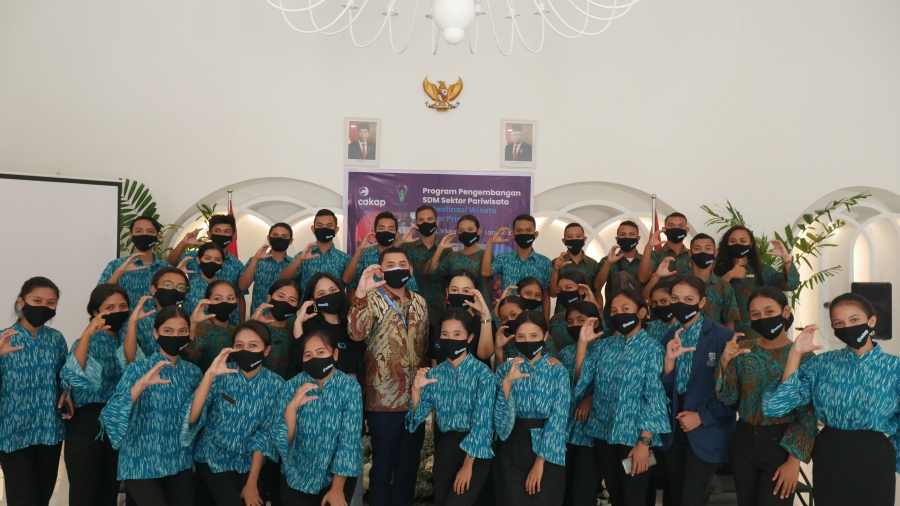 English and its importance in Labuan Bajo
The English language plays a critical role in the tourism industry in Labuan Bajo, as the Indonesian government has designated Labuan Bajo as a super-priority destination.
Meanwhile, Labuan Bajo is also slated to host international events such as a side event for the G-20 Summit and the 2023's ASEAN Summit.
"The use of technology can be utilized to restore and revive the Indonesian tourism sector, especially in increasing the capacity of its human resources in the field of international languages," said Ngadiman, Chairperson of Asparnas.
"We are targeting Labuan Bajo to leverage the access to quality education for the people here. Cakap as EdTech is the right partner in providing access to this learning. We hope that Asparnas can also target other Indonesian tourist areas in need."
Cakap's Journey in improving Indonesia's human resources
On March 30, 2020, Cakap signed a Memorandum of Understanding with the Ministry of Tourism and Creative Economy.
The collaboration aims to enforce determination and optimism to continue improving human resources capability and competitiveness during the pandemic.
Cakap also joined PHRI (Indonesian Hotel and Restaurant Association) in April 2020 to accommodate and support tourism and hospitality enterprises through government assistance programs such as cost assistance aimed at job searchers, laid-off workers, or staff that require competency enhancement.
In response to Cakap's current partnership with Asparnas and Loccal Collection Hotel, Jonathan Dharmasoeka, Chief of Business of Cakap, said, "It is an honor for Cakap to be able to join this program by providing training to 5000 tourism sector actors in Labuan Bajo. We also see the urgency that tourism sector actors must be equipped with English language skills."
#THE S MEDIA
#Media Milenial
#Labuan Bajo
#Cakap
#English Training
#Human Resource Development
LATEST NEWS
We have a vast selection of rolex replica such as the Daytona, Milgauss, Submariner, Explorer, Gmt Master II in http://www.localdlish.com
We have a vast selection of rolex replica such as the Daytona, Milgauss, Submariner, Explorer, Gmt Master II in http://www.localdlish.com
We have a vast selection of rolex replica such as the Daytona, Milgauss, Submariner, Explorer, Gmt Master II in http://www.localdlish.com
We have a vast selection of rolex replica such as the Daytona, Milgauss, Submariner, Explorer, Gmt Master II in http://www.localdlish.com
We have a vast selection of rolex replica such as the Daytona, Milgauss, Submariner, Explorer, Gmt Master II in http://www.localdlish.com
We have a vast selection of rolex replica such as the Daytona, Milgauss, Submariner, Explorer, Gmt Master II in http://www.localdlish.com
We have a vast selection of rolex replica such as the Daytona, Milgauss, Submariner, Explorer, Gmt Master II in http://www.localdlish.com
We have a vast selection of rolex replica such as the Daytona, Milgauss, Submariner, Explorer, Gmt Master II in http://www.localdlish.com
We have a vast selection of rolex replica such as the Daytona, Milgauss, Submariner, Explorer, Gmt Master II in http://www.localdlish.com
We have a vast selection of rolex replica such as the Daytona, Milgauss, Submariner, Explorer, Gmt Master II in http://www.localdlish.com
We have a vast selection of rolex replica such as the Daytona, Milgauss, Submariner, Explorer, Gmt Master II in http://www.localdlish.com
We have a vast selection of rolex replica such as the Daytona, Milgauss, Submariner, Explorer, Gmt Master II in http://www.localdlish.com
We have a vast selection of rolex replica such as the Daytona, Milgauss, Submariner, Explorer, Gmt Master II in http://www.localdlish.com
We have a vast selection of rolex replica such as the Daytona, Milgauss, Submariner, Explorer, Gmt Master II in http://www.localdlish.com
We have a vast selection of rolex replica such as the Daytona, Milgauss, Submariner, Explorer, Gmt Master II in http://www.localdlish.com
We have a vast selection of rolex replica such as the Daytona, Milgauss, Submariner, Explorer, Gmt Master II in http://www.localdlish.com
We have a vast selection of rolex replica such as the Daytona, Milgauss, Submariner, Explorer, Gmt Master II in http://www.localdlish.com
We have a vast selection of rolex replica such as the Daytona, Milgauss, Submariner, Explorer, Gmt Master II in http://www.localdlish.com
We have a vast selection of rolex replica such as the Daytona, Milgauss, Submariner, Explorer, Gmt Master II in http://www.localdlish.com
We have a vast selection of rolex replica such as the Daytona, Milgauss, Submariner, Explorer, Gmt Master II in http://www.localdlish.com