CAREER + MONEY
BUSINESS DEVELOPMENT VS SALES, WHAT ARE THE DIFFERENCES?
Read this article to make you clear
26.07.2021
BY HANUM FAUZIA
Business development and sales marketing are the essentials part of any kind of corporate; to help a company grow the business. Sales and business development are closely connected, but don't take this the wrong way, as these jobs serve different needs in your organization. Perhaps, you may find one person take responsibility for both roles in a small business. But as the company is growing more prominent, it needs both business development and sales representatives to flourish.
We suggest reading this article to help you better understand the differences between sales and business development best suited to your skillset.

What do business development executives do?

According to Indeed, a Business Development Executive, or Business Development Manager, is responsible for overseeing the process of business development within their company to promote its longevity. Their duties include working closely with other company executives and management teams, meeting with potential business partners, maintaining existing client relationships, and monitoring market trends to develop new business ventures.
For the role of Business Development Executive, the ideal candidate should be self-motivated enough to reach out and bring in new business. A Business Development Executive typically has the following daily responsibilities:
Attracting new clients by innovating and overseeing the sales process for the business;
Working with senior team members to identify and manage company risks that might prevent the growth;
Identifying and researching opportunities that come up in new and existing markets;
Preparing and delivering pitches and presentations to potential new clients;
Combining efforts and fostering a collaborative environment within the business as a whole.
How about a sales representative?
Sales representatives are responsible for communicating the benefits of a company's products to drive sales. Sales representatives serve as the point of contact between a business and its prospects or clients and have a range of responsibilities, including identifying and educating prospective customers while supporting existing clients with information and assistance related to products and services. Qualifications often include strong interpersonal and communication skills and a Bachelor's degree in business or related fields.
Sales Representative duties and responsibilities include:
Present, promote, and sell products/services using solid arguments to existing and prospective customers;
Perform cost-benefit and needs analysis of existing/potential customers to meet their needs;
Establish, develop and maintain positive business and customer relationships;
Reach out to customer leads through cold calling;
Expedite the resolution of customer problems and complaints to maximize satisfaction.
So, let's find out what are the differences between both two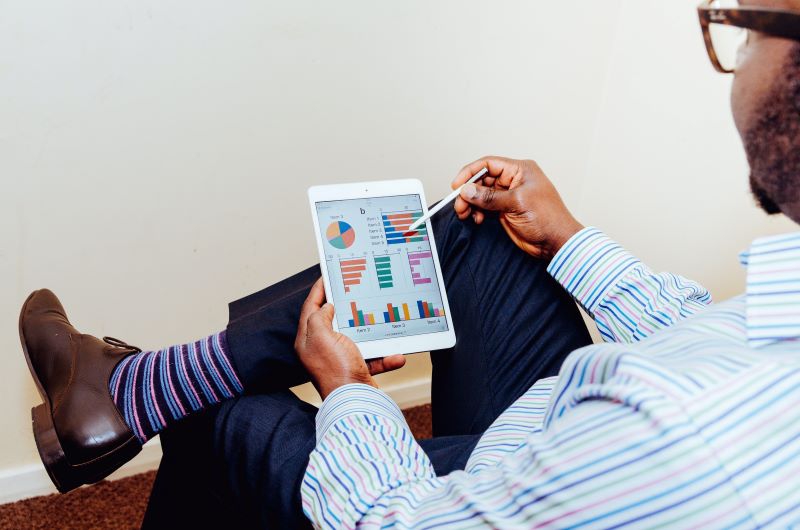 Saravana Kumar, RM at CSB Bank Limited, wrote on LinkedIn that sales must be focused on now. You can't run a company unless your sales team focuses on bringing in today's business. But you can't ask your Sales leaders where the company should go next and develop the 18-month plan to get there without losing focus on today's revenue. Besides, if your sales executive were good at developing future-focused business strategies and tying that strategy to the plans and tools of Marketing to make it happen, they would be a marketing person and not a now-focused sales person.
Business development (is about making connections), it's building upon the brand you have established through marketing efforts to connect your audience to your products and services. It's prospecting (think networking events), qualifying leads, and then converting those leads into clients. Business development is all about creating relationships.
You can see this infographic to make you more clear: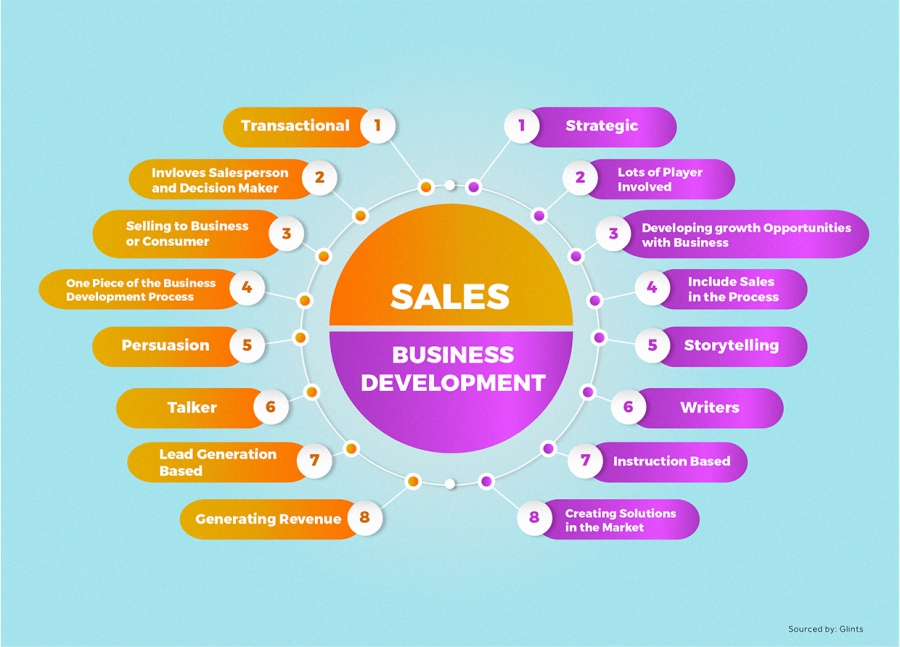 Business development VS sales is a tricky topic. Anything at all, you should listen to your heart, be honest, and you will know which passion that is driving you.
#THE S MEDIA
#Media Milenial
#business development
#sales
#marketing
#jobs
#career