FASHION + WATCHES
BECOMING AN IT GIRL WITH KATE SPADE NEW YORK BAG COLLECTION
Here are some of the Indonesian women's styles in using bags from Kate Spade New York's collection, as your inspiration to become the "It Girl".
29.07.2022
BY YUKE RATNA
The concept of "It Girl" has become a movement in supporting women to have a more positive and confident life. This is giving Kate Spade New York an inspiration to continue to work and support women to be authentic and to spread positive things around them.
One way to become "It Girl" is to increase self-confidence through a chic and fashionable appearance in carrying out daily activities with Kade Spade New York bag collection. If you are a student, office worker, or housewife, using a collection of practical bags with unique designs can make your day more productive and stylish. Here are some of the Indonesian women's styles in using bags from Kate Spade New York's collection, as your inspiration to become the "It Girl.
Widy Soediro Nichlany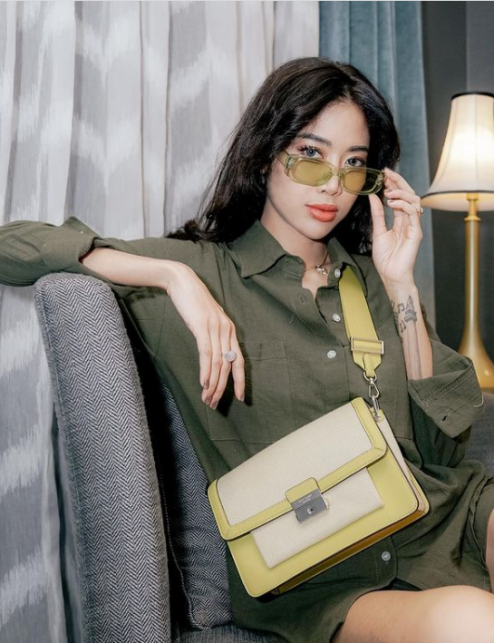 The backstage signature look for the "It Girl"! The main vocalist of Vierratale, Widy, was seen wearing a Voyage Canvas Medium Shoulder Bag while resting after a gig. Widy combined an oversized navy green shirt that made her look feminine with this yellow canvas bag.
If you like wearing earth-colored clothes, upgrade your simple look to be more playful and colorful with this bag. The classic design can make your "It Girl"-look more prominent and timeless, which is perfect for you to go to the office or traveling casually with friends. Besides, you can also use this bag as a shoulder bag.
Jessica Mila dan Tatyana Akman
Definitely a must-have bag for the "It Girls"! The Manhattan Striped Mini Tote bag from Kate Spade New York is perfect for those of you who don't carry a lot of things or have a busy schedule. Besides being used for sightseeing around the city, its small size makes this bag suitable for taking on vacation. Featuring a unique picnic basket silhouette, this bag can be combined with a variety of styles to give your look a twist. Actresses Jessica Mila and Tatyana Akman were seen wearing tiny tote bags in yellow multi and colored stripes in two different styles. Let's take a peek at their appearance!
Jessica Mila looks feminine when wearing this Manhattan Striped Mini Tote with woven and smooth leather. Because it has a unique design, your casual look becomes cuter instantly. Mila combined this bag with a brocade blouse in peach color and a satin skirt in the same color. Like this actress, you can make the appearance of "It Girl" even more chic when traveling around the city.
For those of you who are planning a vacation to the beach, this small Manhattan Striped Mini Tote bag is perfect for traveling because it has many pockets to store your important items. Designed with an open top model with a dog-clip closure, going on vacation can be more convenient and practical. Like Tatyana Akman, she was wearing a Manhattan Striped Mini Tote while relaxing, enjoying the golden hour and free time on the coast of the island of Bali. Tatyana also combined this yellow multi-colored bag with a crochet cropped top that resembles the motif of her bag, giving a sweet touch to her edgy look.
Aulia Sarah
The "It Girl" from the block! Aulia Sarah is seen wearing a Spade Flower Jacquard Grapefruits Sinch Medium Bucket Bag! Known for its monochrome and grunge style, this bucket bag accentuates Aulia's appearance with the addition of a grapefruit pattern based on the iconic spade flower jacquard motif from Kate Spade New York.
The practical drawstring strap on this bag also makes it easy to access personal items while traveling, making it suitable for those of you who want to look more fashionable when carrying out daily activities. Its versatile design can accompany you to go shopping, study or work. Besides being used as a handbag, you can also use this bucket bag as a sling bag with the available crossbody strap.
The collection of bags from Kate Spade New York is available in all offline boutiques in Indonesia and online at www.katespade.co.id.
#THE S MEDIA
#Media Milenial
#Kate Spade New York