TRAVEL + LEISURE
BALI'S BEST BRUNCH IS BACK!
Starfish Bloo Brunch of all brunches is back at W Bali – Seminyak.
20.09.2021
BY HANUM FAUZIA
When it comes to weekends in Bali, nothing is more luxurious unless having a leisurely brunch while enjoying the breathtaking atmosphere on the beachside of Bali. With a grand feast followed by a warm sun-soaked, a Bali-style brunch is hard to beat.
Bringing back the Sunday ritual into Bali's brunch of all brunches at W Bali, Seminyak! Starfish Bloo is back with the taste of Asian flavours with Western essences every Sunday to awaken the taste buds together in a beachside seafood restaurant featuring an innovative open kitchen. Starting August 2021, everyone can drop in for a witty, delightful brunch every Sunday from 12 PM – 3.30 PM.

Starfish Bloo offers Sunday brunch with pricing starting from IDR 595,000 ++ for food packages. You also can keep it fancy with champagne and alcohol packages. They can begin the journey by enjoying the Pass Around Tempura Oyster, Gohu Tuna to the mains BBQ Corner, including Balinese Pork Sam Sam, local seafood on ice, and many more. Go further with Indonesian & Indian station, bento bowl station, sushi & sashimi station, and end with delightful sweet treats.
Settle in with the restaurant's glamorous yet casual dining, from chef-curated tasting menus, sizzling seafood delicacies and regionally-inspired recipes. Guests can live it up in the extravagant selection of seafood deluxe fresh buffets among many other international cooking stations.

Glamorous yet casual beachside seafood restaurant
Starfish Bloo, Pan-Asian flavours meet Western essences. From chef-curated tasting menus to a la carte sharing plates, sizzling seafood dishes and regionally-inspired sharing plates await.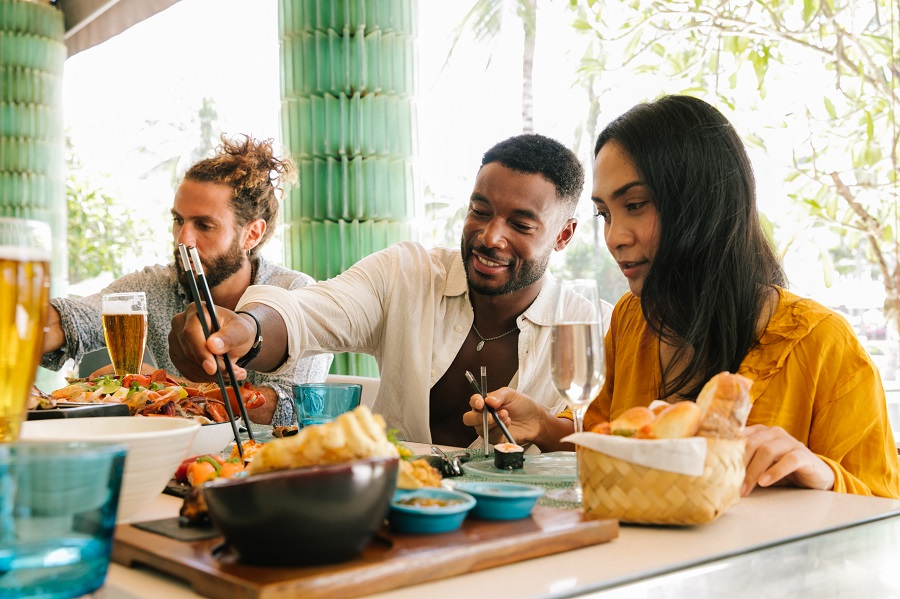 Drop-in on Friday evenings for an indulgence like no other with a Seafood Market buffet, serving premium seafood served to your prefered taste. End your weekend on a high note with a glass of bubbly and a plethora of indulgences at W Bali – Seminyak's signature Sunday brunch at Starfish Bloo.
This open-air beachfront spot at W Bali – Seminyak is, without doubt, a wonderful setting and one of Bali's very best for a leisurely Sunday foodie sesh as you sit overlooking the ocean and the designer pool areas of one of Seminyak's swankiest resort addresses.

Another attractive dining and service experience at Starfish Bloo
Besides spending your weekend afternoon with enrichment of Asian taste culinary, you can try other fun dining and service experiences at Starfish Bloo. Here's the list.

Sunset On Ice
Open every Monday to Saturday in the evening (5 PM – 7 PM), you can experience the ultimate, relaxing sunset vantage point – a place to enjoy food and drinks in a casual yet elegant atmosphere.
The new cocktails at Ice Bar are ready to be served at the Pan Asian experience inspired by Starfish Bloo, featuring spices and accents from multiple regions across Asia. We keep it fresh as ice at Ice Bar by incorporating frozen signature cocktails and ice techniques. Refresh yourself and chill to the sound of waves.
Enjoy smooth chill-out beats whilst indulging in complimentary canapés. Sip an ultracold Beluga vodka cocktail at two for one. Tasting our oysters on ice is a must.

Beachside inspired dining at Ice Deck

Experience the exclusivity of your very own terrace overlooking Seminyak Beach every day, in the night day. Live it up and dine in style with a nine-course culinary journey inspired by the Indonesia archipelago, topped with a modern and innovative twist. You can feel this package under one million rupiah per person.

Seafood market

Friday means to sail away for a night and revels in a grand feast of fruits de mer. A market-style experience featuring bustling live stations and a bountiful selection of the freshest fish and seafood. Different styles, different twists, let's pick your treat.
The delectable Hamabe at The Westin Resort Nusa Dua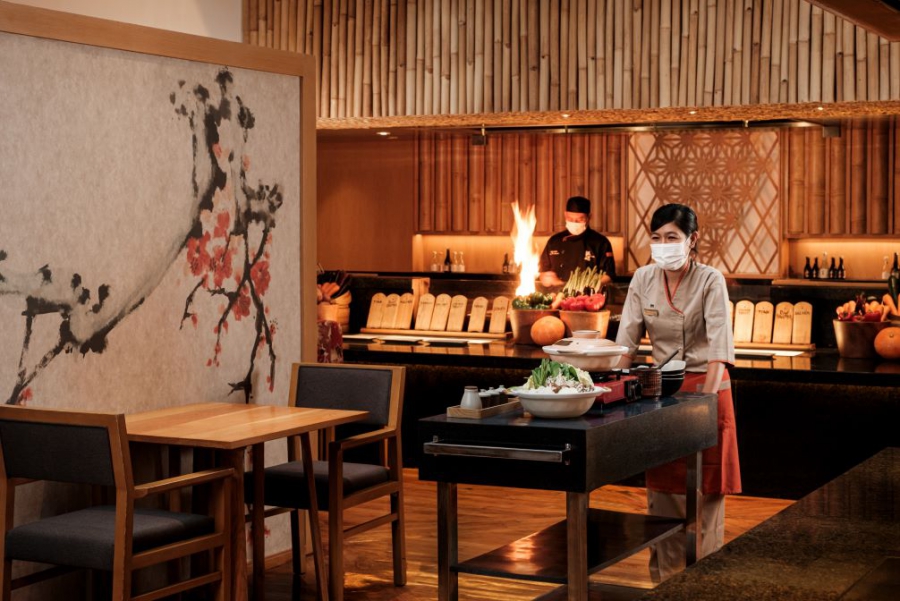 Bringing joy and indulgence to Saturdays, The Westin Resort Nusa Dua, Bali presents a new culinary adventure with the exceptional Japanese Kaiseki-style Hamabe Brunch. The skilled culinary team of Hamabe is serving up a new refined dining experience in the light and airy contemporary Japanese restaurant that is inspired by the serenity of a traditional Japanese garden. Adding to the plethora of authentic cuisines that pamper guests desiring the best Japanese dishes, the newest offering is a traditional multi-course Kaiseki-style brunch.
#THE S MEDIA
#Media Milenial
#brunch at bali
#traveling at bali
#culinary at bali