SPEED + BEYOND
ASIA GLOBAL YACHTING OFFERING COMPLETE SERVICES FOR THE WORLD OF YACHT
Asia Global Yachting is the official dealer for Ferretti Yachts and Pershing.
27.11.2021
BY A. NUGROHO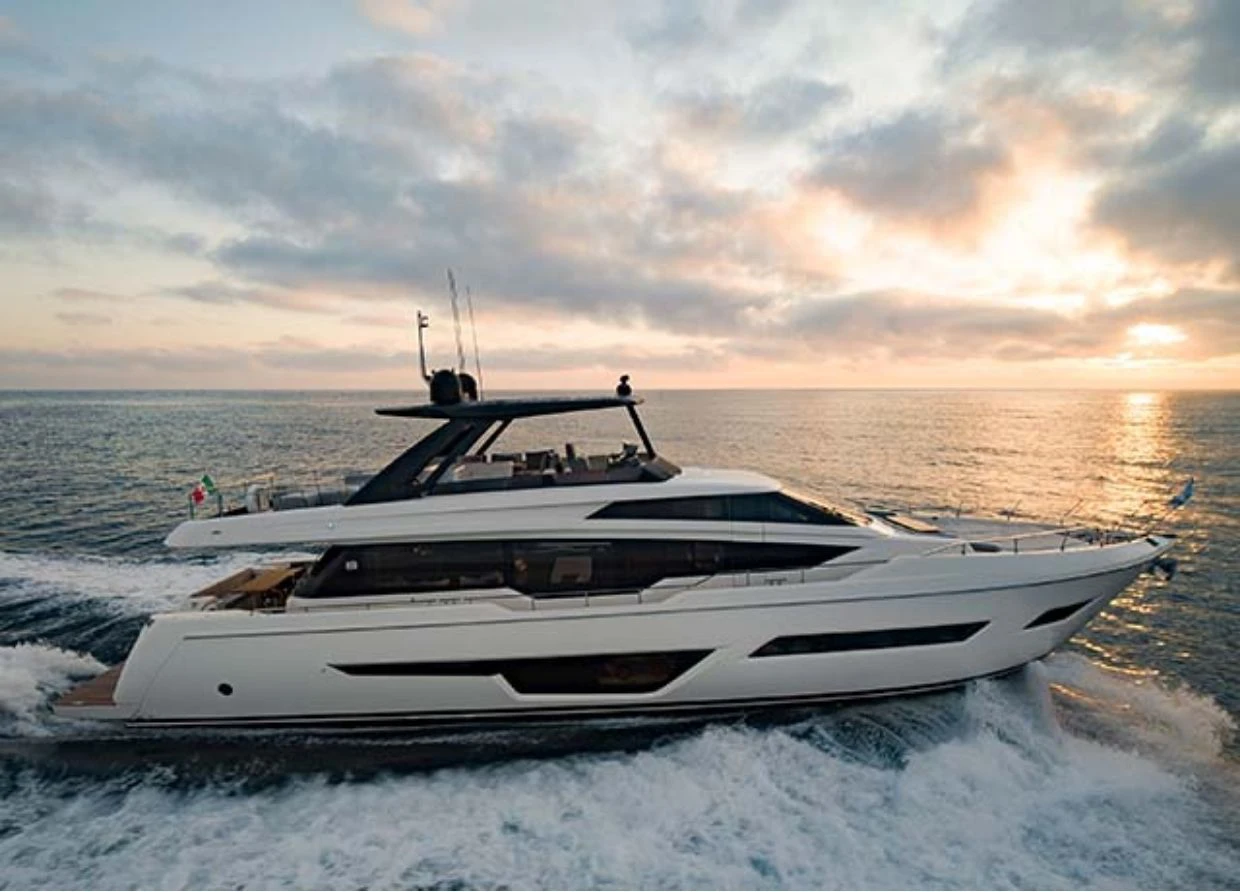 As a maritime country with the most significant market potential in Southeast Asia, Indonesia is an attractive target for companies engaged in the shipping sector. One of them is Asia Global Yachting which has just officially announced its presence in Southeast Asia and established a representative for the Indonesian market.
This company, known for its luxury yacht products, offers premium services ranging from rentals to various things in the shipping industry. The presence of Asia Global Yachting in Indonesia complements the presence of their representatives in important countries for the yacht market, such as Thailand and Singapore. Some of the brands under this company are Ferretti Yachts and Pershing, which appointed exclusive representatives in Indonesia.
Asia Global Yachting brings years of experience in connecting yacht consumers, including buying and selling used yachts, ship construction, ship management, ship maintenance, event organization, and other exciting services for the yacht market. Its services are among the best in its class, including a team that handles the owners, operators, and crew well.
View this post on Instagram
The Asia Global Yachting company has also worked closely with experts in the shipping industry and has a comprehensive list of affiliates. This enables the company to realize various demands in the maritime world at the highest level.
The dynamic team at Asia Global Yachting has a thorough and detailed understanding of the practices necessary for successful yacht management. With trusted industry partners, excellence in communication and knowledge, Asia Global Yachting ensures intense exposure and visibility while maintaining equal success for boat owners, management structures, and most importantly, the curation of unforgettable guest experiences.
Asia Global Yachting has been appointed as the exclusive dealer for Ferretti Yachts and Pershing products for the Indonesian region. This move strengthens the position of the Ferretti Group for regional markets, particularly Southeast Asia.
Ferretti Yachts is the first member of the Ferretti Group and has been the Italian ambassador to introduce the shipping culture, known for its elegant and luxurious designs, in the marine world. This brand has been known for a long time as a brand that offers big ideas, product quality that exceeds expectations, and complete techniques.
"We are delighted to announce the launch of Asia Global Yachting and introduce the company as a full-service yacht solution. With attention to detail, many years of experience, and bespoke service of paramount importance, we believe that Asia Global Yachting brings an elevated yachting consultancy and experience to the region," said Xavier Fabre, founder of Asia Global Yachting.
Ferretti Yachts offers privacy and exclusivity, allowing people to travel without ever leaving home and waking up each day to a different view with new horizons to explore. Every vessel is imbued with beauty, harmony, and innovation, with a timeless yet contemporary design that evokes comfortable and relaxing settings. Home, comfort, the journey, and the sea are the concepts of clarity that inspire Ferretti Yachts to build immaculate boats that embody their owner's personality and profound desires.
View this post on Instagram
Known for its stylish and high-performance luxury motor yachts, Pershing has been part of the Ferretti Group since 1998. Recognizable in ports around the world, Pershing is one of the top open fiberglass yacht producers globally, offering a variety of yacht sizes for consumers based on their needs.
Pershing's beautiful and functional interior design is a perfect blend of large spaces and natural light, allowing for the highest livability and maximum comfort. Pershing knows how to bring pleasure, performance, and comfort together in one yacht. Whether flying on the sea at the highest speed or gently caressing the water surface, cruising towards a far destination, or enjoying life on the sea, Pershing Yachts always delivers the utmost feeling of great comfort.
Born out of a desire for excellence, Asia Global Yachting is an unparalleled yachting company dedicated to delivering premium service across the entire scope of the industry. Conceived in Southeast Asia with offices in the major yachting hubs of Thailand and Indonesia, Asia Global Yachting provides an in-depth and comprehensive model to provide said excellence for clients and stakeholders.
By affiliating with experts and industry leaders, Asia Global yachting is positioned to implement an all-encompassing service across the yachting landscape. From world-renowned dealerships, boat builders, naval architects, and an outstanding operations team to bespoke yacht charters paired with unrivaled guest experience and support services, Asia Global Yachting provides 360-degree solutions for any maritime need.
#THE S MEDIA
#Media Milenial
#asia global yachting
#indonesia
#ferretti yacht
#pershing
#indonesia yacht