ART + CULTURE
ART MOMENTS JAKARTA ANNOUNCES THE WINNER OF NFT ART
Art Moments Jakarta Online 2 is back with a series of online and offline activities.
13.12.2021
BY MIA ROSMAYANTI
Prized Moments 2021 today at ISA Art & Design, Wisma BNI 46 Jakarta. This national-scale competition is a part of Art Moments Jakarta Online 2 2021, ongoing from November 22th until December 21st. AMJO2 can be accessed on www.artmomentsjakarta.com.
Art Moments Jakarta Online 2 is back with a series of online and offline activities. With the increasing number of creators of Non-Fungible Token (NFT), Art Moments Jakarta organized the first-ever nationwide NFT Art competition in South East Asia entitled NFT Art Prized Moments 2021. The competition was open to all creators and/or artists from October 30th to November 30th, 2021, using the Tezos Blockchain platform as it is environmentally friendly. The theme for this year's competition is "Time".
The Blockchain technology industry has developed rapidly, and NFT Art is currently attracting the world's attention and becoming the answer for digital artists. NFT can be defined as a token that proves legal ownership for digital assets, such as audio, video, illustrations, animations, and graphics. NFTs have unique, original, and rare characteristics, so they cannot be exchanged because they are stored in digital ledgers. This makes digital artwork become one of the new types of assets, which has also become a trend in the global industry.
The increasing number of NFT communities in cyberspace and various reports about NFT works that are highly appreciated by all levels of society make NFT Art Prized Moments 2021 valuable momentum for artists interested in NFT artwork. NFT Art Prized Moments 2021 is fully supported by eco-friendly Tezos Blockchain. "We are proud to be a forum and participate in the 2021 NFT Art Prized Moments, as we know that currently, NFT art is attracting attention because digital works can be turned into an asset with legal ownership." Said Mr. David Tng, Marketing Associate of Tezos APAC.
The competent judging panel carried out the selection of the best 10 finalists from December 1st to 6th, 2021. The members of the panel of judges are: Detty Wulandari, NFT Art Collector; Khai Hori, senior curator and president of Art Galleries Association of Singapore(AGAS) and were previously senior curator at the Singapore Art Museum; and Prasajadi, an NFT Artist and founder of MetaRupa. Winners were selected from 7th to 8th December 2021, following a strict judging mechanism.
NFT Art Prized Moments 2021 is supported by main sponsors, including Tezos APAC and The Balvenie. Total prize money of IDR 32,000,000 was distributed among four winners. First Place received IDR 15,000,000; Second Place received IDR 10,000,000 and the Third Place IDR 5,000,000. In addition, there is also the People's Choice category, where the winner is chosen from the results of voting and will receive a cash prize of Rp. 2,000,000.
Each of the four participants ranked as champions also received a whiskey from The Balvenie. "We really appreciate all the finalists who have arrived at the best ten stages. Art Moments Jakarta is certainly proud to be able to present the first NFT competition in Indonesia and to contribute to creating digital artists through extraordinary NFT works," said Sendy Widjaja, Operations Director of Art. Moments Jakarta.
Meanwhile, the NFT art exhibition will be held from 10th to 18th December 2021, at the ISA Art & Design, Wisma BNI 46 Jakarta, and is open to the public.

NFT Art Prized Moments 2021 WINNERS

First Place: Muhammad Sabiq Hibatulbaqi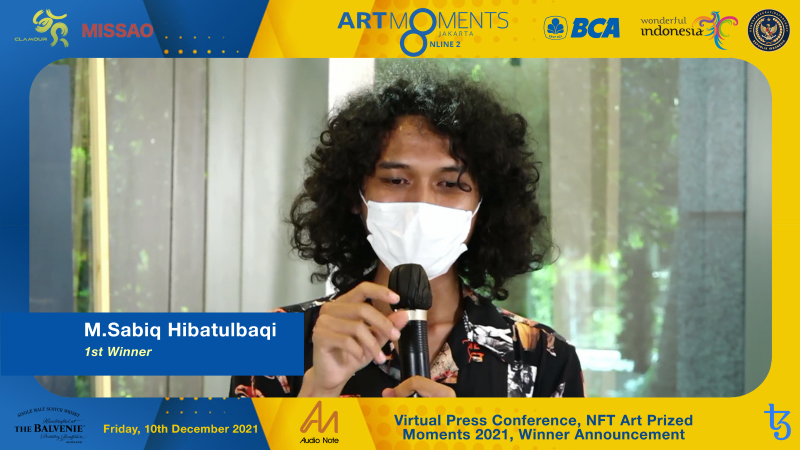 "Melancholy of Doubt and Fear"
Philosophy: There are always felt doubt and fear. Wondering if the time can remove those feeling or even is the time that produces those feelings instead? The time always haunts you and makes you doubt yourself and everything around you.

Runner Up: Dom Raditya
"Meet My Self"
Philosophy: If you can turn back the time, what would you tell to your younger self?

Second Runner Up: Fauzi Raisyuli
"We're All Made of Time"
Philosophy: A little boy from a dream asked me which one was created first? Man or time? I was silent by the question, I can't answer it right now, but I believe we are created by time.

People's Choice: Ferdinand Linardi
"Metamorphosis"
Philosophy: Based on a true story, 'Metamorphosis' presents a metaphorical audio a visual journey about the presence of time and hope from the perspective of a 23-year-old a young man living with walking aids.
#THE S MEDIA
#Media Milenial
#art moments jakarta
#winner of NFT ART