FASHION + WATCHES
ART MEETS SPORT: SNEAKERTOPIA RACES INTO ARTSCIENCE MUSEUM
Step right into the hype: Fresh off the streets of Los Angeles, comes the Asian premiere of an exciting new sneaker and street culture exhibition.
26.02.2023
BY JORDI HILDIANTO
Hold onto your sneakers, Singapore! On 25th February 2023, the ArtScience Museum will transform into the ultimate hub of art, culture, fashion, and innovation with the arrival of Sneakertopia. Making its Asian debut straight from the United States, this exhibition is set to take the city by storm, as the first-ever large-scale, immersive showcase of sneakers to hit Singapore.
In 2019, two unlikely forces joined together to create a cultural phenomenon - Sneakertopia. Emmy Award-winning producer Steve Harris and Silicon Valley tech entrepreneur Steve Brown's shared passion for sneakers inspired them to create a platform for sneakerheads worldwide. Teaming up with SPACElogic, and partners Gushcloud International and SL Experiences, the latest iteration of Sneakertopia promises to be a vibrant, larger-than-life celebration of sneaker culture. In collaboration with ArtScience Museum, the exhibition is set to take visitors on a colorful journey through the fascinating world of sneakers.
From humble beginnings on the streets, the sneaker culture has thrived on the artistic expression and passion of athletes, artists, and celebrities. Their love for sneakers has transformed these shoes into iconic symbols of individuality and status, beloved by different communities worldwide. Today, the sneaker's impact can still be felt, as it remains a defining influence on both pop and street culture.
With over 100 limited-edition sneakers from the most iconic brands in the industry, this exhibition is a must-see for sneakerheads and enthusiasts alike. Bringing together a diverse group of artists, creatives, contributors, and brands, the exhibition promises to be an enchanting experience for all. But that's not all - visitors will also be treated to almost 50 murals, installations, designs, and displays spanning across entertainment, sports, film, art, and other genres.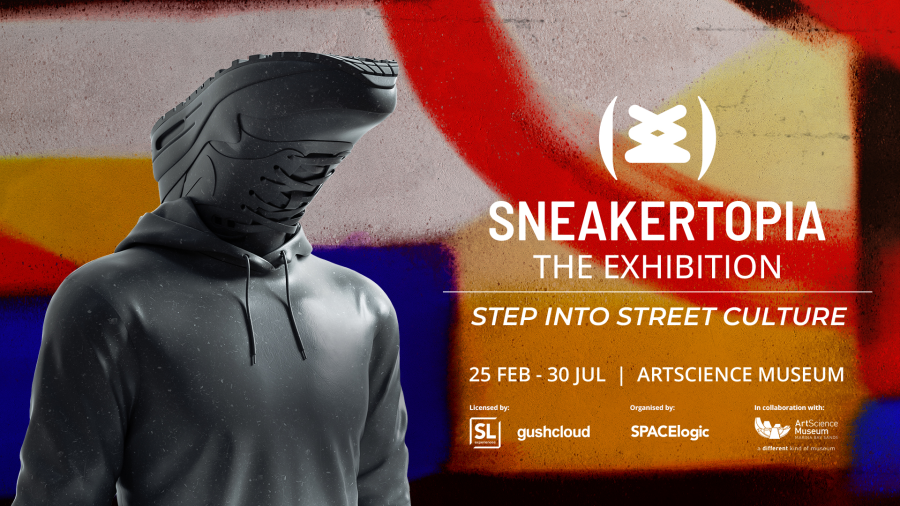 Alongside the works of 13 top US creatives like McFlyy, Michael Murphy, and Mimi Yoon, who showcase American street and pop culture through their pieces, this version of Sneakertopia also focuses on highlighting the creative practices of Singapore and Southeast Asia. This will give visitors an inside look into the thriving street culture scene in the region.
16 Singaporean and locally-based creatives including artists Jahan Loh, Sam Lo, Soph O, Kristal Melson and Juls, as well as contemporary art and design collective PHUNK are represented, with renowned sneaker artist and streetwear designer Mr. Sabotage also showcasing his personal archive of vintage Air Jordan Ones and full collection of original Dunks.
Sneakertopia has some exciting new artwork by smoluk and Tommii Lim that hasn't been seen before. They're making these artworks specifically for the Asian premiere of the show. ArtScience Museum is working with SPACElogic on this exhibition that showcases creativity, expression, and innovation behind famous shoes. It's a continuation of their previous exhibition in 2017, Art from the Streets, which focused on street art. The exhibition will take visitors through a series of galleries.
This new show delves deeper into one of the quintessential symbols of street culture – the sneaker. Sitting at the intersection of fashion, technology and art, the exhibition explores the cultural significance of sneakers, how they became so highly covetable, and how they have inspired the practices of artists in Singapore and around the world," said Honor Harger, Vice President of ArtScience Museum and Attractions, Marina Bay Sands.
"After much time and effort, we are excited to finally unveil the new Sneakertopia experience that has been specifically curated for Asia by our teams. Following the successful tour of Attack on Titan: The Exhibition, we look forward to showcasing more of our IP experiences around the world with Sneakertopia," said Ross Leo, Co-Founder and Executive Director of SL Experiences.
Prior to its Asian debut, Sneakertopia had a successful launch in Los Angeles, followed by two pop-up experiences at the Chongqing Jiebeifang International Consumer Festival in China in October 2021 and at Culture Cartel in Singapore in December 2022.
"We are so excited to officially launch Sneakertopia in Singapore, where there is a vibrant sneaker culture and art scene. The previous Sneakertopia pop-ups in Singapore and China were huge successes, proving that the experience economy is still thriving. As Gushcloud continues to be at the forefront of creating these experiences, we look forward to bringing in more experiences and IPs that the world will love," said Althea Lim, Co-Founder and CEO of Gushcloud International.
#THE S MEDIA
#Media Milenial
#Sneakertopia
#Shoes
#Sneakers
#Art Gallery
#Fashion
#Exhibition