TRAVEL + LEISURE
SWISS SPLENDOR: EMBRACING NATURE AND LUXURY IN GRAUBüNDEN
Discover the Top 5 Summer Experiences for Unforgettable Escapes in the Heart of the Alps
31.07.2023
BY WILHEMINA BOWEN
While most would not associate the Swiss Alps as a Summer destination, this picturesque region in the heart of the Alps offers an array of extraordinary experiences that will leave you in awe of its natural beauty and cultural richness.
From exploring the untouched wilderness of the Swiss National Park to riding the world-famous Rhaetian Railway, Graubünden has something to captivate every traveler. Here are the top five summer experiences you shouldn't miss in this enchanting destination:
1. Swiss National Park: A Nature Lover's Paradise
Step into Europe's first national park and immerse yourself in 170 square kilometers of unspoiled wilderness. The Swiss National Park boasts a remarkable landscape untouched by human influence or development, making it a haven for thousands of animal and plant species. Embark on guided excursions and nature trails that lead you through breathtaking scenery, offering encounters with ibexes, chamois, marmots, bearded vultures, and golden eagles. Families can delight in children-friendly excursions, like the Champlönch children's trail, where young ones can discover the environment through play. For photography enthusiasts, the golden hues of Engadin's larch forests in October provide a dazzling spectacle not to be missed.
2. Rhaetian Railway: A Journey of Awe-Inspiring Views
Hop aboard the Rhaetian Railway, an impressive mountain railroad network connecting Italy to Switzerland through a labyrinth of valleys, tunnels, and winding mountain routes. Railfans will be in their element, as this railway offers a range of experiences, from UNESCO World Heritage Sites to steam trains, luxury Pullman cars, open scenic carriages, and gourmet dining cars. Don't miss the Glacier Express, known as the "Slowest Fast Train in the World," for its leisurely eight-hour panoramic journey across the Swiss Alps from St. Moritz to Zermatt. Another must-see is the Bernina Express, the highest railway crossing the Alps, taking you on a spectacular journey from Thusis to Tirano, Italy, with breathtaking views of glistening glaciers and charming Italian landscapes.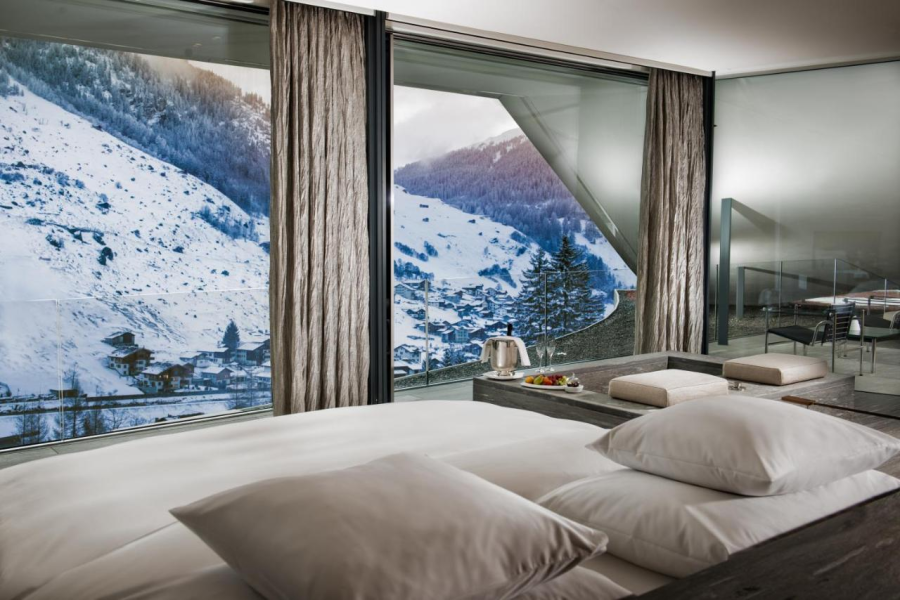 3. 7132 Hotel: A Luxurious Architectural Gem
Indulge in the ultimate luxury at the 7132 Hotel, an architectural masterpiece designed by renowned Swiss architect Peter Zumthor. This hotel is not just a place to stay; it's an experience of its own. With 73 exquisite rooms, including presidential, penthouse, and spa suites, the hotel promises a lavish retreat. Relax in the award-winning open-air thermal baths of 7132 Therme, savor the gastronomic delights of 7132 Silver, and enjoy the comfort of Pritzker Prize-winning sleep sanctuaries. The hotel also offers a kids club, complimentary heli-transfers, and limousine pickups, ensuring an unforgettable stay.
4. Diavolezza: A Mountain Wonderland
Venture into the fairy-tale scenery of the Upper Engadin at Diavolezza, where the majestic Piz Bernina stands at its heart. This mountain paradise offers three cable cars that whisk you away to unparalleled views of the Bernina massif. The eastern side houses the gentler mountains of Diavolezza and Lagalb, perfect for sports enthusiasts seeking adventure or relaxation. Whether you visit in summer or winter, you'll find yourself enchanted by the charm of Corvatsch, Diavolezza, and Lagalb, along with the numerous mountain restaurants offering delectable fare.
5. Rhine Gorge: Switzerland's Little 'Grand Canyon'
Embark on a thrilling adventure in Switzerland's little 'Grand Canyon' – the Rhine Gorge. Hop aboard the adventure train with open observation carriages, offering a leisurely ride along the raging riverside and through the wild, craggy landscapes. For the more adventurous, consider rafting, hiking, biking, or kayaking through this magnificent geological wonder. The Rhine Gorge promises an exhilarating experience, immersing you in the untamed beauty of nature.
Graubünden, Switzerland's gem in the Alps, beckons with its unrivaled natural wonders, cultural riches, and unforgettable summer experiences. Whether you're a nature enthusiast, a railway aficionado, or a luxury seeker, Graubünden has the perfect escape for you. So, pack your bags, embrace the spirit of adventure, and embark on a journey of a lifetime in this captivating Swiss wonderland.
#THE S MEDIA
#Media Milenial
#Graubünden
#Switzerland
#Summer Escapes
#Alpine Adventures
#Swiss National Park
#Rhaetian Railway
#Glacier Express
#Bernina Express
#Luxury Travel
#7132 Hotel
#Diavolezza
#Rhine Gorge
#Nature Exploration
#Alpine Wildlife
#Cultural Heritage