SPEED + BEYOND
AMAN ANNOUNCES PROJECT SAMA COLLABORATION
A new option for floating luxury.
30.12.2021
BY SUKSMAJATI KUMARA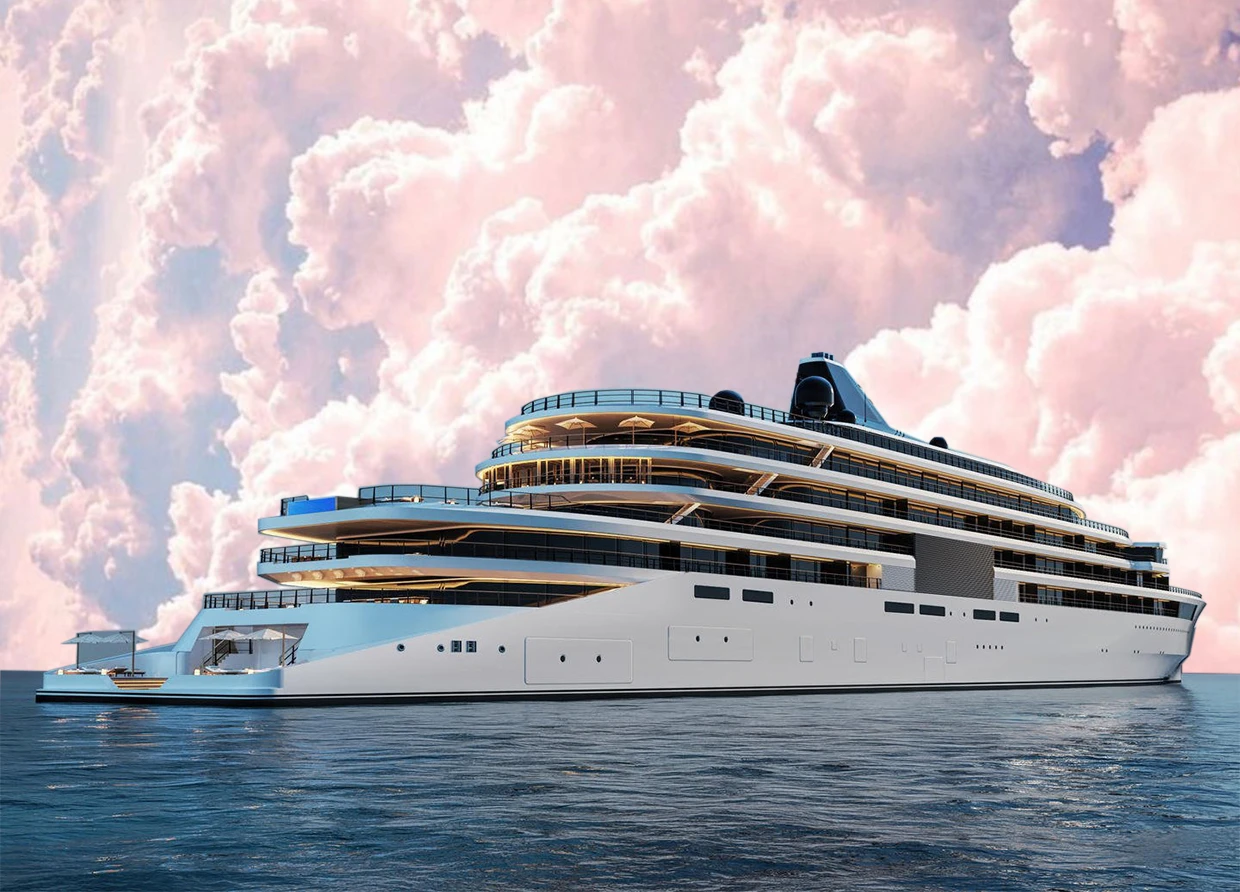 Aman is pleased to announce Project Sama, a first-of-its-kind luxury motor yacht developed through a joint venture between Aman and Cruise Saudi, of which Saudi Arabia's Public Investment Fund (PIF) is a shareholder.

The 183-meter vessel will feature just 50 spacious luxury suites, each with a private balcony. The yacht will feature a variety of dining options, including an informal all-day restaurant, international dining options, and a relaxed club and lounge, as well as a serene and spacious Aman Spa with a Japanese garden, two helipads, and the expensive Beach Club, which will provide guests with direct access to the water at the stern of the yacht.

Project Sama, which means tranquillity in Sanskrit, will bring the cherished spirit of Aman to the world's seas and oceans and is scheduled to launch in 2025.

True to the brand's pioneering ethos, Aman will oversee the entire development process of the project, from design and construction to operations and management, ensuring that guests experience the Aman way of life on board in every way.

Project Sama will champion privacy, space, and gracious hospitality, as well as the Aman experience, which is exceptional, one-of-a-kind, and restorative.

The vessel, which is designed in collaboration with SINOT Yacht Architecture and Design, one of the world's finest yacht design firms, will see Aman's eastern heritage and design philosophy seamlessly integrated with the architectural vision to create the brand's expressions of a superyacht experience in a timeless yet contemporary vessel with a harmonious balance between the exterior and interior spaces.

"The announcement of Project Sama marks an exciting moment in Aman's growth and evolution, as we not only continue to diversify our geographical portfolio on land but also at sea, creating sanctuaries in unfrequented locations and continuing to reframe the concept of luxury hospitality," said Chairman and CEO of Aman, Vlad Doronin, welcomed the pioneering new project for the brand.

"Project Sama will provide transformative experiences within the revered Aman setting and service, which is unlike any other yacht experience, ultimately creating a whole new category in on the water discovery."

Gentle evolution
Aman was founded in 1988 with the vision of building a collection of intimate retreats with the unassuming, warm hospitality of a gracious private home. The first, Amanpuri in Phuket, Thailand, introduced the concept and, since then, Aman has grown to encompass 33 exquisitely serene hotels and resorts in 20 destinations across the world. A further eight properties are under construction, with the next to open in New York.

In such spectacular settings, Aman has honed its offering with its transformative influence on mind, body and spirit through harmoniously designed environments transporting guests out of their everyday lives. Twelve properties also offer private branded residences: sanctuaries that go beyond commonplace notions of luxury, allowing a select few to make the Aman way of life a permanent reality.

Since the successful opening of Aman Tokyo in 2014, Aman's first city hotel, Aman has committed to its ongoing gentle evolution, with further urban destinations in the pipeline, Aman New York and Aman Miami, among others, as well as otherworldly resort destinations such as Riyadh, Al-Ula, and the Red Sea in Saudi Arabia. Project Sama builds on Aman's core values of privacy, peace, and unrivaled service to provide pioneering travel experiences.

The joint venture between Aman and Cruise Saudi has been signed by Cruise Saudi's Managing Director, Mr. Fawaz Farooqui, and Chairman and CEO of Aman, Mr. Vlad Doronin.

"The signing of this partnership adds a new layer to Cruise Saudi's offering and is a testament to the unique tourism experience that is exploring Saudi by sea, as well as demonstrating Cruise Saudi's commitment to growing and expanding the cruise industry in Saudi," said Mr. Fawaz Farooqui, MD of Cruise Saudi, about the collaboration.

"We aspire to further collaboration with Aman that will bring additional ultra-luxury experiences at sea."
#THE S MEDIA
#Media Milenial
#aman poroject sama