TRAVEL + LEISURE
A PERFECT GETAWAY AT TANAH GAJAH A RESORT BY HADIPRANA
A place for its serenity, culture, and art, as well as working remotely.
19.04.2021
BY JORDI HILDIANTO
Thinking of the perfect getaway after a year of work-from-home burnout? Working from home or remotely might not be for everyone. As we no longer dedicated our time to office hours, we could easily get carried away with time management or becoming less creative. Well, if so, Tanah Gajah, a resort by Hadiprana, is the perfect place for you. The resort is listed as Readers' Choice Awards 2021 by Conde Nast, so definitely spending some time at Tanah Gajah Resort is a must on your bucket list.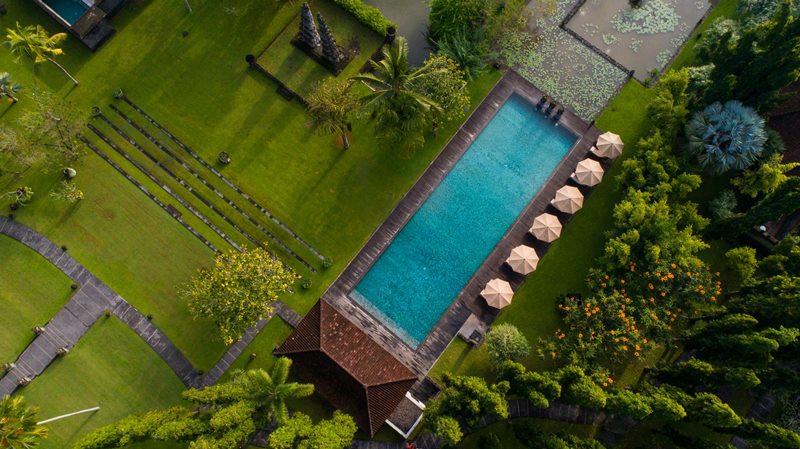 The resort is located in Ubud, Bali, a place that's known for its serenity, culture, and art, and it could be a perfect place for you while working remotely. Tanah Gajah resort offered the visitors breathtaking views of mountains and fresh air.
For those who would like to try some vegan food, it's available from the Panen Padi Lounge headed by Executive Chef Dean. Every food from Panen Padi Lounge is locally planted by the villagers around Ubud. It's a perfect time for everyone to try new flavors while exploring the resort. Besides, eating vegan food wouldn't hurt anyone right? Eating healthy food may boost your health too, and definitely less fat consumption.
But, for those who would like to try more adventurous food, Tanah Gajah resort has a barbeque bonfire at Dua Hari underneath the backdrop of the Petanu river. The barbeque would have Balinese food that might linger on your taste buds.
For those who would like to relax at spas, the resort offers a herbal spa, and those who are a fan of cooking could join Chef Dean's cooking class. Visitors could also enjoy tea time, picnic and other activities that are close to nature and culture.
If you are worried about traveling during a pandemic, at least you will find it comforting to know that Tanah Gajah is located in a COVID-19 green zone.
#THE S MEDIA
#Media Milenial