THE S LIST
7 BEST PLACES TO BE A DIGITAL NOMAD IN INDONESIA
The most popular destinations Indonesia for digital nomads.
25.09.2021
BY HANUM FAUZIA
Indonesia is not in the leading position when it comes to internet speed. But the situation has improved dramatically in recent years, since the introduction of 4G and fiber optics. According to Akamai Technologies, the internet speed in Indonesia is currently clocked at an average of 7.2 Mbps. As a digital nomad, it should please you to know that the Indonesian government plans to improve its internet speed.
Working in Indonesia is convenient, whether working in a coffee shop or a co-working space. Bigger cities such as Jakarta will give you a good list of options regarding co-working spaces, while smaller towns like Canggu and Ubud will have fewer options.
Here are the seven best places to work in Indonesia as a digital nomad.
Canggu
Canggu is a small village in South Bali. However, the word usually refers to a more considerable coastal stretch of land from the north of Seminyak to the south of Tanah Lot. Canggu was once a quiet rural area of rice fields, but today, the site is developing quickly while preserving the calm farm-like feel. With a nice collection of small local businesses and casual cafes, Canggu is welcoming more and more digital nomads every year who come for the up-and-coming entrepreneurial scene, reliable infrastructure, and beautiful nature.
Living in Canggu is quite affordable, though not exactly cheap. With around $300 to $500 each month, you can rent a small but comfortable place to live in. The general living cost is also moderate at about $500 to $800 per month.
Ubud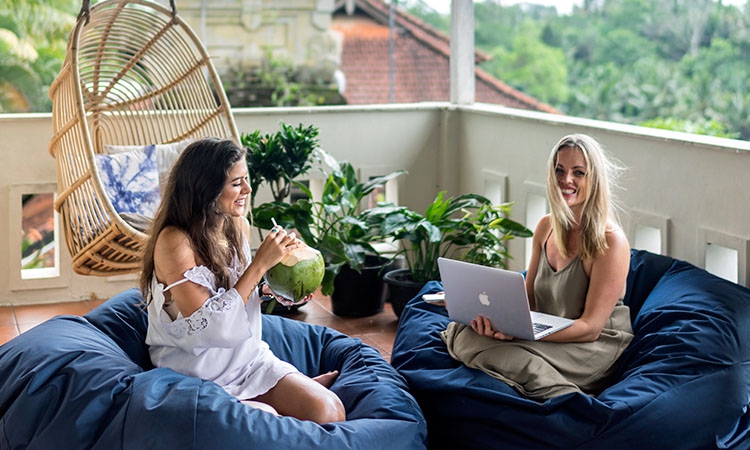 Ubud is all about yoga, smoothies, meditation, and raw food. Popularized by the famous book and movie 'Eat, Pray, Love', the town offers the ultimate getaway into the world of healthy living with its organic eateries, vegan cafes, boutique coffee shops, and cleansing resorts. Despite the overall relaxing atmosphere, Ubud is a popular choice among those who work remotely.
Living in Ubud can be a great way to relax while working. However, since it's a popular tourist spot, living there can be a bit pricey. Renting a place in Ubud costs around $350 to $650 per month. Meanwhile, the living cost is relatively high, ranging from around $800 to $1300 per month.
Jakarta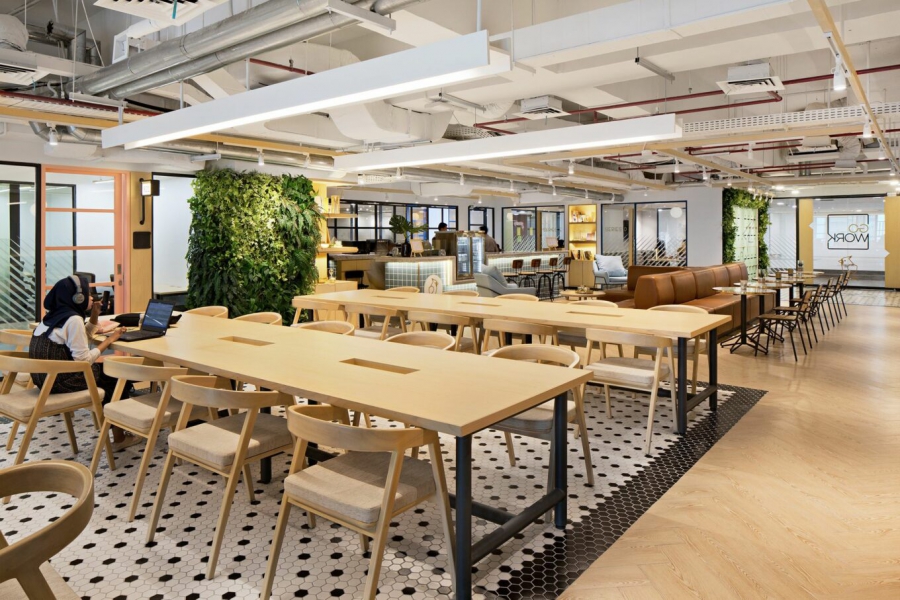 As the capital of Indonesia, Jakarta is an urban sprawl of opportunities and creativity, just perfect for digital nomads. With access to numerous busy offices, huge malls, delicious street food vendors, vibrant nightlife scenes, and exciting communities, you'll never get bored while staying in Jakarta. Of course, there are also downsides to living here, such as dealing with pollution and terrible traffic. Nevertheless, the busy city is a creative and inspiring city for digital nomads.
As a big city, it's understandable that living in Jakarta can be quite costly. That said, you can still find numerous cheaper options. The cost of rent in Jakarta ranges from $300 to $800 per month. As for the cost of living, you can expect it to be around $500 to $1,000 each month.
Makassar
One of Indonesia's largest cities, Makassar, is the bustling capital of South Sulawesi. This city may be less famous than other cities on this list, but that's what makes it unique. This city is well off the beaten track to offer you an authentic Indonesian urban experience. With all the convenience of a large city and the peacefulness of a smaller city, living in Makassar will be a comfortable experience for you.
Living in Makassar isn't too expensive nor cheap. Rent can cost anywhere from $300 to $500 per month. Meanwhile, the general cost of living in the city ranges from around $500 to $650 each month.
Bandung
Dubbed as 'Paris van Java' by Europeans back in the day, Bandung has its unique charms for travelers. It's a fantastic and creative city with plenty of shopping malls, culinary delights, and exciting nightlife scenes to explore. Busy yet peaceful, you can order a cup of joe from a cute cafe and watch the world go by in Bandung. Located in West Java, Bandung also lies close to numerous splendid natural sites to explore, such as Kawah Putih and Tangkuban Perahu.
Known in Indonesia as a city for students, living in this metropolis is surprisingly affordable. With just $150 per month, you can rent a small yet comfortable studio apartment. The general living cost in this city is also relatively low, ranging from $400 to $600 per month.

Malang
Despite being a small town, Malang shouldn't be overlooked. Here you can find exciting architectures, picturesque colorful villages, ancient historical sites, tasty food vendors, as well as beautiful natural sites. Lying close to Mount Bromo, this town is perfect for digital nomads with adventurous souls.
Malang is a quiet and peaceful town that will let your creative side thrive. Moreover, living in this beautiful town is relatively cheap, perfect for aspiring digital nomads on a budget. Renting a small apartment or tiny house in Malang ranges from $300 to $450 per month. Meanwhile, living in this town will only cost you anywhere from $500 to $700 each month.
Medan
With an incredible gastronomic scene, amazing views, and friendly locals, living in Medan can be an excellent experience for digital nomads. Here you'll find beautiful heritage sites and astounding natural views such as Lake Toba as well as busy and crowded streets alike. In recent years, Medan has become a business hub with excellent affordable housing close to all the facilities and amenities you could ever ask for.
But living in Medan can be a bit pricey, despite it not being a huge metropolitan. The cost of rent in Medan can be anywhere from $500 to $700 per month. Meanwhile, the living cost ranges from around $700 to $850 per month.
#THE S MEDIA
#Media Milenial
#digital nomad in indonesia