ART + CULTURE
WHAT WE CAN LEARN FROM THE SPOTIFY, NEIL YOUNG, AND JOE ROGAN FEUD
Rogan spurs misinformation about COVID-19, prompting Neil Young's protest and departure, as well as other legendary musicians to leave Spotify.
08.02.2022
BY MAXWELL SOETOMO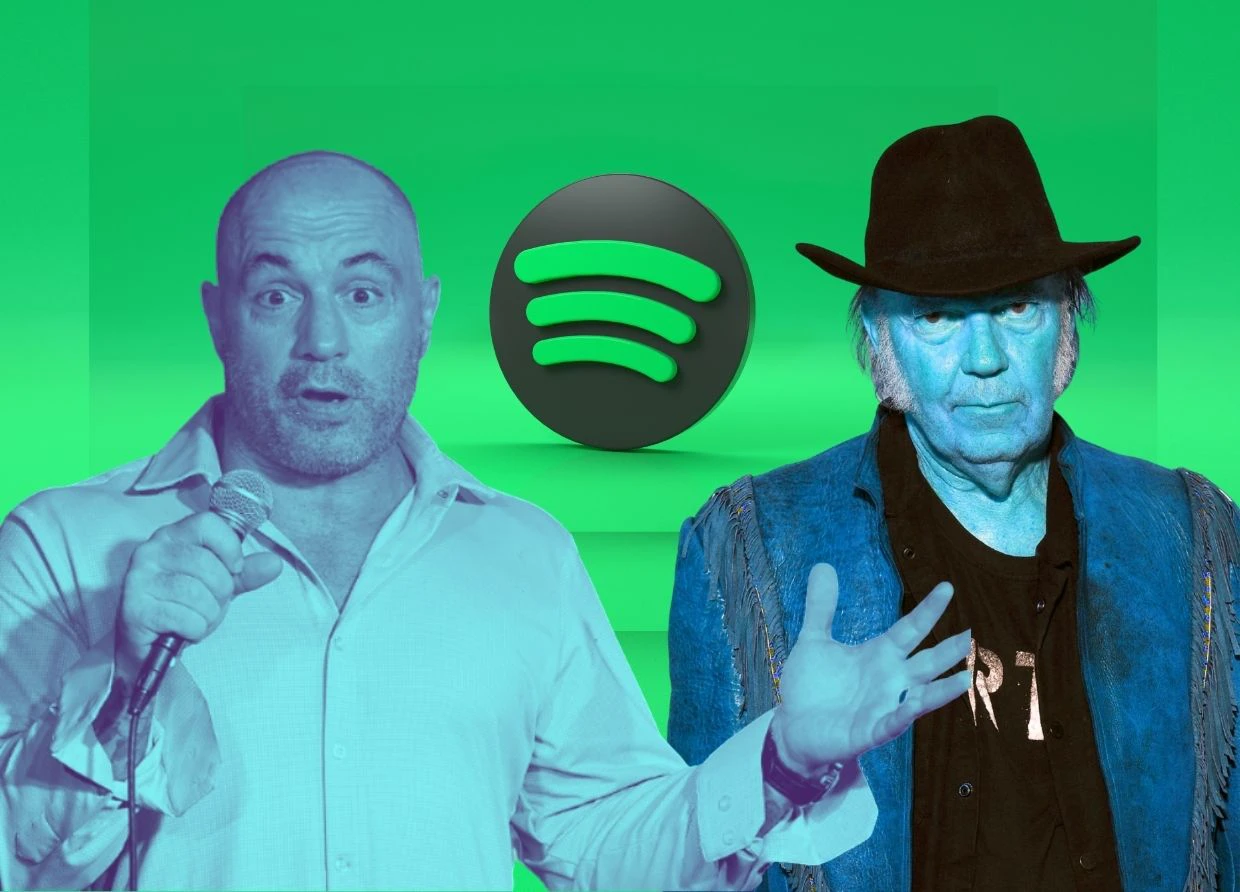 Spotify is the world's biggest music streaming company owned by Spotify Technology S.A. With tens of billions of net worth, it has tremendous influence in the podcasting world.
Though successful, Spotify is not without controversies, and it is known to be caught in the crossfire of artists' feuds from time to time when it is not feuding with the artists themselves. Case in point, U.S. singer-songwriter Taylor Swift previously ran a three-year boycott from Spotify because of music royalties, claiming how Spotify undervalues art and that artists were only paid $0.006 and $0.0084 (Rp 86 and 121) per song play.
"Music is art, and art is important and rare. Important, rare things are valuable. Valuable things should be paid for," Taylor wrote in a 2014 Wall Street Journal op-ed. "It's my opinion that music should not be free, and my prediction is that individual artists and their labels will someday decide what an album's price point is. I hope they don't underestimate themselves or undervalue their art."
Adele withheld her album "25", which includes the songs "Hello", "When We Were Young", and "Send My Love (To Your New Lover)", which eventually made 3.6 million physical copies, over shuffle function.
This time, the platform is caught in the controversy between Canadian-American folk-rock legend Neil Young, American podcaster Joe Rogan and the COVID-19 pandemic.
Neil Young demanded his music removed from Spotify
On Thursday, February 3, SiriusXM, a broadcasting company that provides satellite and online radio services, announced that "Neil Young Radio" will return to the satellite station and play all of his music, including his solo and latest album.
Earlier that week, Young demanded all of his music removed from streaming giant under that basis of false information from Joe Rogan about COVID-19 vaccines. Young believes that Rogan's claims might harm the listeners and even cause death.
Rogan, the podcaster from The Joe Rogan Experience, has an estimated 11 billion listeners, and his episodes were exclusively aired on Spotify. Rogan stated at least four problematic claims, which are that a vaccine can alter your genes, Ivermectin can cure Covid, the risk of harmful side effects is more severe if you get vaccinated after having had COVID-19, and that the health risks from the vaccine are greater than from COVID-19 for young people.
The news recently came after Young gave Spotify an ultimatum which gave Spotify two options: Young's music or Rogan's podcast. "They can have Rogan or Young. Not both," the musician added in a letter to his management.
Young believed that Spotify has the responsibility to mitigate the spread of unfactual information. Additionally, Young also claimed Spotify took part in selling misleading information. He described it on his website for Spotify as "the home of life-threatening Covid misinformation. Selling lies for money".
View this post on Instagram
Response from audience
At least 270 medical professionals wrote an open letter warning about one of Rogan's episodes that "mass-misinformation events of this scale have extraordinarily dangerous ramifications". Several other artists like Joni Mitchell and Nils Lofgren took Young's side.
Mitchell and Lofgren, on the basis of the belief that Spotify was allowing the spread of lies that may cause people's death, also removed their music from the platform.
"I've decided to remove all my music from Spotify," Mitchell wrote on her website on Friday. "Irresponsible people are spreading lies that are costing people their lives. I stand in solidarity with Neil Young and the global scientific and medical communities on this issue."
U.S. billionaire and eccentric owner of Tesla, Elon Musk, on the other hand, supported Rogan's right to free speech and criticized Young for attempting to censor Rogan. Musk sees Young's action as equal to misleading information as Young's personal dislike towards Rogan.
Another technology enthusiast, Lex Fridman, host of an automation-focused podcast, also supported the company, saying: "props to Spotify for backing Joe Rogan. Freedom wins."
After Young's content was removed from the platform, Spotify announced on Sunday a new additional content advisory that mentions COVID-19, which directs listeners to the interface with "data-driven facts, up-to-date information as shared by scientists, physicians, academics and public health authorities around the world, as well as links to trusted sources".
Later, on Monday, Rogan posted a 10 minutes Instagram video, acknowledging that he gets stuff wrong sometimes and will try to provide more balance in the future.
#THE S MEDIA
#Media Milenial
#spotify
#neilyoung
#joerogan
#feud
#taylor swift
#adele
#neil young
#joe rogan