FASHION + WATCHES
URWERK AND COLLECTIVE HOROLOGY COLLABORATION WATCHES MADE IN LIMITED QUANTITY
Specially produced for Collective Horology members
05.08.2021
BY A. NUGROHO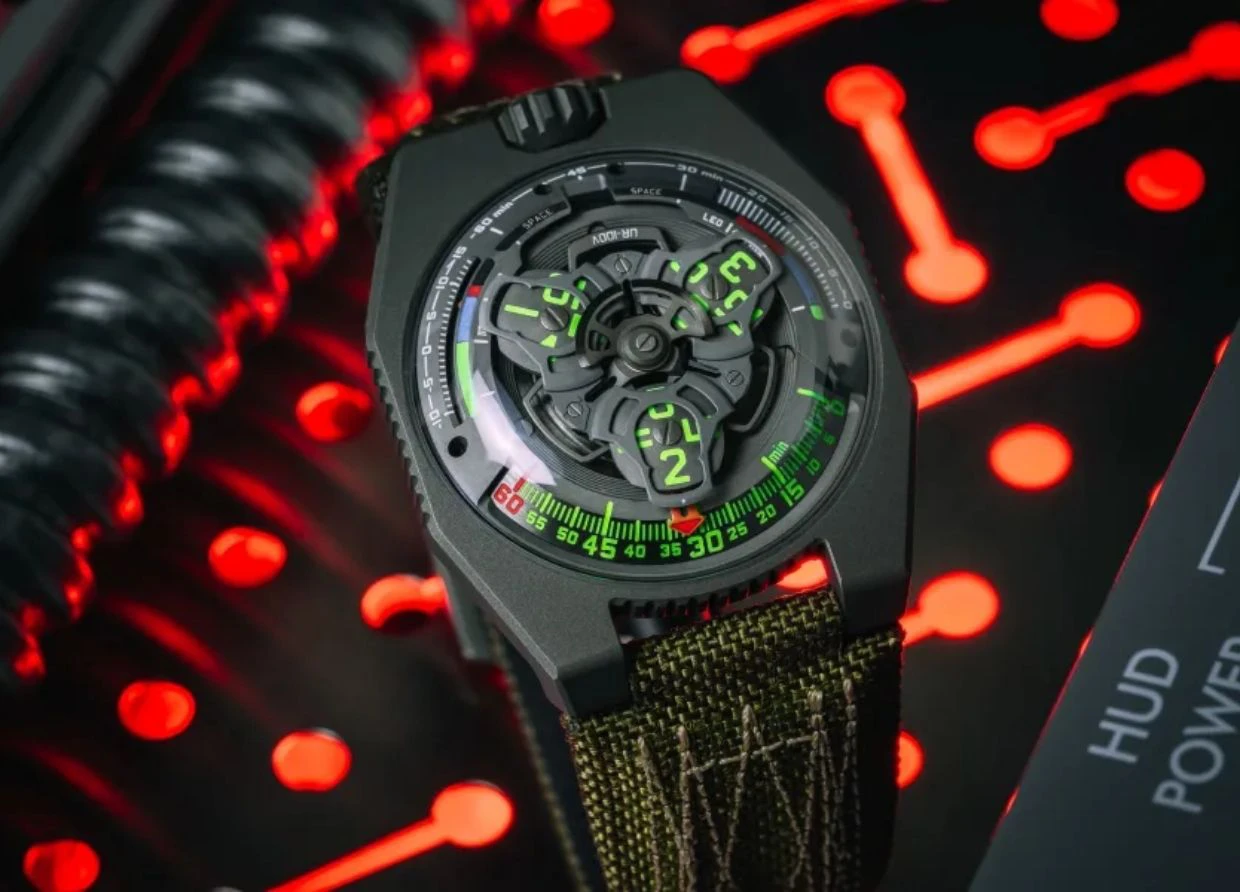 The trend of space travel has recently been discussed again after the successful efforts of Jeff Bezos and Richard Branson to fly into space. Watchmaker Urwerk looks to be taking advantage of the momentum by showing off its latest model UR-100V P.02.
This Swiss watchmaker is known for its radical designs for a watch. This new model was created to pay homage to pilots in the space shuttle program who used clocks for launch and landing.
The UR-100V P.02 watch is unfortunately limited to being given to Collective, a California-based watch collectors association founded by two Facebook executives, Asher Rapkin and Gabe Reilly. They gathered friends who had the same hobby in enjoying the art of watches and later became an exclusive association because it was filled with famous names from the Hollywood world, entrepreneurs, and business people. When they were too busy and couldn't get their hands on a rare special edition watch, they ended up making their own version exclusively.
View this post on Instagram
The appearance and design of the UR-100V P.02 make space travel fans envious. The holes reveal the shuttle's approximate location at each launch and landing phase. Green indicates a shuttle on Earth, while blue indicates a shuttle moving through Earth's sky or lower atmosphere. Finally, red indicates when the shuttle has reached the upper atmosphere, and black records time in space.
"We loved Urwerk's use of orbiting satellite hours and minute hands for the UR-100 SpaceTime launched in 2019, but we saw an opportunity to tell a different story. If Urwerk were to create a watch that was a tribute to the space shuttle prototype, Enterprise, what would that be?" said Reilly in a statement.
Its first model, the UR-100V, was first introduced in 2020 and followed the introduction of the UR-100 model. This watch tracks the kilometers traveled at the equator in 20 minutes and the kilometers covered by the Earth around the sun in the same period.
View this post on Instagram
The latest version of the Collective uses two lateral apertures to track takeoff and landing times for the Space Shuttle. The tailor-made manual provides excellent detail into the process, allowing the wearer to experience the same period that astronauts might have when launching or landing a mission.
Only 20 units of the Urwerks UR-100V P.02 were produced at a price of around $62,500 each. They were given to the Collective's current 75 members. Imagine, you might be able to go to space, but to own an ultra-rare watch to celebrate the art of modern watchmaking, feels very difficult.
Suppose you're thinking about joining the Collective. In that case, you just need to have a genuine interest in watches and have a fascinating new perspective on the group. The project also aims to raise $50,000, which will go to the Intrepid Sea, Air & Space Museum, where the Enterprise shuttle is on permanent display. Rapkin and Reilly wanted to ensure that the story of "his courage and innovation will be told for generations to come".
A little story about Urwerk, this watch brand was created by Felix Baumgartner and Martin Frei. Baumgartner has known the world of watches since childhood, following his father's footsteps, who was a watchmaker.
Meanwhile, Frei got acquainted with mechanical engineering and design, which helped him design watches as works of art. Urwerk was founded in 1997 and had been offering out-of-the-box designs since the beginning. Urwerk'sUrwerk's works are sought after by clock collectors around the world.
#THE S MEDIA
#Media Milenial