TRAVEL + LEISURE
TRUE THAI SPIRIT BETWEEN JUNGLE AND SEA
Experience the warmth of Thai hospitality in stand-alone villas.
07.08.2021
BY HANUM FAUZIA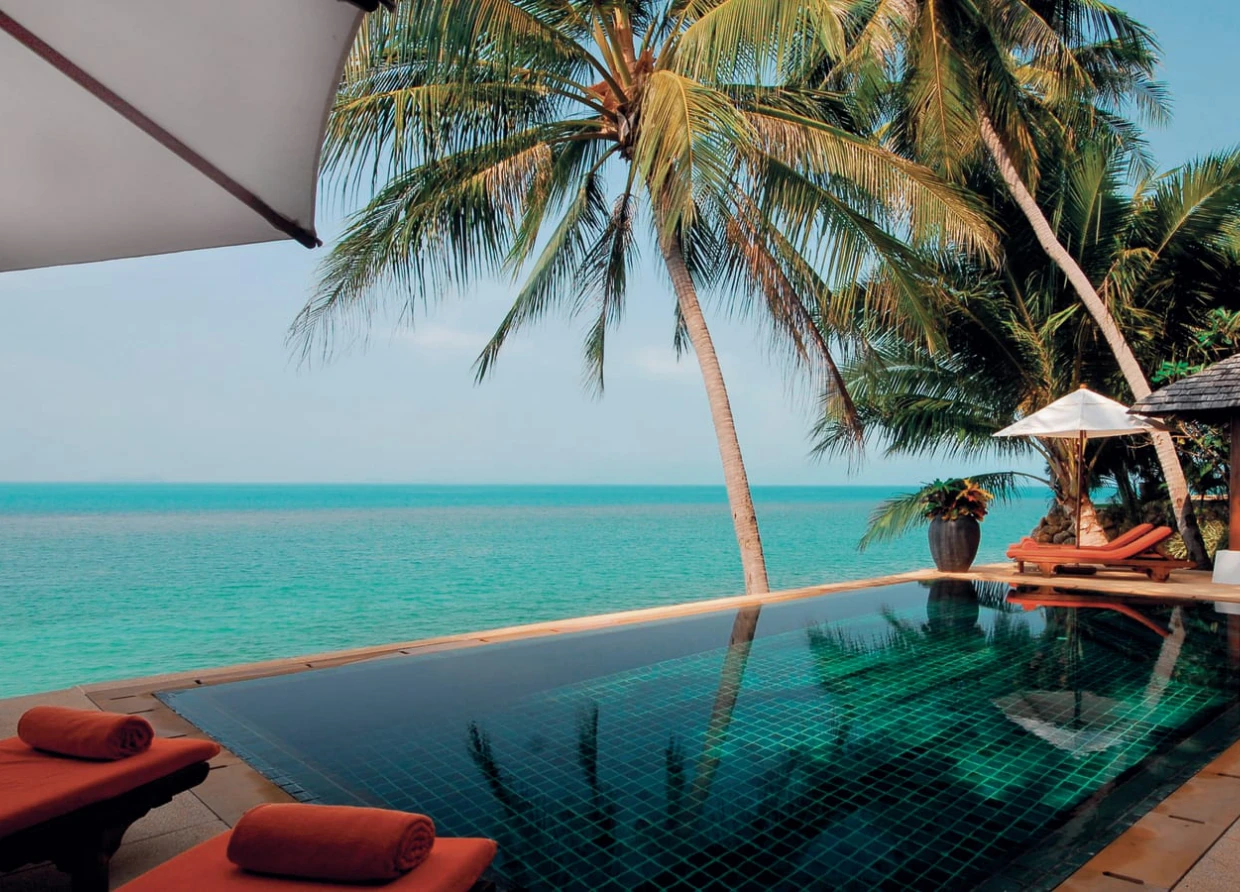 Napasai is spread out among cashew and coconut groves, between hibiscus and bougainvillea. Be welcomed with coconut ice cream, then wander through our gardens to meet the resident water buffaloes. Teak furnishings and traditional weavings bring the feel of nature inside. You can't help but feel at peace.
Napasai, A Belmond Hotel, Koh Samui, part of the world's leading luxury group LVMH Moët Hennessy Louis Vuitton is excited to welcome guests back for an authentic and luxurious Thai experience like no other. A certified "SHA Plus" hotel for the 'Samui Plus' scheme, guests are promised a safe haven at Napasai. Set in between the jungle and sea, Napasai is the perfect destination to savour peace and privacy with its secluded sandy beach, beautiful standalone villas and suites and infinity-edge freshwater pool for guests to experience the spirit of Thailand at Napasai's spa with treatments rooted in holistic practices, natural ingredients and Thai medicine.
Encompassing the destination's vast array of gourmet highlights and nestled among sprawling cashew and coconut groves, Napasai also offers a taste sensation in a tropical paradise where the ocean is never far from view. Adding to the authentic flavours, many ingredients are grown in the hotel's secret garden including, Kaffir leaves, basil, lemongrass, parsley, galangal, pea flowers and winged beans.
Wake up chic
Experience the warmth of Thai hospitality in our stand-alone villas, set within 43 acres of lush tropical gardens. Full of traditional touches, bamboo interiors open onto sun-drenched balconies with sea views. Want to get that bit closer to the coast? An Oceanfront Pool Residence allows you to toast the sunset from your own private pool.
Oceanfront pool residence
Enjoy all the luxury of independent accommodation while benefiting from the facilities of this luxury Koh Samui resort. Spacious living and dining areas are complemented by a fully-fitted kitchen and personal housekeeping services. Stroll through outdoor walkways and discover a private pool, massage sala, water features and terraces.
One-bedroom villas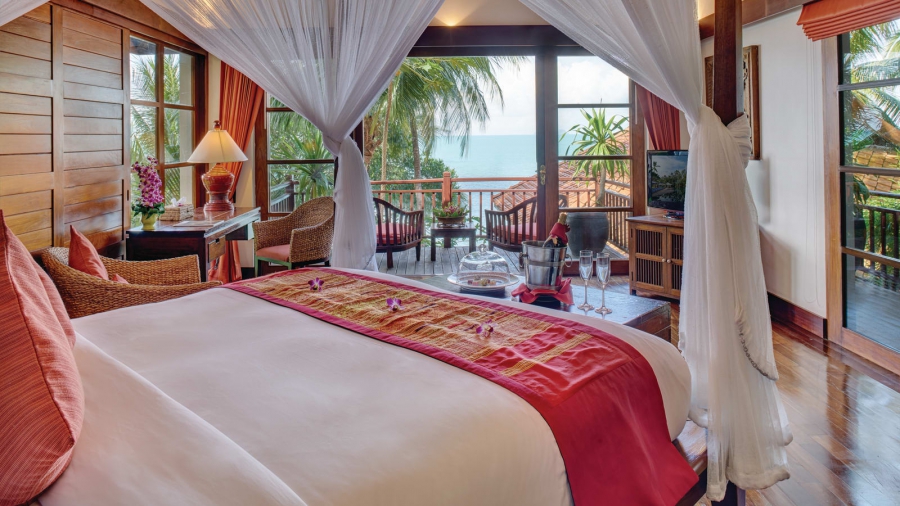 Plan your stay at one of the most picture-perfect Koh Samui hotels and treat yourself to luxury. Napasai enjoys a reputation of excellence among Thailand luxury resorts, and our One-Bedroom Villas are no exception. Each offers a spacious bedroom, outdoor living area, inviting waterfall bath and private massage sala.
Villas
Withdraw into a personal haven on Koh Samui. Villa accommodation at Napasai is sure to be one of the many highlights of your escape. All villas boast stunning sea views. Sumptuous cotton and bamboo interiors create a fresh and sophisticated atmosphere. A spacious private balcony offers the perfect space to enjoy the sunset.
#THE S MEDIA
#Media Milenial
#thailand hospitality
#napasai
#Belmond Hotel
LATEST NEWS
We have a vast selection of rolex replica such as the Daytona, Milgauss, Submariner, Explorer, Gmt Master II in http://www.localdlish.com
We have a vast selection of rolex replica such as the Daytona, Milgauss, Submariner, Explorer, Gmt Master II in http://www.localdlish.com
We have a vast selection of rolex replica such as the Daytona, Milgauss, Submariner, Explorer, Gmt Master II in http://www.localdlish.com
We have a vast selection of rolex replica such as the Daytona, Milgauss, Submariner, Explorer, Gmt Master II in http://www.localdlish.com
We have a vast selection of rolex replica such as the Daytona, Milgauss, Submariner, Explorer, Gmt Master II in http://www.localdlish.com
We have a vast selection of rolex replica such as the Daytona, Milgauss, Submariner, Explorer, Gmt Master II in http://www.localdlish.com
We have a vast selection of rolex replica such as the Daytona, Milgauss, Submariner, Explorer, Gmt Master II in http://www.localdlish.com
We have a vast selection of rolex replica such as the Daytona, Milgauss, Submariner, Explorer, Gmt Master II in http://www.localdlish.com
We have a vast selection of rolex replica such as the Daytona, Milgauss, Submariner, Explorer, Gmt Master II in http://www.localdlish.com
We have a vast selection of rolex replica such as the Daytona, Milgauss, Submariner, Explorer, Gmt Master II in http://www.localdlish.com
We have a vast selection of rolex replica such as the Daytona, Milgauss, Submariner, Explorer, Gmt Master II in http://www.localdlish.com
We have a vast selection of rolex replica such as the Daytona, Milgauss, Submariner, Explorer, Gmt Master II in http://www.localdlish.com
We have a vast selection of rolex replica such as the Daytona, Milgauss, Submariner, Explorer, Gmt Master II in http://www.localdlish.com
We have a vast selection of rolex replica such as the Daytona, Milgauss, Submariner, Explorer, Gmt Master II in http://www.localdlish.com
We have a vast selection of rolex replica such as the Daytona, Milgauss, Submariner, Explorer, Gmt Master II in http://www.localdlish.com
We have a vast selection of rolex replica such as the Daytona, Milgauss, Submariner, Explorer, Gmt Master II in http://www.localdlish.com
We have a vast selection of rolex replica such as the Daytona, Milgauss, Submariner, Explorer, Gmt Master II in http://www.localdlish.com
We have a vast selection of rolex replica such as the Daytona, Milgauss, Submariner, Explorer, Gmt Master II in http://www.localdlish.com
We have a vast selection of rolex replica such as the Daytona, Milgauss, Submariner, Explorer, Gmt Master II in http://www.localdlish.com
We have a vast selection of rolex replica such as the Daytona, Milgauss, Submariner, Explorer, Gmt Master II in http://www.localdlish.com