THE S LIST
THREE MOST INFLUENTIAL POP CULTURE MOMENTS IN 2021
NFT, shoes with blood, and crocheting: The reasons why 2021 is so interesting.
26.01.2022
BY MAXWELL SOETOMO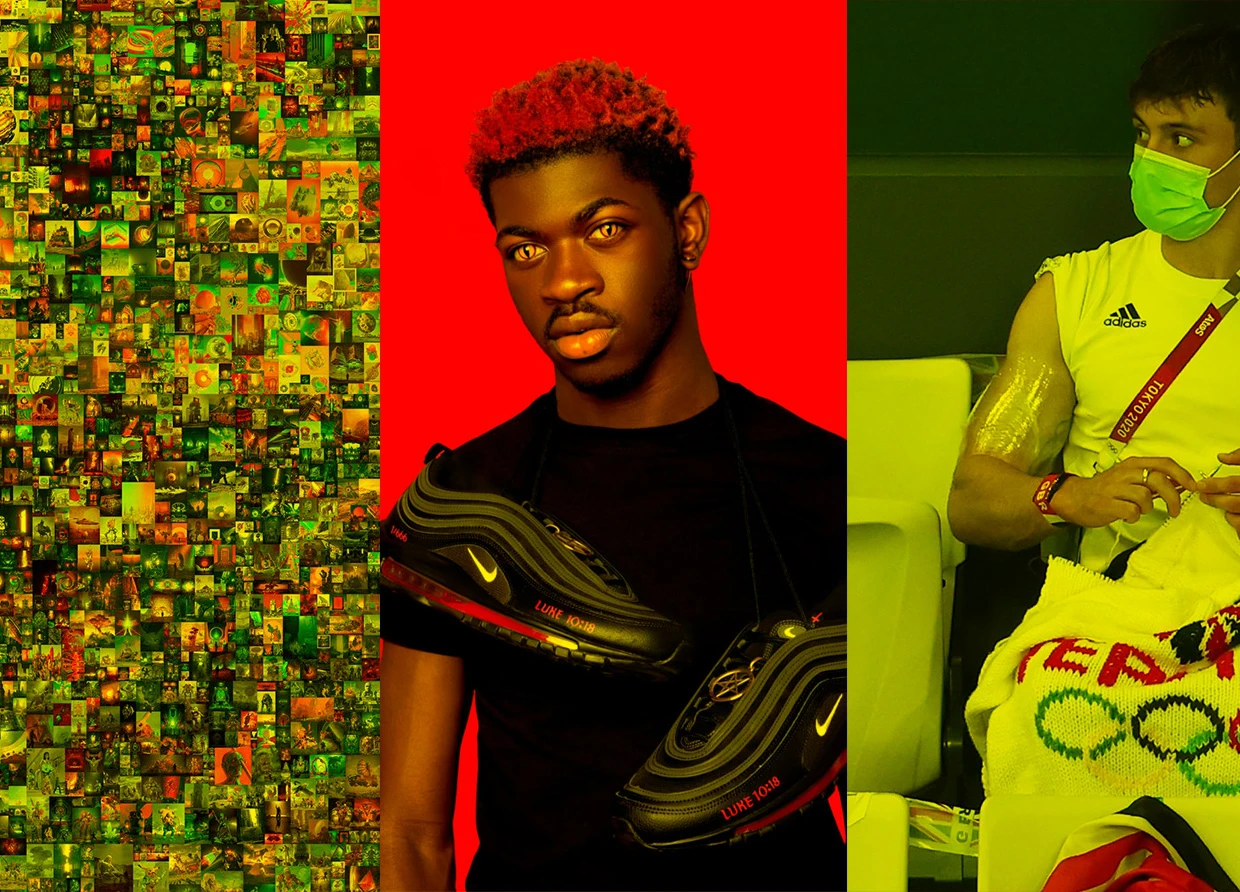 2021 had been one crazy year. The pandemic kept going, and loneliness and declining mental health seemed to be a common problem where lockdowns and social distancing were mandatory.
But 2021 was undoubtedly better than its previous year, 2020. 2021 was the year when vaccination was made possible — when remote work was normalized — when businesses opened up, and civilization came back to life (but with mask-wearing as the new prevailing mandatory trend).
The world of pop culture also came back with a vengeance last year. These are the most influential pop culture moments of 2021.
1. $69M NFT Sold at Major Auction
2021 was the year when Mike Winkelmann sold the first-ever Non-Fungible Token for $69 million (Rp 98.9 billion). The NFT, which he titled "Everydays: The First 5000 Days", depicted a collage of 5,000 original images made by him.
2. Lil Nas X's "Satan Shoes"
Lil Nas X released 666 modified pairs of Nike sneakers in March last year. Nas chose to modify Nike Air Max 97s with the help of MSCHF, an art collective from New York. Each pair was said to contain a drop of human blood, and all 666 of them sold out in less than a minute for $1,018 (Rp 14.6 million) each.
The shoes are jet black adorned with a bible verse "Luke 10:18" written in red. The laces were attached with a bronze pentagram with the Nike logo at the side of the shoes. A small stitched inverted cross and a pentagram were also seen on the shoes.
Needless to say, the shoes caused quite a stir, and Nike wasn't at all happy with the controversy they caused. The company took MSCHF to court and filed a federal trademark infringement lawsuit, where the defendant lost. MSCHF decided to follow the judgment by recalling the shoes and giving every customer a full refund.
Lil Nas X was nonchalant throughout the predicament. He made several tweets and a faux apology video on YouTube as a response to the backlash.
View this post on Instagram
3. Crochet at the Olympic
Tom Daley is an Olympic diver who participated in last year's Games in Tokyo. He has successfully captured the attention of many by crocheting. The British athlete was seen knitting a dog sweater at the event and cardigans of Team Great Britain.
Daley reportedly started knitting at the beginning of the pandemic in March 2020, when lockdowns were strictly implemented. His recently acquired hobby has melted the hearts of many, and now he furthers the love by building a knitting kits business — Made with Love by Tom Daley.
View this post on Instagram
#THE S MEDIA
#Media Milenial
#Lil Nas X
#Tokyo 2021 Olympics
#NFT
#Crochet
#Shoes