ART + CULTURE
THREE RECOMMENDED K-DRAMAS ON NETFLIX FOR HOMETOWN CHA CHA CHA FANS
Fill the void post-Doo Shik with these three K-dramas.
31.12.2021
BY MAXWELL SOETOMO
Hometown ChaChaCha, one of the hottest trending Korean dramas available worldwide on streaming platform Netflix, had come to an end last October.
According to Nielsen, the series ended with the highest rating throughout the show in South Korea, hitting the 12.7 percent mark. The show was not only loved by the public in its home country but also globally, including in Indonesia. To date, the show is still on the top 10 charts of TV Show on Netflix Indonesia.
The story of Hometown ChaChaCha tells the story of Yoon Hye Jin, a dentist who moved to the seashore town of Gongjin due to issues in Seoul. There, she met Hong Doo Shik, who's commonly known as Chief Hong by the locals for his kind heart and willingness to do anything to help.
The series focuses on the love story between the two, adapting to a new place, life struggles, friendship, and many more.
Are you missing the story of Hyejin, Dooshik, and the people of Gongjin already? Check out these three Korean dramas imbued with warm romances, everyday life struggles, friendship, and a sense of family. All of these dramas are available for viewing on Netflix.
Hospital Playlist
Hospital Playlist tells the story of five doctors who have been long-time friends of 20 years since their undergraduate time. They are now colleagues in the same hospital and have a band together.
Hospital Playlist has been a favorite of many since its initial release in 2020. Its second season ended in September 2021 with a whopping rating of 14.1% in Korea. It stars Jo Jung Suk, Jeon Mi Do, Yoo Yeon Seok, Jung Kyung Ho, and Kim Dae Myung.
In some ways, this slice-of-life drama is very similar to Hometown Cha Cha Cha, as it covers the conflicts of daily lives, from love, friendship to career obstacles. A plus: as Hye Jin is a dentist, the main characters in this drama are doctors as well!
Crash Landing on You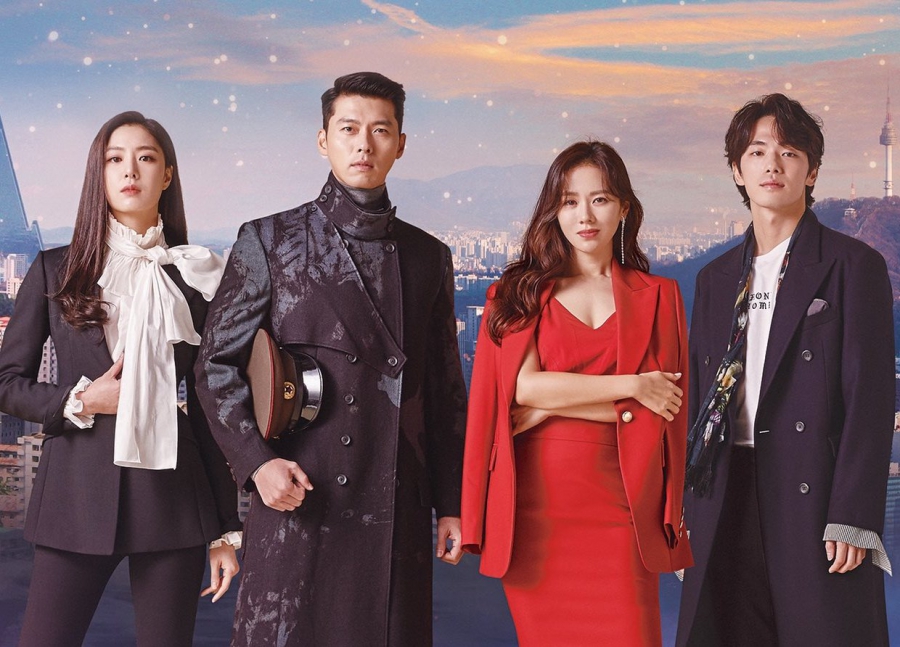 Crash Landing on You sees Yoon Se Ri (Son Ye Jin), an heiress to conglomerate in South Korea, has to make an emergency landing while paragliding in North Korea. She meets Ri Jeong Hyeok (Hyun Bin) there, a North Korean army officer who protects and hides her. Soon, love blooms between the two, despite issues between their respective countries.
Essentially, Hye Jin and Se Ri go through something similar: having to adapt to a new place with no one they knew until someone came and befriended them.
Apart from the main characters, the supporting characters also have their own charms, adding a plus point to the drama. A minor spoiler: Kim Soo Hyun made a cameo, reprising his role from 2013's Secretly, Greatly, where he played a North Korean spy stationed in South Korea.
Released in 2019, it quickly became the highest-rated tvN drama, the network it was broadcasted through in Korea, and the third highest-rated South Korean TV drama in cable television history.
When the Camelia Blooms
When the Camellia Blooms is a Baeksang award-winning drama that tells the story of a single mother, Dong Baek (Gong Hyo Jin), who just moved into a small village named Ongsan with her son, Pil Gu.
In Ongsan, she opens the bar called Camellia, which men oftentimes frequent. She quickly became the talk of the town, but police named Yong Sik (Kang Ha Neul) is committed to wooing her while keeping her safe from a criminal out to kill her.
Just like Hometown ChaChaCha, the drama also focuses on the struggle of balancing daily lives in a small town with intriguing villagers and, at the same time, learning how to love and be loved.
This drama also offers crime and mystery — if you're looking for some extra spice.
#THE S MEDIA
#Media Milenial
#K-Drama
#Hometown Cha Cha Cha
#Netflix
#Korean