CULINARY
THE LANESBOROUGH UNVEILS QUEEN CHARLOTTE AFTERNOON TEA: A BRIDGERTON-INSPIRED DELIGHT
Indulge in a limited-edition Regency-themed tea experience at London's iconic Lanesborough Hotel.
21.05.2023
BY SARI KUSUMANINGRUM
London's prestigious Lanesborough Hotel is thrilled to announce its latest seasonal offering: the Queen Charlotte Afternoon Tea, inspired by the beloved Netflix series "Queen Charlotte: A Bridgerton Story." Developed in collaboration with Netflix and Shondaland, this unique tea experience pays homage to the Regency era while infusing a contemporary twist. Launching on May 4, 2023, guests can immerse themselves in a world of elegance, grandeur, and delectable treats.
Set against the backdrop of The Lanesborough's opulent dining room, guests will be transported to the Regency period. The room, adorned with a magnificent glass roof that bathes it in natural light during the day and enhanced by soft chandelier lighting at night, exudes neo-classical grandeur. The walls showcase meticulously crafted bas-relief artwork and feature Wedgwood china, capturing the essence of Regency style.
The Lanesborough's Head Pastry Chef, Salvatore Mungiovino, has meticulously curated a menu that pays tribute to the iconic characters from "Queen Charlotte" and the architectural masterpiece that is "Lanesborough House." Remodeled in 1825 by William Wilkins, the building epitomizes the Regency era and remains a quintessential representation of London's Regency architecture.
The finger sandwiches, a delightful array of flavors, include tea-cured salmon with lemon and caper cream, Coronation chicken with golden raisin and fresh coriander, deviled egg mayonnaise with mustard cress, and organic cucumber with cream cheese, basil, and chive. Accompanying the savory selection are Lanesborough's famous scones, served with clotted cream and jam.
Mungiovino's pastry creations take center stage, featuring four signature highlights:
"Your Majesty": An exquisite hand-crafted sharing cake paying homage to Queen Charlotte herself. This strawberry-scented cream bavaroise with orange gel, almond crunchy base, and a regal crown made of edible Royal Icing is a true indulgence.

"King George Dreams of Venus": A cake dedicated to King George III and his passion for astronomy. This celestial delight combines chocolate mousse, jasmine-infused dark chocolate ganache, cocoa sable, and a glazed finish adorned with blue and white universal stars.

"The Lady Violet": Inspired by Lady Violet's elegant fashion sense, this creation boasts chocolate bavaroise, mango compote, lime Chantilly, and a shortbread base adorned with delicate sugar flowers.

"Danbury Delight": A nod to Lady Danbury's love for hats and jewels, this treat showcases Berryiolette pistachio gateaux, vanilla whipped ganache, and a purple-tempered chocolate finish.
To complement the culinary delights, The Lanesborough's Head of Bars, Mickael Perron, has crafted two signature cocktails. The Queen Charlotte cocktail, inspired by the original Regency Gin Punch, features Fords Gin, Chambord liqueur, cranberry, exotic lychee, home vanilla sweetness, and lime sunshine, topped with Champagne for a royal touch. For non-alcoholic options, the refreshing Noughty Sparkling Rosé is combined with cranberry juice, exotic lychee, home vanilla sweetness, and lime sunshine.
The Queen Charlotte Afternoon Tea at The Lanesborough starts at £75 per person, with options to add The Queen Charlotte cocktail (£85 per person) or enjoy a glass of House Champagne (£90 per person). A children's afternoon tea menu is available for £35 per child (under 12 years old). Dietary preferences such as vegetarian, vegan, and gluten-free options are also catered to.
Immerse yourself in the splendor of the Regency era with The Lanesborough's Queen Charlotte Afternoon Tea, a limited-edition experience that combines gastronomic delights with the charm and elegance of Bridgerton. Book your reservation now and indulge in a truly memorable tea experience.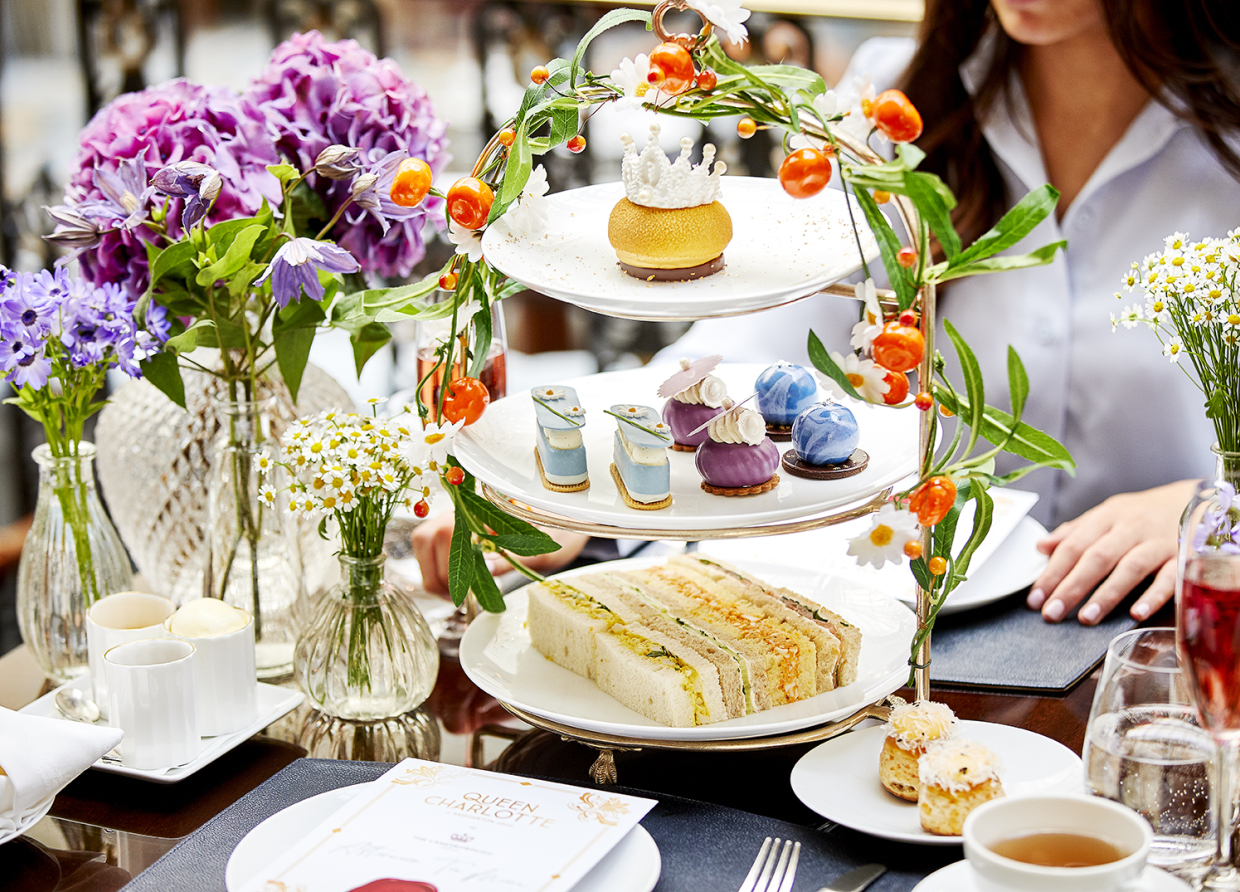 #THE S MEDIA
#Media Milenial
#Queen Charlotte: A Bridgerton Story
#Tea
#Netflix
#Shondaland
#Lanesborough Hotel
#Salvatore Mungiovino