TECHNOLOGY
RTFKT DROPS NEW NFT SERIES UNDER NIKE
RTFKT recently posted a teaser showing Nike's signature insignia for an NFT titled MNLTH.
09.02.2022
BY WILHEMINA BOWEN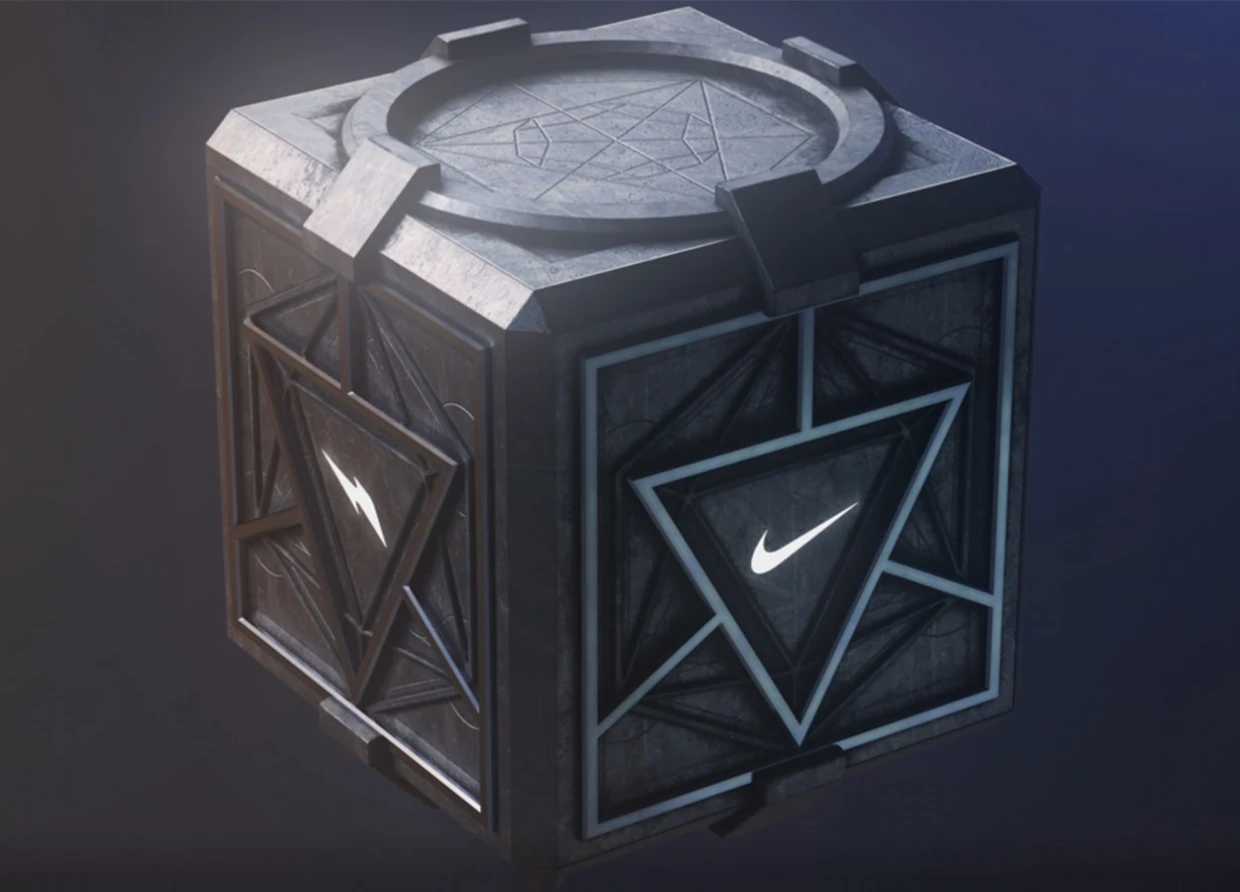 RTFKT's initiatives have garnered much attention since the brand's inception roughly two years ago.
Nike announced the acquisition of RTFKT Studios on December 14 last year. According to Nike CEO John Donahoe, the purchase will expedite Nike's digital transformation and allow RTFKT to serve athletes and innovators.
And now, Nike has unveiled its first-ever NFT. Currently being sold on OpenSea, the NFT, titled the Swoosh's "MNLTH" series, was airdropped to RTFKT's current Clone X holders and PodX virtual spaces.
The items in the range come in a box with a dark metallic finish featuring geometric patterns. Glowing Nike and RTFKT logos are imposed on its exteriors. However, the contents of the boxes have not been disclosed.
"Like this post, if you're confused," teases RTFKT on its own announcement post on Instagram.
Under the acquisition, RTFKT also recently airdropped a series of marble "Loot Pods." These are essentially a home to display the NFTs with Swoosh, Jumpman, and Converse logo on the walls — harvesting the benefit from the global obsession with the so-called Metaverse, a network of 3D worlds that facilitates social connection.
There's been a trend of 3D spaces, such as apartments, towers, complexes, houses, and the like within the NFT space. These have what the NFT space refers to as utility, a function that takes things beyond what one can only see, such as flaunting your collections on a shared display.
View this post on Instagram
The acquisition
RTFKT, founded in 2020 by Benoit Pagotto, Chris Le, and Steven Vasilev, has been revolutionizing the physical and digital worlds. It is committed to using cutting-edge gaming engines, NFTs, blockchain authentication, and augmented reality to create one-of-a-kind virtual products and experiences.
The RTFKT's website prompts visitors to link their Metamask wallets, which is one method NFT owners may validate their purchases. The idea is that in the future, you'll be able to play games or enter other types of VR spaces where your stuff can materialize once those spaces have scanned the blockchain to determine which objects you possess the rights to.
Nike praises the company's founders for using "the latest in gaming engines, NFTs, blockchain authentication, and augmented reality to create one-of-a-kind virtual products and experiences".
Nike first considered NFTs in 2019, when it received a patent for blockchain-compatible sneakers known as "CryptoKicks". The patent's concept is to provide purchasers with a digital duplicate of the actual shoes they purchase, which is then held in a bitcoin wallet known as a "digital locker."
Nike positioned RTFKT's lightning bolt-style emblem beside its own recognizable swoosh, Jumpman, and Converse marks when announcing the acquisition on its website. However, the terms of the deal is not disclosed.
#THE S MEDIA
#Media Milenial