FASHION + WATCHES
PURPOSE AND REPURPOSE: FASHION DESIGNERS REMAIN AGILE AMIDST PANDEMIC
MAJOR MINOR, Byo, and Tulola presented their latest collections to wrap up Jakarta Fashion Week 2022.
02.12.2021
BY WILHEMINA BOWEN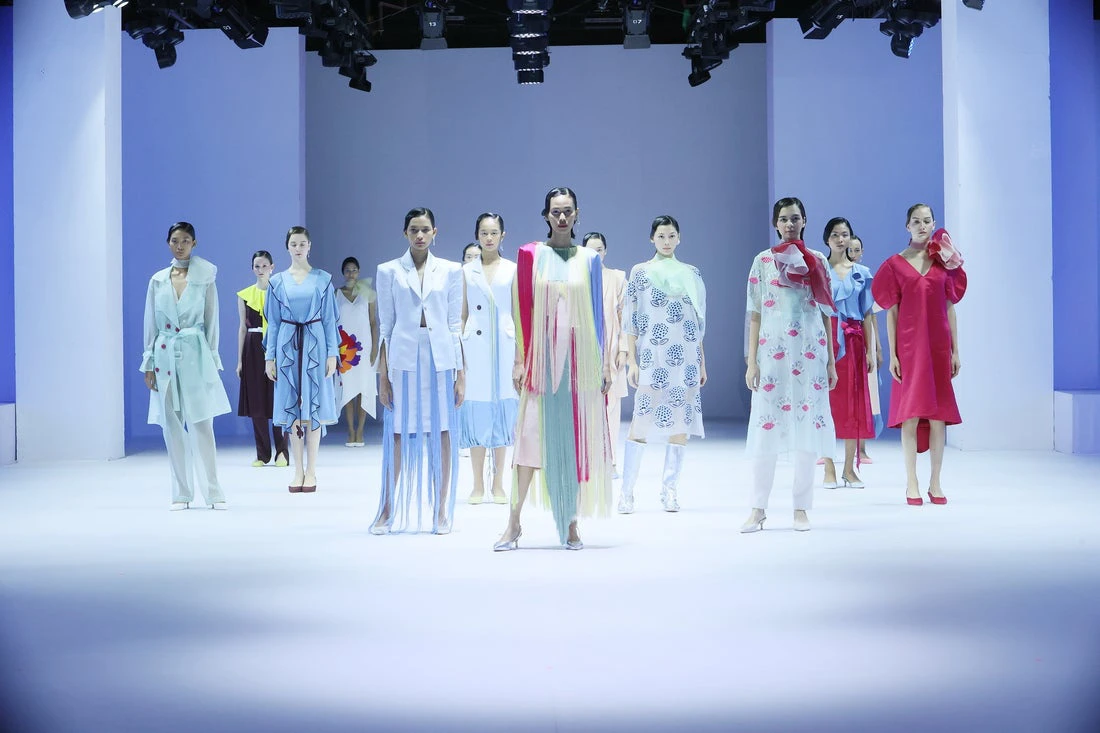 The Jakarta Fashion Week 2022 wrapped up its virtual presentation on November 28, 2021. Carrying the theme "Excellence in Disruption", the four-day fashion event showcased 70 designers and labels, concluded with its signature Dewi Fashion Knights.
The show itself, featuring carefully selected local designers, is eagerly awaited by fashion enthusiasts as it is labeled as the most prestigious segment of the event. It introduced three familiar names for Indonesian fashionistas to share their recent work in JFW's 14th anniversary this year.
The first one is MAJOR MINOR, a brand founded and remains under the care of Indonesian fashion veteran Ari Seputra and his wife, Sari Seputra. MAJOR MINOR is known to take inspiration from art, and this year's collection is no exception.
The Seputra dynamic duo is now accompanied by young Marsha Cicilia to continue translating visual arts into fashion masterpieces as one of the brand's pillars. The 22 womenswear looks for Spring/Summer 2022, entitled "The Shape of Flower", are inspired by the works of American artist and feminist Judy Chicago, especially her "Through The Flower."
With the archetypal MAJOR MINOR woman in mind, the collection symbolizes the vulvic as a portal of history, collectivity, and pleasure. Sultry but elegant, flowers inspired details, such as ruffles, belts, embroideries, and flaps, created harmonious volume on the silhouettes. The soft color palettes — ranging from white to powder blue — blend against a few pops of striking pink, yellow and burnt maroon.
Despite a new team member on board, MAJOR MINOR continues to uphold its signature focus on shape, technique, and fabric choice. Aiming for a dynamic metropolitan style that suits the life of high mobility, the collection offers elevated shirts and dresses with asymmetrical cuts, embroidery detailing, ruffles, and a semi-fitted form from cotton, crepe, lightweight taffeta, heavyweight sateen and regular sateen.
Quirky accessories virtuoso Tommy Ambiyo Tedji also used the occasion to introduce Byo Logic. Known for its signature modular-handwoven bags, his main fashion line, Byo now embarks on a new journey with a sustainable approach as he tries to give new life to post-production leather waste.
Tommy is not new in this. His 2019 "Fragments of Time" featured a series of reconstructed discarded objects as a part of the "Essential Jakarta" exhibition at Superstudio Milan Design Week 2019.
"This is our next logical step towards the necessary goal of using responsible materials. As our collective concern about the future of our planet continuously evolves for the better, we adapt ourselves while being completely true to the core elements of our brand," said the designer in his release.
However, the designer emphasized that the original Byo line will remain true to its sci-fi futuristic aesthetic and experimental spirit. Viewers can differ between the original Byo and Byo Logic by paying attention to the lighting. Original Byo bags are showered with blue lights while Byo Logic sways under orange lights.
To complement the bags, the designer took inspiration from sculptures of French artist Xavier Veilhan to create futuristic-looking tailored outfits with triangular pattern design created by hand-pressing the fabric. Clarissa Kwok designed brass patina earrings to elevate the overall looks.
Last but not least is artisan jeweler Tulola with its latest "Jiwa Penuh Sinar" (Soul Full of Light) collection. The three maestri behind Tulola, Sri Luce Rusna, Happy Salma, and Franka Franklin, showed optimism in their latest craft made from silver, plated with 18-carat gold.
The new choice of stones and crystals becomes the highlight of the collection. From Rose Quartz that symbolizes unconditional love, Amazonite to attract good luck, Mother of Pearl and Baroque for prosperity, to Amethyst to boost confidence.
The high-quality materials are then taking shapes of brooches, cuff, earrings, Subeng (Balinese style earrings), necklaces, decorative combs and rings. These 36 accessories were entirely handcrafted, and each item requires approximately two weeks of processing time.
"Tulola always tries to adapt and is optimistic by continuing to make several new collections to keep launching," the brand wrote in their release. "We get inspiration from everything we have been through, that in the end every change always brings balance and wisdom in consciousness."
#THE S MEDIA
#Media Milenial
#Jakarta Fashion Week 2022
#major minor
#byo
#tulola
#fashion show