FASHION + WATCHES
PRO TIPS HOW TO CHOOSE SHOES BY CINTA LAURA
Cinta Laura shares how to choose her favorite shoes for every occasion.
10.06.2021
BY JORDI HILDIANTO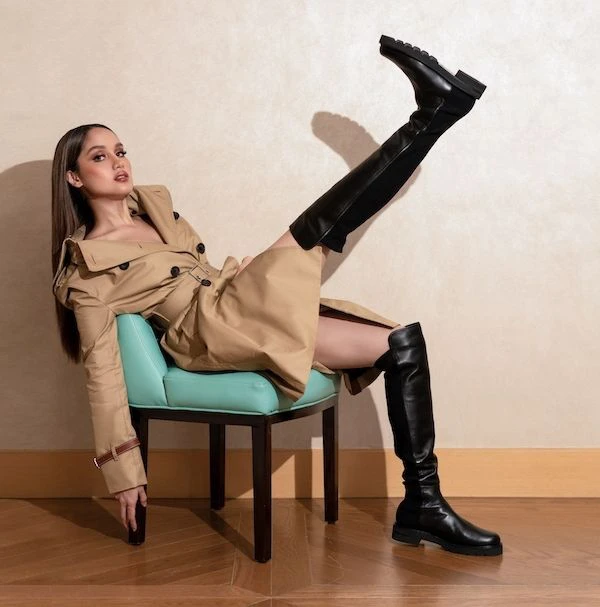 Give a girl the right shoes and she can conquer the world. The legendary quotes from an iconic actress, Marilyn Monroe, seem to be absorbing in every woman's soul, especially for those who love shoes. Whatever you wear, if it combines with the right shoes, you will be instantly stylish and attracted like magic. That's what Cinta Laura does when dressing up.
Here we go, she shares her pro tips on how to choose her favorite shoes for every occasion.
For her dailies, Cinta tends to choose a casual-edgy style to give her signature in her looks, as her favorite high-heels from Stuart Weitzman, Amelina Block 100 Chain which has a wide heel-piece that gives comfort for daily activities. It's very suitable for you who have everyday life activities like Cinta.
As her confession, Cinta dares to look edgy, like wearing knee-high boots in tropical seasons like Indonesia. If we are smart, we do mix and match. She wears 5050 Lift boots from Stuart Weitzman combined with the same colors of top and leggings for simple looks, suitable for a noon occasion. For night looks, put on your trench coat for a dramatic, yet edgy look, and voila!
The red carpet is the most awaited moment for Cinta. She always chooses classy and timeless shoes, but still puts the glamour details like Nudistsong from Stuart Weitzman. This is Cinta doing effortlessly glamours.
Whilst for a slit long dress, Cinta picks embellishment shoes to put attention on her long legs. Aleena Shine from Stuart Weitzman is the right choice for Cinta. It can give her a glamour effect, at the same time makes her feel comfortable from head to toe.
#THE S MEDIA
#Media Milenial