ART + CULTURE
NEW ERA OF CULTURAL FUSION: NYC'S HIP-HOP ICONS INSPIRE THRIVING LOCAL VENTURES
Harmonizing Hip-Hop Icons and Entrepreneurial Ventures in NYC
13.10.2023
BY PEACHY BECK
In the vibrant heart of New York City, the echoes of hip-hop culture have been resounding for over five decades, carving an indelible mark on the city's artistic landscape. Emerging from the dynamic streets of the South Bronx in the 1970s, this genre has not only given birth to countless musical legends but has also fostered a thriving entrepreneurial spirit. In a captivating fusion of art, entrepreneurship, and community, numerous musicians have harnessed their fame to create distinctive businesses that capture the essence of hip-hop. As we delve into the eclectic tapestry of New York City's hip-hop-inspired enterprises, a rich and diverse cultural narrative unfolds.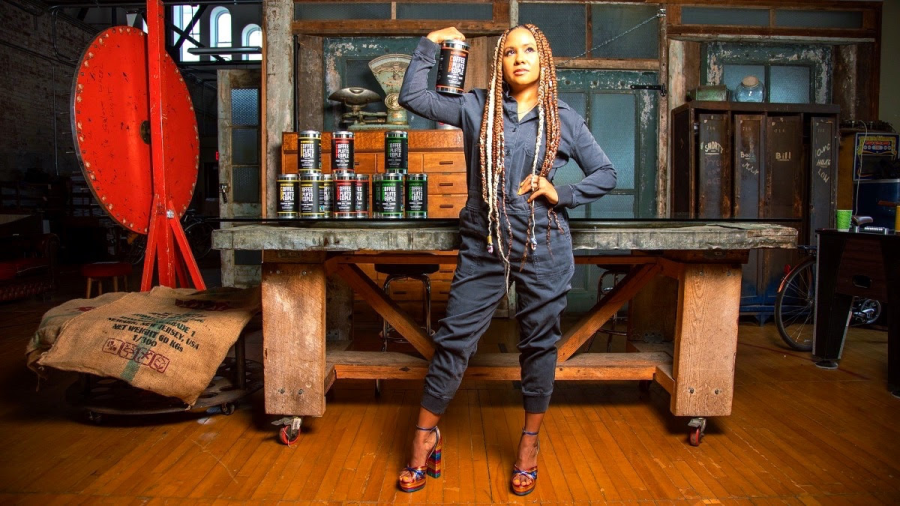 Coffee Uplifts People (CUP)
Location: 329 Gates Ave., Bedford-Stuyvesant, Brooklyn
In the heart of Bedford-Stuyvesant, Brooklyn, Coffee Uplifts People, affectionately known as CUP, has been serving up not just caffeine but also a vibrant hip-hop experience since its inception in 2020. This chic establishment, co-founded by radio host and entertainment personality Angela Yee, stands as a testament to Yee's deep-rooted connection to hip-hop culture. Formerly co-host of "The Breakfast Club," a quintessential hip-hop-centric morning show, Yee identified a void of coffee shops in her neighborhood during the pandemic. With its contemporary decor and limited seating, CUP has rapidly become a haven for remote workers and those seeking a quick respite from the bustling streets of Bedford-Stuyvesant. The menu seamlessly weaves together traditional breakfast pastries with cultural delights from Brooklyn and nearby eateries, such as currant rolls from Allan's Bakery, offering a culinary celebration of diversity.
Boogie Down Grind Café
Location: 868 Hunts Point Ave., Hunts Point, the Bronx
Boogie Down Grind Café in the South Bronx is a vibrant testament to the power of hip-hop culture to uplift communities. This café was masterminded by South Bronx native Majora Carter, whose love for hip-hop and commitment to her neighborhood led her to create a remarkable establishment. With aspirations to be a rapper herself, Carter channeled her passion into a different kind of artistic expression. Beyoncé recognized the cafe's impact and awarded it a BeyGood grant for revitalization. The grant helped transform the outdoor space into a remarkable replica of a New York City subway car, an endeavor that garnered the cafe an Alfresco NYC award. Live music and art pop-ups infuse the area with creative energy, uniting the community in celebration.
Up NYC
Locations: 3806 Broadway, Harlem, Manhattan; 519 W. 207th St., Inwood, Manhattan; 2490 3rd Ave., Mott Haven, the Bronx
For the sneaker enthusiasts and fashion-conscious, Up NYC, a sneaker and apparel store, is a Mecca. Owned by renowned rapper Fat Joe, this establishment boasts a triad of locations in Harlem, Inwood, and the Bronx. Fat Joe's adoration for sneakers and sneaker culture is palpable in the assortment of popular streetwear brands it offers, including Billionaire Boys Club, Bape, and Honor the Gift. Sneaker aficionados flock to these establishments to secure the latest limited releases, while fashion enthusiasts seek that perfect pair to complete their iconic outfits.
Stay Press'd
Location: 679 Classon Ave., Crown Heights, Brooklyn
Stay Press'd, a venture co-founded by rapper Meechy Darko, a former member of the Flatbush Zombies, finds its niche in Crown Heights, Brooklyn. It specializes in offering healthy juices, smoothies, and fruit bowls. This small walk-in shop embraces a fruit-inspired design, offering an extensive menu that caters to the health-conscious. For those looking to linger, the shop's Taco Thursday evenings, typically during the warm-weather months, serve as a warm and inviting gathering place.
Sweet Chick
Various locations around NYC
Sweet Chick, a culinary sensation that has spread its wings across the city over the past decade, tantalizes the taste buds with a classic yet innovative combination: chicken and waffles. This establishment partly owned by Queens-born rapper Nas has garnered a dedicated following. The menu is a testament to comfort food, offering an array of waffle flavors, alongside other breakfast delights like pancakes, shrimp and grits, and breakfast sandwiches. The casual ambiance and lively atmosphere make it an ideal choice for a quick and delightful dinner or brunch with friends.
Killah Koffee Shop
Location: 828 Castleton Ave., West Brighton, Staten Island
Killah Koffee Shop, a distinctive establishment on Staten Island, is among the rare Black-owned businesses, and notably, the only one owned by a hip-hop artist. Ghostface Killah, a renowned rapper and member of the legendary Wu Tang Clan, brought this cozy coffee shop to life in West Brighton. Initially finding success through online sales, this quaint coffee shop has become a cherished destination for those seeking a quick, hot brew while exploring Staten Island's diverse landscapes.
Paint N Pour
Locations: 53 Delancey St., Lower East Side, Manhattan; 2080 Frederick Douglass Blvd., Harlem, Manhattan
Paint N Pour, an artistic haven nestled in the Lower East Side and Harlem, offers an innovative twist on the conventional paint and sip experience. Here, guests embark on a creative journey while painting their favorite hip-hop artists. The artistic ambiance is enhanced by the resonance of hip-hop hits, creating a unique and engaging atmosphere. The studio's graffiti-covered walls, with murals of legendary musicians such as Biggie Smalls and Beyoncé, further enrich the creative experience. To sate the creative appetite, a full food menu is available, featuring delectable offerings like fish tacos, sliders, and jerk chicken empanadas.
Bronx Native
Location: 127 Lincoln Ave., Mott Haven, the Bronx
In the heart of Mott Haven, the Bronx, Bronx Native stands as a tribute to the borough's rich heritage. Founded by Bronx natives Amaurys and Roselyn Grullon, this curated clothing and gift store is a living testament to their passion for the Bronx. The shop's walls serve as a canvas for patrons to leave their graffiti tags, adding to the vibrant tapestry of hip-hop culture. The merchandise ranges from stylish apparel like hats and T-shirts to an array of accessories, including throw pillows, mugs, and pins, allowing visitors to express their love for the BX in a myriad of creative ways.
As these unique businesses continue to flourish in the city that never sleeps, they not only honor the roots of hip-hop culture but also contribute to the vitality and diversity of New York City's entrepreneurial landscape. Whether you're a devoted hip-hop enthusiast, a sneaker connoisseur, or merely a lover of fine coffee and food, these establishments offer an authentic and captivating experience that resonates with the heart and soul of New York City.
#THE S MEDIA
#Media Milenial
#Hip-hop
#New York City
#entrepreneurs
#cultural fusion
#businesses
#creative ventures
#hip-hop culture
#iconic musicians
#urban entrepreneurship