ENTREPRENEURS
MELISSA SUNJAYA EMPOWERS THE COMMUNITY THROUGH "TULISAN"
Melissa Sunjaya talks about how she empowers society through applied artwork in her Tulisan accessory brand. 
22.03.2022
BY HANUM FAUZIA
It was still fresh in our minds how beautiful Mellisa Sunjaya's mural painting was at the #SingapoReimagineatARTOTEL event a few months ago. The Singapore Tourism Board and ARTOTEL Group featured five exclusive Singapore-themed rooms painted by renowned Indonesian artists, one of them is Melissa Sunjaya. She created the painting 'Kayuputi' or 'Gelam' in a beautiful cobalt blue colour with "Kampong Gelam."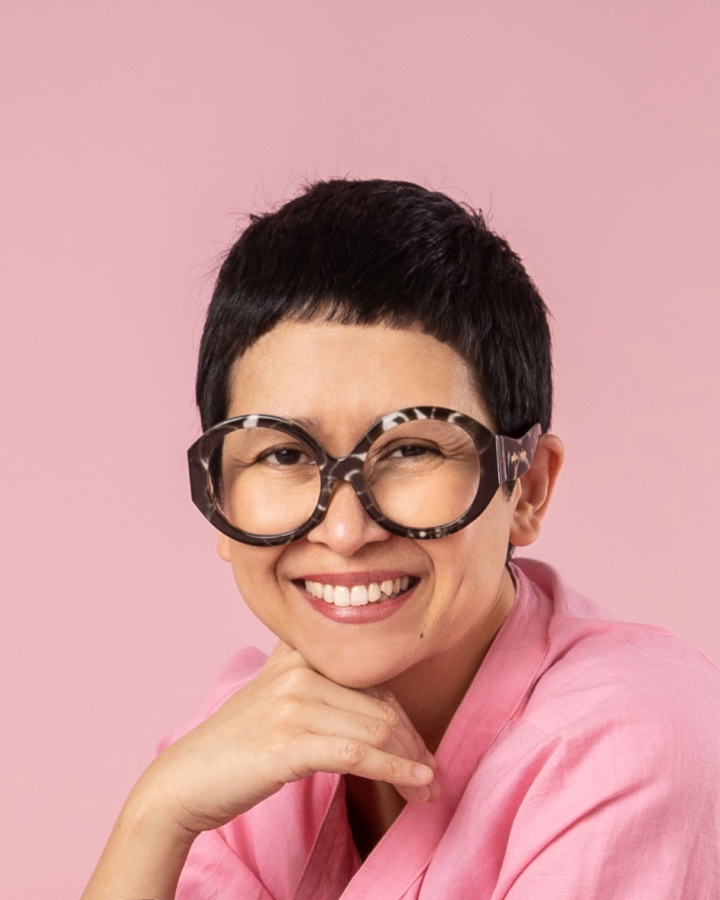 Melissa has been recognized for her entrepreneurial successes as the founder of Tulisan, a label that specializes in collectible artist-illustrated editions handcrafted in Jakarta using sustainable methods. After talking with Melissa, we learned several interesting facts, like the history of cobalt blue, which she studied.
When we see Tulisan's product, it seems dominated with blue colour. You seem like love very much with that colour, isn't it?
Colour is a language.

I am genuinely interested in all kinds of colours. It isn't easy to choose one colour tone that I like the most because each colour is unique and gives different effects for each individual. Nevertheless, cobalt blue or ultramarine blue is the colour I researched the most. Our society could only produce this particular blue from crushing Lapis Lazuli long ago. Then another darker blue tone became also in fashion, Blue Indigo, from the indigo plant. Many cultures associate this blue colour with spiritualism, sincerity, and glory. In the 19th century, these two colours stimulated world trade and indirectly influenced the formation of the slave-cultivation system due to its high market value. The 19th century was a time of transition, the same as what we are experiencing today. Now, new renditions of blue are available, and more are in development. And for 2022, I created a collection dominated by cool colours like blue, green and purple. It has been almost two years since the pandemic, and many people have struggled to survive. I hope that Tulisan's colourful collection could reclaim the message and spirit of this struggle.
As all your pieces are hand-made, how do you handle orders in big batches?
I simply do not accept large orders because I only create handmade work.

I had founded Tulisan based on hand-made and traditional work principles from the start. My personal goal was to be more patient, thorough, and always have time for imagination. I created limited edition pieces so that every time an edition is sold out, I would have a reason to imagine and create more storytelling pieces.
How do you curate the team that dedicates itself to working with you passionately?
Being in love with what we do can be contagious.

I am very passionate about my work in Tulisan. It is the echo of my heart. Through this work, I can see myself without any veil. I try to digest every obstacle slowly until each problem is eliminated and concluded. This reverberating sensation and love towards my work rub off to those closest to me who I work with every day. My team all work with their heart for themselves and each other. In Tulisan, we learn to listen without ego. It is a crucial discipline in any form of organization. When we listen without ego, we will respect each other and even appreciate the details of things. That is passion. Many of my team deviated from their academic backgrounds or career experiences to pursue what they stand for Tulisan today. We all empower each other to achieve what we thought was impossible at first. The journey of finding this honest self-portrait is always nerve-wracking.
How does Tulisan empower the community?
A difficult question, because it's a will. Empowering the community is a will, an ongoing work, and NOT an achievement.
It is the manifesto during every creation. No matter how much we work, there is always something that needs improvement. Since I founded Tulisan, I have aimed to elevate the work dignity of sewing artisans and work standards in screen printing. Step-by-step, I wish to improve the well-being of tailors and screen-printers who worked with me. Then I became interested in supporting KDM, a non-profit foundation that shelters abandoned children. So I started to visit KDM often, chatted with the people there casually, then the idea of ​​'Pepe Doll' popped into my head. This program is simple and pragmatic. It continues to this day and supports KDM's goodwill.
In 2020, I empathised with Farand Hazfanur, a talented young artist who has a Cerebral-Palsy disability. This empathy inspired me to curate his work into a series of limited wearable editions. Over the past two years, the AIR program has provided over Rp. 170 million for the benefit of Farand Hazfanur, and this program is still ongoing. Furthermore, we created a unique policy where our team gets medical reimbursements for their pets or animal rescue actions. This policy aims to increase our empathy for all living things. All these efforts are still not enough to make a better community. At the very least, these small efforts can inspire others to do more for the community.
All of your works are beautiful, could you please tell us how are the process of creating one piece of artwork?
I think you are being kind. Thank you for your appreciation.
Honestly, every artwork process is different. The key in every process is spotting the problems in our daily lives. Every corner is an inspiration to me: the music, the people, and the journeys I take. Every object has a story. I need to open my heart to find the uniqueness in ordinary things. The simple things around me can be a source of ideas; like an old metal window, an oddly shaped plant specimen, an old faded postage stamp, or the beautiful handwriting on an old postcard.
Today, sustainable product that cares about the environment is matter, and many brands both globally and locally do that. Are you one of them?
Sustainability is a mindset that requires constant efforts in self-analysis. We have been applying this with disciplines. The end results must always be re-analysed every year and revisited for possible improvements. The following are the work that we have successfully implemented. (1) We design all cutting patterns according to 'zero-waste' principles. (2) Our collection is hand-made out of 100% unbleached cotton canvas. (3) We print with water-based and eco-friendly inks. (4) We use nickel-free components. (5) Our sewing technique uses energy-efficient methods. (6) Our printing process is hand-pulled screen printing, using less clean water. (7) For the bag and accessories category, all printed textiles are protected with a water-resistant Polyurethane coating. (8) Some designs use a lining fabric made from renewable materials from recycled PET plastic waste. (8) The manufacturing process is audited and certified by Bluesign® system. Bluesign® Swiss system is a strict screening designed to monitor the responsible use of resources, clean work processes, wastewater management, healthy air ventilation, and safety procedures for the workers as well as a safe final product for the consumer.
#THE S MEDIA
#Media Milenial
#melissa sunjaya
#tulisan
#local fashion brand