TRAVEL + LEISURE
LOY KRATHONG ILLUMINATES THAILAND: AIRBNB EXPERIENCES SURGE AHEAD OF THE FESTIVAL
Culinary Delights and Cultural Marvels: A Guide to Experiencing Loy Krathong in Thailand
19.11.2023
BY BRILIAN AKBAR
Thailand is set to dazzle in the glow of one of its most vibrant and enchanting cultural festivals - Loy Krathong, also known as the Festival of Lights, taking place this November. In celebration of the water goddess Phrae Mae Khongkha, millions of Thais will float small banana-stem boats adorned with flowers and candles, known as "krathong." These floating vessels carry the hopes, wishes, and gratitude of individuals, symbolizing the act of letting go of the past and embracing the new.
Loy Krathong is celebrated nationwide in Thailand every year on the full moon night of the twelfth month of the Thai lunar calendar. The festival is scheduled for November 27 this year and holds special significance for both locals and the influx of tourists eager to witness the spectacle.
Airbnb, noting Thailand's popularity as the most visited country in Southeast Asia on its platform last year, has observed a 17% surge in accommodation searches by international guests during the Loy Krathong period. Among the top destinations are Bangkok, Chiang Mai, Pattaya, Phuket, Koh Samui, Hua Hin, Koh Pha Ngan, and Krabi. The "Land of Smiles" is drawing visitors from around the globe, with an 88% increase in searches by Chinese travelers for November-December and over a 15% rise in searches by Australian guests during the same period.
For those planning to experience Loy Krathong in Thailand this holiday season, Airbnb offers recommendations for the best destinations and accommodations.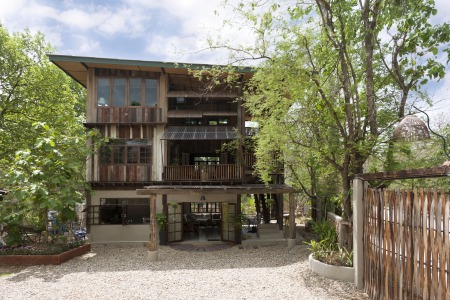 Chiang Mai: Where Tradition Meets Tranquility
Renowned for its lush mountains and forests, Chiang Mai in northern Thailand is the cultural hub of traditional Lanna. Loy Krathong celebrations include grand ceremonies and illuminated temples, coinciding with the Yee Peng festival, where thousands of Thai lanterns (khom loi) are released into the night sky, creating a breathtaking spectacle.
The Ping River flowing through the heart of the province is a popular spot for locals and visitors to float their krathongs. Additionally, Tha Phae Gate on the eastern side of the old city wall and the surrounding moat are favorite gathering spots, while the Three Kings Monument in front of the old city hall exudes a lively atmosphere, attracting many to join in the festivities.
Before leaving Chiang Mai, be sure to indulge in various delicious local dishes, including sai oua (northern Thai sausage), nam ngiao (spicy and sour noodle soup), and the popular khao soi (thick coconut curry with crispy noodles).
Bangkok: A Colorful Capital Celebration
The capital city of Thailand transforms into a vibrant canvas during Loy Krathong, embracing its cultural roots in an unmissable spectacle. The Chao Phraya River in Bangkok becomes a popular destination for both locals and tourists to float krathongs against the iconic backdrop of Wat Arun. Additionally, Wat Saket offers an unforgettable Loy Krathong experience along one of Bangkok's oldest canals, Khlong Maha Nak, and exploring the iconic Golden Mount nearby.
Not far from the Chao Phraya, the trendy Song Wat district, recently selected as one of the 40 coolest neighborhoods in the world in 2023 by TimeOut tourism media, boasts an eclectic mix of art galleries and historic buildings to explore. While in Bangkok, don't forget to sample a variety of dishes, from street vendors offering Thai specialties like pad thai and pad krapow to markets like Jodd Fair and Michelin-starred restaurants.
Phuket: Island Bliss with a Cultural Twist
Phuket offers a myriad of experiences, from its famous beaches to its rich history adorned with temples and sacred sites that create a unique Loy Krathong atmosphere with an island vibe. With over 30 beaches where locals often float their krathongs, visitors can explore less crowded but equally popular places such as Sapan Hin Lake and Suan Luang Park in Phuket City or Nai Harn Lake in the south and Bang-Ma-Ruan Lake in the north.
While in Phuket, seize the opportunity to savor the freshest seafood caught daily from the Andaman Sea. Must-try southern delicacies include kaeng som (spicy and sour soup), massaman (a slightly sweet, flavorful Thai curry), and kaeng tai pla (spicy curry with fermented fish).
Unforgettable Stays with Airbnb
Looking for the perfect accommodation during Loy Krathong? Airbnb recommends unique stays for an enjoyable experience:
Bohemian Home, Chiang Mai: A unique house located in a local neighborhood near Tha Phae Gate and Warorot Market.
Mango Home No.1, Chiang Mai: Close to Sunday Walking Street and Tha Phae Gate, this old city is easily accessible.
Funky Handmade House, Chiang Mai: A beautiful handmade teakwood house located along the foothills of Doi Suthep.
Canal House, Bangkok: An antique canal house on the Thonburi side of Bangkok (the old capital).
Antique Colonial Luang Prasit Canal Home, Bangkok: A colonial-style teakwood house located on the Bangkok Yai Canal.
Chic Loft, Bangkok: An artistic loft-style house located in the Thonglor neighborhood.
Bella Vista Panwa, Phuket: Stunning sea views from a bungalow in Ao Yon, located on the east coast of Phuket.
Pangolin Villa, Phuket: A villa with a private pool in northern Phuket near Nai Thon and Nai Yang beaches.
Duplex-Style Pool Villa, Phuket: A villa with dual pools and garden views, located in the popular northwest area of Phuket.
#THE S MEDIA
#Media Milenial
#Loy Krathong
#Thailand festivals
#Festival of Lights
#Airbnb accommodations
#Chiang Mai traditions
#Bangkok cultural experiences
#Phuket island festivities
#Thai cuisine recommendations
#Southeast Asia travel
#Unique stays
#Traditional celebrations
#Thai street food
#Cultural immersion
#November travel in Thailand
#Lantern festivals
#Airbnb data insights
#Southeast Asian destinations
#Thai seafood delights
#Thai curry dishes